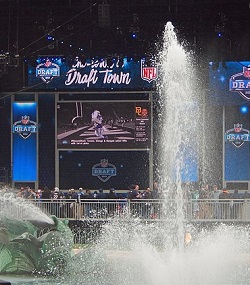 Wow! We've finally reached the end of our 1-round Mock 2021 NFL Draft! Peachy! For those of you just checking in: The first 24 picks, according to our experts, will all be quarterbacks! Personally, I don't know: There are only so many quarterbacks in the known universe and limitless first-round draft picks. Well, 32, but that's still a lot! On with the picks!
Mock 2021 NFL Draft Picks 25-32
25. Jacksonville Jaguars: Bella Martina, QB, N/A
L. Vern Enshirley, FA Analyst: Martina rose to popularity for being a girl who looks like Trevor Lawrence. The Jaguars will pick her to confuse opponents about which one is actually starting any given Sunday. This stunt is reminiscent of Belichick-anery. 
26. Cleveland Browns: Flo, QB, Progressive Insurance
Enshirley: You can't deny the connection: Mayfield signs an ad deal with Progressive, then Cleveland wins their first playoff game since the Medieval Era. Hoping to catch the same lightning in a bottle, the Browns will sign longtime Progressive spokesperson, Flo. Her specially-designed playbook will have her distracting opposing cornerbacks by attempting to bundle their CTE and spinal injury insurance.
27. Baltimore Ravens: Doctor Poo Head, QB, P.P.H.Q.
Calvin, My Real-Life 8-Year-Old Son: He is a good fit for the Baltimore Ravens because he will poop on the field a lot. Lamar Jackson does not poop enough, so everyone will like Dr. Poo Head!
28. New Orleans Saints: A Mixture of Poo and Pee, QB, DooDoo U.
Malcolm, My Other Real-Life 8-Year-Old Son: A Mixture of Poo and Pee would be the perfect replacement for Drew Brees because instead of dumping Gatorade on the coach for winning the Super Bowl. they will dump a Mixture of Poo and Pee.
29. Green Bay Packers: Olivia Munn, QB, Oklahoma
Noah Vail, FA Analyst: The Packers want to light a fire under Aaron Rodgers so he will stop losing in the NFC Championship. A spicy selection, having Rodgers' ex-girlfriend in the locker room should give him reasons to improve upon his MVP season. We all know Rodgers chugs warm glasses of spite with every meal, winning a Super Bowl could be the warmest glass of spite of all time!
30. Buffalo Bills: Shai Werts, QB, Georgia Southern
Lucas Oil, Stadium: Josh Allen's rushing yards have decreased every year he's been in the league. Disgraceful and an embarrassment to the noble history of Buffalo! Time to get the NCAA QB who had a strong and mighty 721 rushing yards in 2020. High energy! Sad!
31. Kansas City Chiefs: Sterling Mahomes, QB, N/A
Mason Dixon, Line Judge: Patrick Mahomes never checked the fine print of his half-billion-dollar contract with K.C. If he had, he would have learned that he promised his first-born son to the team. More like Andy Reid-umplestiltskin. Nailed it!
32. Tampa Bay Buccaneers: A Strawberry, QB, Patch
Mia Moore, FA Analyst: Winning the Super Bowl is the worst thing that could've happened to the Bucs. This means that Tom Brady will feel entitled to stay QB until he is 85 years old. Can you imagine the horror!? The Bucs sure can, which is why they will draft Brady's natural enemy. Talk about locker room friction!
Wow, you must love football a lot to be reading this in April! Good on you! Here's more content:
[Image Credit: https://commons.wikimedia.org/wiki/File:NFL_Draft_Town,_Chicago_2016_(32916551263).jpg under cc-2.0]