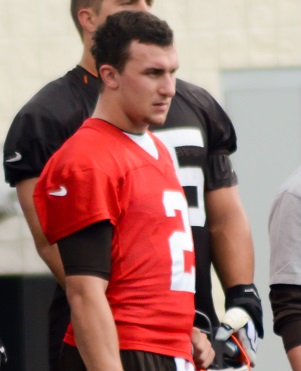 Will the QB streak continue? Here we go with picks 13-24 of the 2021 NFL Draft!
2021 Mock NFL Draft Part 2
13. Los Angeles Chargers: Ian Book, QB, Notre Dame
Barry R. Headensand, FA Analyst: Dean Spanos owns the Chargers. Dean Spanos is religious. Ian Book went to a religious university. Jesus-lovers LOVE the Good Book. Ian Book is another Book that is good. Start calling him Justin Sherbert, because he's gonna melt away!
14. Minnesota Vikings: Sam Ehlinger, QB, Texas
Headensand: To paraphrase the Cranberries, "you have to… you have to… you have to pick Ehlinger!" It is well-known that the Vikings make all their decisions based on mid-nineties music lyrics. This is why they are also showing great interest in Alabama Tech Center U. Otto Knowe.
15. New England Patriots: K.J. Costello, QB, Mississippi St.
Headensand: Renown leader Bill Belichick will serve as the Tony Abbott to K.J. Costello. You know who else went to Mississississippi State? Dak Prescott. But Costello brings more to the table than Prescott. For instance, I've never shrieked while staring at Costello's leg.
16. Arizona Cardinals: Peyton Ramsey, QB, Northwestern
Revlooh Nave, FA Arch-Enemy: He's got the skills of Peyton Manning and the fiery passion of Gordon Ramsey. He went to Northwestern, so he is probably smart. In reality, the Cardinals are picking him in order to have a fight-to-the-death Thunderdome scenario to toughen up Kyler Murray. That was not a metaphor!
17. Las Vegas Raiders: Jack Cook, QB, Dayton
Nave: This is an easy one. After watching Dean Spanos pick a player named Book, Jon Gruden will attempt to one-up his divisional rival by picking a player named Cook. Plus Cook and Gruden both went to the University of Dayton which seems a random enough reason to sway Jon.
18. Miami Dolphins: Joseph Marino, QB, BrightStarts Preschool
Nave: Downside: Joseph is about 20 years away from starting in the NFL. Upside: The Dolphins are going to want to lock up Dan Marino's two-year-old grandson ASAP. They missed out last year, and won't make that mistake again!
19. Washington Football Team: Dillon Gabriel, QB, UCF
Nave: Gabriel had 32 touchdowns and 4 interceptions in the tough-as-ice National American Athletic Conference in 2020. The Draft Network says Dillon has what it takes to make it in the NFL. Right now the biggest obstacle to his landing on a team in the 2021 draft is that he hasn't actually declared, and therefore can't be drafted. But when in the past has Dan Snyder worried about pesky rules?
20. Chicago Bears: Sam Howell, QB, North Carolina
Nave: Angry at the world for being a constant laughingstock, Bears' management decides to double down on a risky QB from UNC. Howell shocks the world by insisting he instead work at his dad's auto parts dealership, so the Bears throw a hundred million dollar contract at him. The Bears then cut him midseason leaving $87.65 million in dead cap space. Bet on it!
21. Indianapolis Colts: Michael Penix, Jr., QB, Indiana
Georgia O'Keeffe, Deceased Painter: As was the main theme of my art, Penix has a name that hints at something. Something large and beautiful. Something that should rise up and be ridden joyfully. Of course, I'm referring to that legendary beast: the Phoenix.
22. Tennessee Titans: Chris Ferguson, QB, Liberty
Billy Graham, Dead Dude: The NFL has angered many conservatives with its views on wine-colored Gatorade and end zone dancing. They can atone by having the holiest of teams, the Titans, invest in a QB from a Christian university. Plus he was as perfect as God, himself, throwing zero interceptions in 2020. Some may argue that Ferguson only threw 37 passes, but that's more passes than the years it took Jesus Christ to save the Earth, Mankind, and many aliens!
23. New York Jets: Chase Brice, QB, Duke
Jay LeBrake, President of the Chase Brice Fan Club: Though they already took Justin Fields at 3rd overall, the Jets will come to the realization that a mobile QB who is not used to taking hits won't survive behind that horrible Jets line. Instead, they will look for someone experienced with taking sacks. Our man Chase Brice is the best at this. He took an NCAA-leading 34 sacks in 2020. Plus, they get double trouble in terms of experience, as Brice also led the NCAA in interceptions, while still leading Duke to a 2-9 record.
24. Pittsburgh Steelers: Rex Culpepper, QB, Syracuse
Adolph Benito, Unfortunately-Named Sportswriter: It is widely known that Ben Roethlisberger will violently devour any QB the Pittsburgh Steelers draft. So, this is going to be a tricky one for them. Culpepper ranked 3rd-worst among all eligible 2020 NCAA quarterbacks in terms of completion percentage. Roethlisberger only likes delicious, hopeful prospects, so maybe they can sneak this one past him long enough to train Rex using some sort of sped-up montage.
For more of our special brand of predictions, draft your discord, podcast, and Patreon links from the same team:
[Image Credit: https://commons.wikimedia.org/wiki/File:Quarterbacks_at_2014_Browns_Training_Camp.jpg under cc-2.0]