Making a great fantasy football salary cap team is just like budgeting and buying items for a barbecue. If that abstract analogy has been enough to already convince you, download the cheat sheet right here.
Now, you may be saying, "hey, guy on the Internet, I have my own way of doing salary cap drafts and it's better than your BBQ strategy."
To which I would reply: Yeah, you are probably right. Hop into our discord and nerd it up with us salary cap nuts.
The point of a great barbecue isn't to have Food Channel-quality dishes all the way down to Dr. Fancy's Bespoke Orange Soda served in bone china teacups. The whole point is to have a spread that makes everyone say, "wow, great barbecue." Likewise, the whole point of BBQ salary cap draft strategy isn't to be the best strategy, it's to give you the best team possible without any significant investment of your time. Every year, I do sooo many mocks and collect all the data needed to evolve this strategy. Then I test it in mocks to make sure it can be done every single time. It's for people who want to keep up in their salary cap leagues but don't want to delve down the rabbit hole that is analyzing and theorizing about fantasy football draft market trends. I do that for you. I love you.
So, let me jump right into my 2022 salary cap draft strategy. I'm also going to frame it with the BBQ methodology I first conceived of in 2019, because I just bought a brisket and a pork belly from Costco and I can't stop thinking about all the bacon, pastrami, and Montreal-style smoked meat I'm going to create from it.
2022 BBQ Salary Cap Draft Strategy
1. Get Two Top-12 RBs

I wasn't kidding about that Costco meat-haul
The more teams there are in a league, the greater the positional advantage from having strength at RB. Thus, a team that can land two top RBs should be immediately competitive, provided they can round out their lineup with a strong supporting cast (those are steps 2-6). So, I've budgeted $50 for each RB on my cheat sheet. However, feel free to bid as much as $60, just note on your sheet that you need to make up the difference by waiting on value for other positions. That's the fundamental essence of BBQ strategy: Spend now and then save later. Worst case scenario is that your team ends up a little weak at positions where it doesn't matter so much, like WR2 and "Bench." But you probably won't end up weak anywhere, because you are reading this guide.
Those are the meats for your barbecue. When I host a barbecue, I don't raid the "expiring soon" bin at the nearest mega-market. I go to the butcher and get the cuts that look spectacular. If I pay a bit more than budgeted, so be it: I'll make up for it by getting the cheap potato chips and store-brand soda.
If you are vegan, I still got you with this metaphor. Vegans at my barbecues get the best farmer's market cauliflower, breaded in artisanal crumbs, deep fried, and tossed in my homemade, butter-free BBQ sauce. I got you: Now back to fantasy football!
Generally, I end up with a top ~6 back for somewhere between  $55-60 and a decent top 12 back for $45-50. Now, my chart only budgets $100 and those numbers I just listed total $100-$110. That's the whole point: Flexibility. It's better to have to find $5-10 in savings later than to sit around waiting for the guys whom nobody wants to bid over market price on. Those guys aren't good, that's why nobody offered sticker price.
Now, one big difference between an actual barbecue and BBQ strategy is that the top 12 RBs can get injured, whereas the animal that meat came from is already as injured as it is ever going to get. That's "baked in" to this methodology by budgeting for a deep RB bench with some late-season fireworks potential. But first:
2. Wait for the Wide Receiver Market to Crash, then Get 4 WRs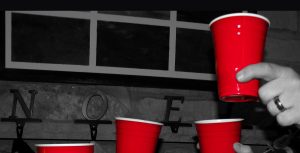 Cooper Kupp often went for under $10 in 2021. Wide receivers are like cups at a barbecue: Why pay up for Kupps?
The number one most useful piece of advice I can give to salary cap novices and veterans alike is that there will come a time when startable wide receivers start going for huge discounts. In my twelve team mocks, WRs start going for 50% of listed value usually around WR18. I've done 74 mocks this season, so far, across 4 different platforms (Yahoo, ESPN, Sleeper, and Drafty). Only twice has the wide receiver market not crashed early enough for me to count on some deep discounts for some startable receivers with upside. Plus even in those unicorn drafts where the WR market doesn't crash, it's fine: In order for that to happen, by definition, higher-end players went for more affordable prices, so I had the extra budget to bid for WRs to round out my squad.
If you want all my analysis on how the WR market crash works and how to predict it, read this article.
That means there is a HUGE financial advantage to just punting on getting a top WR and then rostering 4 lower-tier WRs. That's where you will make up your savings to account for going over budget on your RBs.
Why four? It's the optimal number to ensure you have two decent matchups each week to guarantee a WR20 floor, and also gives you lots of chances at getting this year's Cooper Kupp. I have 15 guys I think will return above average value and have a decent chance of going for "market crash" prices: Mike Williams, Elijah Moore, Christian Kirk, and these twelve.
For 12-team BBQ, I have sorted these players into two categories: Players you should bid around $8 for, max, and players you can probably get for a buck or three. The $8 players will be your starters while you wait to see if the other players start showing breakout tendencies from your bench.
Bringing in the barbecue metaphor: These four receivers are your plates, cups, sodas, chips, etc. All the stuff that won't make or break a cookout but are still needed for a well-rounded barbecue.
3.
Spend $15 or Less on QB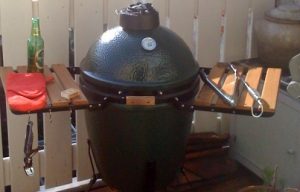 Paying premium values for QB is like buying a Big Green Egg to cook a pack of hot dogs
In recent years, my advice at this position was to spend ~$10 total on two high-upside young QBs. This was a great way to hit on Lamar Jackson in 2019 and Josh Allen in 2020. But the top tier of 2022 QBs is so deep and flat, this year, that for just a few dollars more in 2022 you can roster one QB with a much higher floor. This is the cooking apparatus of the barbecue: You need a solid grill or smoker, but an expensive one won't produce a great meal if affording it means you have to skimp on what goes in it.
Josh Allen, Jalen Hurts, Joe Burrow, Patrick Mahomes, Justin Herbert, Lamar Jackson, and Kyler Murray all have a top 12 floor with QB1 overall upside. All of those QBs regularly go for between $10-20. If you really want value, Russell Wilson often goes for single digits and is a talented, former #1 fantasy QB about to step into an upgraded QB scheme.
Now, some leagues over-value QB and will bid all those above guys into the $20s. Don't panic buy a QB. Just pivot into the old standby of two cheap QBs with high upside. I'm a big fan of pairing Derek Carr and Trey Lance for under $10 total. The key is: QBs all going high accelerates the market crash on WR. It's better to save your $ for an upgrade on all your WRs: That multi-positional advantage (as well as the upgrades you can do at other positions because you saved $5+ on QB) will be significantly more than the points you lose by getting a tier B quarterback.
The above underscores a key component of BBQ strategy: Do not pay more than $15 for a QB. Even if you find yourself with extra cash from savings on RB, it is better to upgrade at WR or TE than to gamble that the QB market won't give you some nice values later.
4.
Get Two Starting RBs for Your Flex and Bench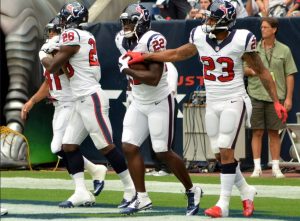 Fun fact: They're called "RBs" because they are made of Roast Beef
This is the part where we plan for any big injuries to our top RBs by ensuring we have solid depth. Yes, one or more of the RBs here will be on your bench, which can cause concern for managers who are just trying to fill out the best starting lineup possible. But fantasy football is won in the Winter, after a season of running backs getting banged up like they always do. You can either pray that your two starters will have magical 17-game seasons or you can ground yourself in reality by paying up for depth. It's all going to come back to you in WR savings, so do future you a favor and get guys who will be suitable starters if your big guys go down. That's how you get positional advantage over the playoff-bound teams that started strong by investing big in their starting lineup for early wins, but have no plans for when the injury bug hits in the back half of the fantasy season.
I'm drifting away from hammering home the barbecue metaphor, because if you're not sold by now then me telling you that "the third and fourth RBs on your team are like the potato salad and cornbread" isn't going to tip your scales. But it's important to make sure you have decent potato salad and cornbread: Complimenting the main meat is critical for a stellar barbecue plate.
5. Get a Top Five TE, but Don't Overextend on the Top Two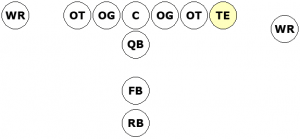 You can't spell "Don't Overextend" without "T. End"
Budgeting $18 for tight end will almost always place you out of the running for Travis Kelce or Mark Andrews. Not every time, I've seen both go for mid-$20s on rare occasions, so stay alert. However, the more teams there are in a league that starts 1 TE with no scoring bump, the less important it is to be on top at this position. This is because there will be more teams starting tight ends from the tier-B "blob" every week. 
Kyle Pitts, George Kittle, and Darren Waller should be your targets. You want to stay a step ahead of the "blob" without breaking the bank. Call it dessert at your barbecue: Not central to the overall meal, but you don't want the final thought of your guests to be, "wow those store-brand candied yams were not my favorite."
6. Fill out Your Bench with Toolbox Targets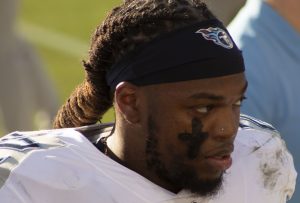 Like any team going against Derrick Henry, you want to stack your 'box
Toolbox Bench strategy is what elevated my fantasy salary cap draft game into "consistently makes the finals of the playoffs" territory. But you're not here to read an entire article about players that won't even start on your team to begin the season, so let me break it down:
Get 1-2 RBs who should see decent use and could spike if the main back goes down. Melvin Gordon, Tony Pollard, Michael Carter, AJ Dillon, and Kenneth Walker all fit this bill.
Get 1-2 players who have a high floor but a limited ceiling for bye-week fill-ins. Nyheim Hines (in HPPR and PPR leagues only), Cordarrelle Patterson, Jamaal Williams, Kareem Hunt, etc.  
Get 1-2 players who will start slow, but could break out for a league-winning playoff push: Kenneth Walker (yes he fits two of these categories), Dameon Pierce, DeAndre Hopkins (suspended), or any rookie WR who goes cheap are all good lottery tickets.
This should ensure you have the ingredients for that "special sauce" that keeps your team competitive all season long. See: There's a barbecue thing, there.
That's the whole '22 12-team BBQ strategy! Here's the cheat sheet, if you want your salary cap draft to be as foolproof as possible. As you roster players, fill this in to let you know how much extra wiggle room you have to upgrade other future players.
Download a Printable BBQ '22 Cheat Sheet, here
[Image credits: https://www.flickr.com/photos/usachicago/4227990143, https://www.flickr.com/photos/26686573@N00/15008586680, https://www.flickr.com/photos/kattebelletje/3678473046, https://commons.wikimedia.org/wiki/File:Tightend_position.png, and https://commons.wikimedia.org/wiki/File:Derrick_Henry_2019_12-08.jpg
 under cc-2.0]