I want the XFL to succeed. Competition helps more than it hurts, and it usually has a positive effect on the employees (players, coaches, staff, etc.) The key to a league succeeding is money, and the key to money is a robust fan base. So I've decided to take a ride through the Facebook posts of each XFL team. I started with the only team that didn't score a touchdown week 1 (also the only team with an ejection). All of these are posts from Tampa Bay Vipers fans on their FB page.
Who Are Tampa Bay Vipers Fans?
So who is Tampa Bay Vipers fan base? What are they like? Judging from their Facebook posts, they are very protective of their families…

Naturally, when your NFL team has a QB throw as many interceptions as touchdowns, and then your XFL team scores 3 points in its opening loss, it's hard for Tampa Bay Vipers fans to not be a little justifiably sad:

But one thing that impresses me about the Vipers' fan base, and makes me feel like there's hope for the financial success of the franchise, is their resiliency. They are going to get back on the horse- errr, snake with a good 'ol shield of desperate optimism:

But, as emotionally-tuned as they are, Tampa Bay Vipers fans don't always get sarcasm…
All Tampa Bay Vipers fans are definitely into Canadian country music:

They also buck the trend of the slovenly "Florida man." No, these football enthusiasts have a high standard, whether it's devotion to fandom or rigid adherence to grammatical structure: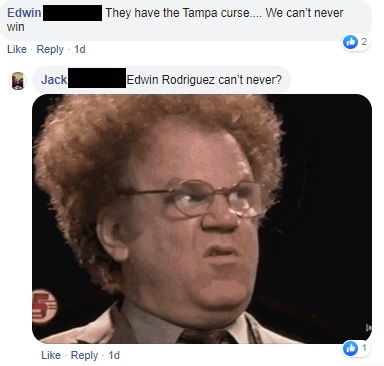 But, to make one statement summarizing all of the Tampa Bay Vipers fan base is difficult. Plus I don't think I can summarize the tumultuous and often confusing nature of the job as succinctly as this guy:

Tune in next week when I analyze the comments from another XFL team's fans.
Evan Hoovler won the FSWA's "Fantasy Football Article of the Year" award, and has a new book, "Teaching with Comedy"
For more Hot Takes from Crazy People, check out these:
Hot Takes from Crazy People: The Best High in My Life
Hot Takes from Crazy People: New York/New Jersey Fans Edition
[Photo Credit: https://www.rawpixel.com/search/florida under under CC BY-SA 4.0]