I hijacked this week's Hot Takes From Crazy People from Evan Hoovler as I needed a quick fix into the craziness that is NFL football fans. Can't really blame the psychosis as unlike any other major sport, football-only arrives once a week and nearly every game is essential due to a 16 game schedule. Let's take a dive into the madness and see what pops!
New York Giants vs. New York Jets, I mean New Jersey? When you're not wanted anywhere

Gooberment is not having any of it

When it's so taxing on the soul, you need to bring up a man who has been dead for 37 years

Unfortunately, Antonio Brown was feeling lonely… Nah this is writer's gold!
When you have fallen so far you become excrement

From the lips of a man on how to get away with something wrong
Not HOF worthy? Since when does 1,101 receptions for 13,899 yards and 130 touchdowns not be HOF worthy? Oh, wait… It doesn't. As Rose Royce sings "luv doesn't live here anymore."

However, hat tip goes to the Goo_Goo_ for Gooing in the right direction

A long road for Trent Williams with a horrible organization
Trent Williams has a tumor in his head and these guys are arguing about his trade value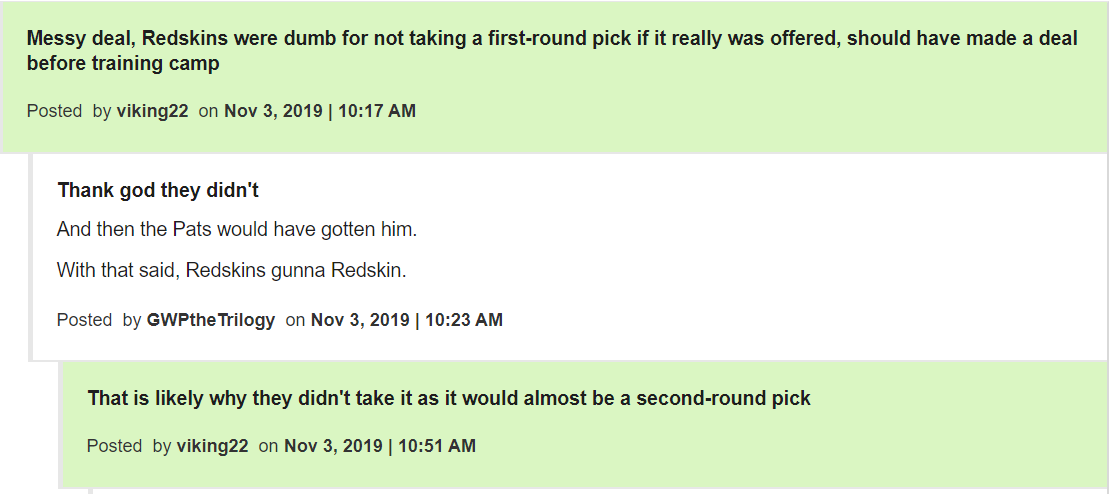 Dallas Cowboys out there getting fines for roughhousing

However, sometimes crazy comes with smarts, just like painkiller20 cites:

Top draft choice Chase Young may be out for the rest of the college season.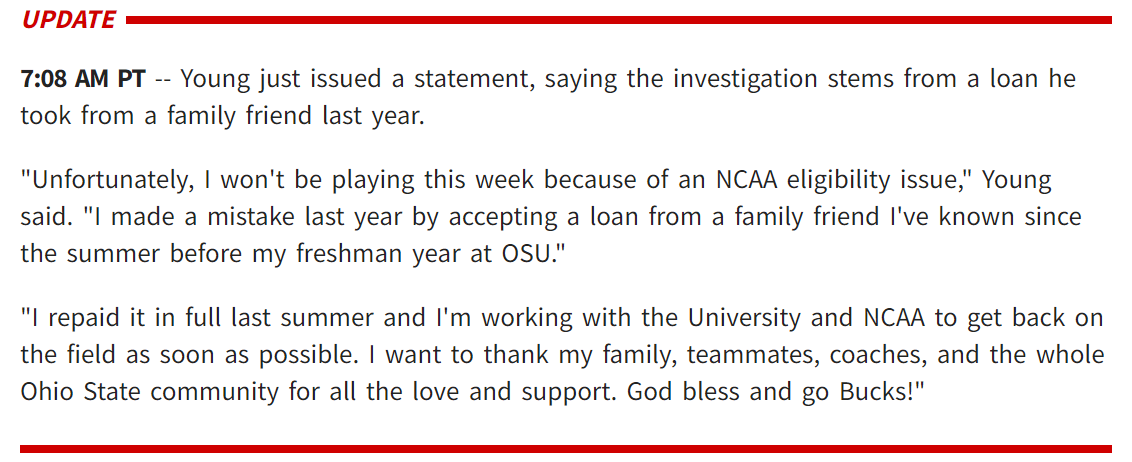 But that's okay, according to Truth and a one-game video he sucks,  and look! #12 (Peyton Ramsey) is a thing.

That's all I can take, this week. For more Hot Takes from Crazy People, check these out:
Hot Takes from Crazy People: The All-Time Worst NFL Comments in the History of This Week
Hot Takes from Crazy People: Dolphins Fans' Brains Are Broken
Hot Takes from Crazy People: All Gardner Minshew Comments, All Night Long
Hot Takes from Crazy People: Weird Comments from NFL Fans
For more humor or free fantasy advice, follow us on Twitter and join our Discord
(Header Image Source: https://upload.wikimedia.org/wikipedia/commons/3/3c/A_view_of_New_York_City_with_the_Empire_State_Building_and_One_World_Trade_Center_from_the_Rockefeller_Center.jpg under https://creativecommons.org/licenses/by/4.0/deed.en)