It's that time of the week when we read crazy comments about the NFL to distract us from our day jobs (reading crazy comments about politics). Since the season is wrapping up, I thought I'd like to peel back the kimono I use as a curtain and talk about four of my favorite types of crazy commenters:
Crazy Commenter Type #1: So Mad about Something Completely Unrelated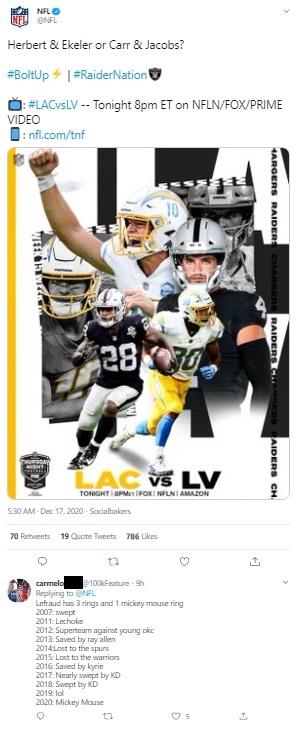 This person is so mad about LeBron "Lefraud" James. Just blinded by madness. No doubt because this person is a racist and hates LeBron's activism. Sorry, I had to just call it out like that, but what makes this a special favorite of mine is how they can't say the quiet part ("I am racist") out loud. So, instead, they do such Olympic-caliber mental gymnastics that they convince themselves a guy with four titles and ten finals appearances is a fraud at basketball.
That's not even my favorite part. My favorite part is that this type of commenter's all-consuming rage has clearly bled into every part of their regular life. How else can you explain them ranting about LeBron in a post about <scrolls up> the Raiders playing the Chargers on the NFL's Facebook page?!?
Whenever I see posts like these, I like to sit back and imagine the poster's day-to-day dealings.
Son: Hey dad, could you pass the peas?
Dad: Peas?! LeFraud James got crushed, absolutely SWEPT in the 2007 NBA finals. Then he went to a SUPERTEAM and LOST in the finals. Sure, after that, he won two championships, but it was really a weak opponent and then Ray Allen. Then, THEN he lost ANOTHER finals! And Another! Then he was just Kyrie's teammate! Then he lost more finals! MICKEY MOUSE TITLE! NOT ONE OF THE GOOD ONES!!!
Son: <has perished from starvation and decomposed into a skeleton. Mortgage-defaulted home has been demolished and replaced with a Wendy's drive-thru. Cars honk.>
Sometimes this type of commenter comes in the flavor of "trying to make a joke, but is too busy trying to punch down to actually say anything relevant or funny." Like this comment in a FoxNews (I know, I know) article about the Colts punter beating cancer:

I don't even know what to say about this. So, I'm just gonna save you the click, dear readers, and state that the article didn't mention Covid-19 or even a doctor.
<Scene: A hospital waiting room. A family sits, wringing their hands. A father and husband paces nervously.>
Doctor: Roberts' family?
Everyone: Yes?
Doctor: I'm Mrs. Roberts doctor. I'm pleased to announce she has made a full recovery from her brutal brush with death.
Everyone: Oh, that's wonderful!
Doctor: Yes, it's a medical miracle. No one has ever survived an elephant sitting on them before. She should be discharged within the hour.
Roberts Family member and FoxNews commenter 1OldnGray: BUT WHAT ABOUT COVID-19? WHAT HAPPENS WHEN SHE GETS THE CHINA FLU?! YOU ARE A DISGRACE TO YOUR PROFESSION!
Entire Room: <Glares>
1OldnGray: Just a joke, you know.
Doctor: People are dying.
Alright, moving on:
Crazy Commenter Type #2: So Mad about Something Kinda Related
Emmitt Smith's son recently announced he would be playing football for Stanford. Apparently, that's really bad: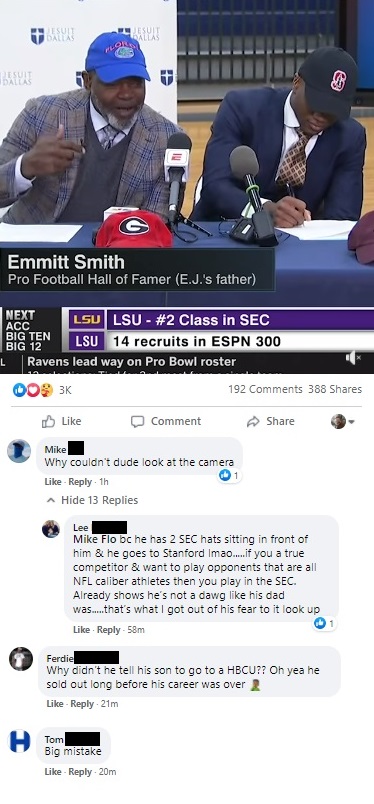 No doubt, they are looking at how the SEC churns out all-NFL running backs like Bo Jackson and Herschel Walker, whereas Stanford just produces bottom-of-the-barrel running backs like… Christian McCaffrey.
Crazy Commenter Type #3: Not Really Mad but Not Really Related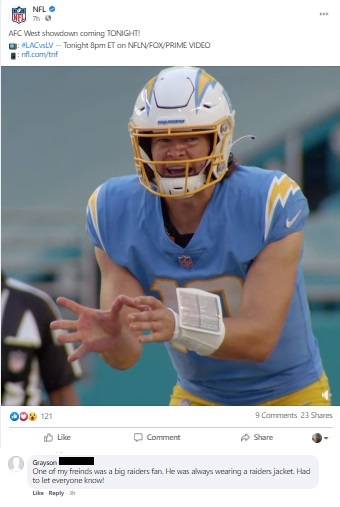 The "had to let everyone know" paints a clear picture of why this person used "friends" in the past tense.
Crazy Commenter Type #4: Philadelphia Eagles Fan Who Has Drank Too Much Crown Royal

Tune in next week for more of my favorite crazy comments types.
If too much Crown Royal has given you a hankerin' for some daily fantasy sports. Try out FanDuel! That link lets them know we sent you! It also gets you a 20% deposit match up to $500!
Then, follow Football Absurdity on Twitter!
After that, get free fantasy football advice by joining our Discord!
Finally, if you like what you read here, check outour podcast and our Patreon
[Photo Credit: https://commons.wikimedia.org/wiki/File:Crown_Royal_Plant,_Amherstburg,_Ontario_(21782552031).jpg under cc-2.0]