We made our Super Bowl LIV picks back in December, and now it's time to revise our opinions for the two teams that made it.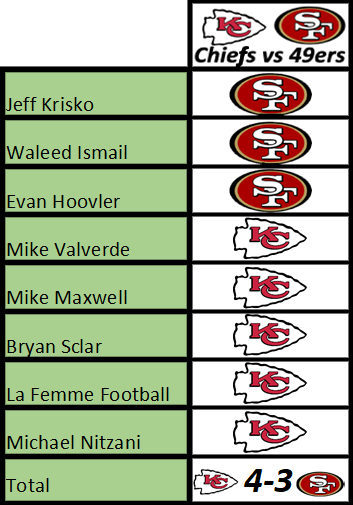 Jeff Krisko, Football Absurdity's Editor-in-Chief, and 49ers Season Ticket Holder:
San Francisco 37, Chiefs 34. Go Niners.
Waleed Ismail, Football Absurdity's CFO:
Firstly, Patrick Mahomes is only 24 years old and taking the NFL by storm.  He's already been to the AFC Championship game two years in a row and will appear in his first Super Bowl this Sunday.  Mahomes is leading, without a doubt, the most exciting offense in football.  By contrast, San Francisco fields arguably the best defense in football.  Nick Bosa's rookie campaign and Richard Sherman's reemergence created a defense that burned through its NFC competition like a brush fire.  So, what happens when an all-world offense matches up against a punishing defense?  The answer is the oldest adage in football: defense wins championships. San Francisco 37 Kansas City 24
Evan Hoovler, Football Absurdity's FSWA "Article of the Year" Finalist:
Man, I picked the Chiefs over the Niners in Super Bowl LIV last December, but now I really think the 49ers are going to pull off the big win. They look complete on both offense and defense. Kansas City's defense is not good: Despite mostly playing from behind, Chiefs' opponents averaged the eighth-most rushing yards per game. When these teams come together, San Francisco should control the clock enough to keep KC's offense from scoring too much (and the 49ers defense will help, too). San Francisco 24, Kansas City 13.
Mike Valverde, Football Absurdity Columnist and Podcast Co-Host:
This game should end up in a blow-out one way or another. San Francisco 49ers control the clock with their running game and be 90% of what they were against Green Bay, then its lights out for KC. However, if KC can bottle up the 49ers run-first offense as they have against both Houston and Tennessee, then Mahomes and crew will off the "Gold Rushers." I'm hoping for high-flying back and forth action, but the halftime show with Jennifer Lopez and Shakira will be more exciting than the game itself. Chiefs win this 38-17.
Mike Maxwell, Football Absurdity Weekly Columnist:
So we have San Francisco versus Kansas City for the right to be the default game on Madden 2021?! This is an exciting time for the NFL and fans. Let's talk about two struggling franchises and how much this means to their fans. The 49ers are having the perfect year to help anyone who can't deal with the pain of the Warriors' demise, or who can't afford rent in the Bay Area. Kansas City has taken a modest 50 years away from the Super Bowl largely because of its proper Midwest upbringing and wanting to be sure everyone else in the league wins twice before they win again.
Can Garoppolo spend as much time studying film as he does in the tanning bed? Can the Chiefs survive their charitable first-half game plan of letting their opponent go up three scores? One thing is for sure, we have a QB from the Big 12 and one from Tony Romo U. So start drafting from tier-three QB programs and build an O-line. And good news Chicagoans, the Bears are halfway there already!
The world deserves to see Andy Reid blink glares of utter joy this time around. Chiefs 45, 49ers 35.
Michael Nitzani, Football Absurdity Writer: The 49ers had a lot of swagger dismantling a very good Green Bay team. While, on paper, the 49ers appear supreme, the Chiefs team seems more aptly suited for the emotional up and down of a big game given their monster comeback against the Texans, and come from behind victory over the Titans.  Both of those comebacks were revenge killings, as the Chiefs lost to Tennessee and Houston in the regular season.  The Chiefs will prepare for the 49ers' strong running game, forcing Shanahans's team to pass more with Jimmy Garoppolo. This would normally be okay, in a regular-season contest.
BUT… there's a reason people buy Pat Mahomes jerseys.  After all, the reigning MVP is part Bruno Mars with his slick moves and part Peyton Manning with his 4th quarter prowess.  This will neutralize Richard Shermans defensively, keeping the 49ers' swagger in check, as the team's mojo evaporates with every magical third-down conversion Mahomes orchestrates. Chiefs 28, 49ers 24.
Bryan Sclar, Football Absurdity Weekly Columnist:
What is Kansas City known for? World-class BBQ. What's San Francisco known for? Rice-A-Roni. While BBQ is an American delicacy enjoyed by billions around the world, Rice-A-Roni is a heavily processed, high sodium side dish. While I do enjoy me some Rice-A-Roni, you'd have to be nuts to choose that over a heaping helping of some good, old fashioned Kansas City BBQ. Give me the Chiefs in an instant classic: Kansas City 42, San Francisco 36.
Y'all know me: I'm a tough-as-nails reporter chick who uses 100% non-opinionated FACTS to form her predictions. So, check these out… FACT: Patrick Mahomes' dreamy fro is exactly four inches tall. FACT: I long for Travis Kelce to hold me in
his 34-inch arms
. OPINION: Kansas City 24, San Francisco 21.
For more Super Bowl LIV content, check out these:
Did this article make you want to get some skin in the game? Well, then go ahead and sign up at Fan Duel. That link tells them we sent you and helps us out a bunch. Thank you for reading!
(Header Image Source: https://upload.wikimedia.org/wikipedia/commons/e/e4/Hard_Rock_Stadium.png under CC BY-SA 4.0)