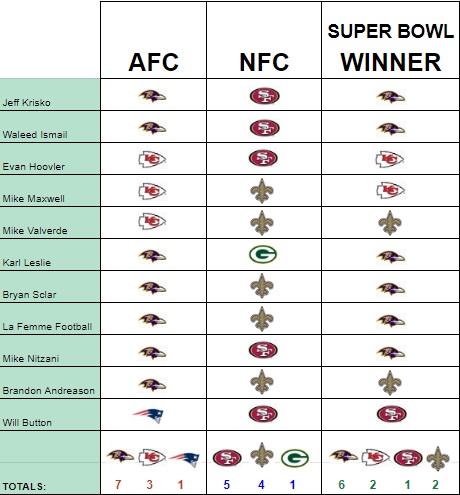 Jeff Krisko, Football Absurdity Editor-in-Chief & 49ers Season Ticket Holder
49ers versus Ravens: They already gave us the game of the year. The road to the Super Bowl in the NFC goes through Santa Clara. They're 3-1 against their most likely competition for the NFC title this season (Packers, Saints, Seahawks). They have the home-field advantage and my rampant homerism. I'm taking the 49ers to get to the Super Bowl. The Ravens making it is a little technique I like to call "not overthinking it." Unfortunately, the 49ers struggle against running QBs. Maybe they can get another power outage this time?
Ravens 33, 49ers 24
Baltimore is the hottest team in football. They've dominated opponents en route to 12 straight wins. In the NFC, San Francisco is sporting arguably the best defense in football, without the luxury of cupcake opponents that the Patriots had to pad their defensive stats. In the end, I'm picking Baltimore because they just don't seem capable of losing.
Ravens 24, 49ers 17

Evan Hoovler, Football Absurdity's Guy Who Is Laying out This Article
Kansas City versus San Francisco: We all know Kansas City has a higher gear, they just haven't shifted into it much this season. Well, Andy Reid will finally unleash the Chiefs in the offseason, beating Baltimore in the AFC Championship by just not playing defense at all and having an old fashioned shootout. The Niners have put together an amazing season, and I just can't see them failing to any other NFC team. They're too complete to have a bad game, and they've already beaten the Saints, Seahawks, and Packers in the second half of the regular season. Joe Montana will show up and share fond memories of his Niners years and the 1.5 seconds he played on the Chiefs. People everywhere will don their Red and Yellow to support their team, but no one will be able to figure out which team it is.
Chiefs 33, 49ers 27

The Baltimore Ravens, aka the Lamarlem Globetrotters, have been throwing buckets of confetti in their opponents' faces since week 1. Lamar Jackson is playing with no fear and the biggest of chips on his shoulder. If you don't believe that, go see Mark Ingram. Big truss! Woot woot! The Saints are one of the few teams that would be able to match shots with the Ravens, which would make this bowl an instant classic. Drew Brees isn't done yet, but this may be the best shot he's gonna get. Remember when he had a dead arm? False. He's a demigod, who won't think twice about stealing candy from a baby (that baby being Lamar Jackson) to snag himself another ring. But this is a smart, mobile baby who will foil Brees in the end.
Ravens 36, Saints 33
First, let me be clear: I'm a Cheesehead. Second, let me be clear: This will be on the back of some good luck, great defense, a break out run or two from Aaron Jones, and a little magic from 12. That said I don't think Green Bay stands a chance, at this point a Superbowl championship feels like manifest destiny for the Ravens and Lamar Jackson's historic season. You go get yours Lamar or, as the Ravens' sub-Reddit would say, "stun on that gardening equipment."
Ravens 31, Packers 17

This is the game we deserve, and the game we want. Both of these offenses look untouchable, currently. The Ravens put up nearly 3,300 rushing yards this season as an afront to the forward pass. Drew Brees chose this year to rewrite all passing records. No team has made the Super Bowl without having a bye in the first round since 2012. The Saints are going to break that streak this year. Lamar Jackson vs. Drew Brees is football heaven waiting to happen. After years of watching Bill Belichick and Tom Brady sullenly win for their racist, dirtbag fans, it's time for one of these teams to take over. The Ravens are good. The Saints might be great. I'll take the Saints in an instant classic. Saints 34, Ravens 31
San Francisco 49ers: This team looks so good on both sides of the field, but if there's anything that'll kill their team it's their defensive bungles that happen from time to time. They seemingly have little-to-no issues on offense, putting up big numbers on the scoreboard, but also allowing a lot of points on defense. In the last four games alone, they allowed opponents to average over 31 points per game. This means if they're going to allow a team to score 25-30, they better be ready to put up more than that on offense. They're definitely a 'put their money where their mouth is' team, so I can see them taking home a Super Bowl victory.

New England Patriots: I mean they have Brady and a bunch of dudes that are, like, really good at football. Also, that coach is pretty dang good at calling plays for the football team. Just look at them. I mean like, go to YouTube and check out some highlights, they're apparently really, really good in pressure situations and they've gone to the playoffs like a zillion years in a row. Other teams like the Chiefs and Ravens look good, but no one is going to be able to beat the Patriots leading up to the big game. Brady is angry and hungry.
49ers 41, Patriots 28
Chiefs versus Saints: In the final effort to transition into the Arena League, the Super Bowl will eclipse 90 points making the interns handling Next Gen Stats to create some cutting edge bar charts for years to come. How does it end? Saints getting to finally sleep at night? Andy Reid waving to Donovan McNabb and T.O. from the podium? Or do both team choke and we get the first tie? Probably that. 
Chiefs 48, Saints 45
Black is the new black in the football fashion world, as the black-and-purple Ravens square off against the black-and-gold Saints in Super Bowl LIV (Tyler). Drew Brees and Lamar Jackson take turns dropping rainbows like a storm in the Miami sunshine. In the end, Baltimore remembers it actually has a defense and stops Brees just short of his second Super Bowl.
Ravens 42, Saints 35 

The New Orleans Saints get to their second Super Bowl under Drew Brees as they defeat the San Francisco 49ers in a last-minute drive for a touchdown. There is a clear push-off by Tre'Quan Smith in the end zone, but to make up for last season's gaffe, the referees ignore it. Meanwhile, the Kansas City Chiefs take down Lamar Jackson by limiting his running lanes and forcing him to throw. A few passes end up in the Chiefs laps and they take home the AFC Championship 30-24.
With both teams arriving in Miami and fans eagerly awaiting an explosive game, we find that the Holy Men have fewer prayers than the Native American Rain Gods and the Chiefs go on to victory. Michael Thomas and Drew Brees hook up on a routine basis while Alvin Kamara continues to bolster the offense. However, the Chiefs have a tandem of their own with Patrick Mahomes and Tyreek Hill. Both teams take advantage of their opposing defenses and we get the high-octane offensive Super Bowl that we should have last year when New England defeated Los Angeles 13-3. The title game comes down to a Mahomes interception after he throws for 350 yards and four touchdowns.
Saints 35, Chiefs 31

My prophecy is Baltimore over San Francisco: This isn't a football game, it's an ideological battle between cities and rampant inequalities that plague modern-day America. Lamar Jackson and John Harbaugh will be uncontainable beasts in this game and will devour the 49ers the way a lion devours their prey on the world's biggest stage.
Raven s 35, 49ers 14
Want more predictions? Follow us on Twitter. Want to fight us about our predictions? Hop on into our Discord!
[Photo Credit: https://commons.wikimedia.org/wiki/File:125_FW_flyover_at_Super_Bowl_XLIV_1.JPG under https://creativecommons.org/licenses/by/2.0/]