Hi, I'm Evan Hoovler, Football Absurdity's features writer, FAAB analyst, and primary embezzler. Although our mission is to put the fun back into the glorious hobby of fantasy football, I've got something important to talk to you about, today: Orphans. Did you know that every night, hundreds of NFL players go to sleep not knowing from where their next fantasy start will come? These players were separated from their original fantasy owners due to performance lulls, injuries, or simply went undrafted. But it doesn't have to be like that. For just a few FAAB dollars a day, you can sponsor a needy NFL player, providing them with the fantasy structure they need to survive.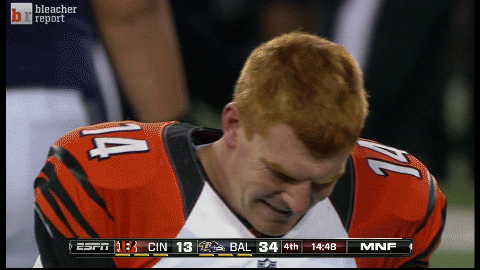 This is Andy. Andy goes to bed famished every night, hungry for a playoff win. For just 10% of your FAAB dollars, Andy could feast on a Colts defense that has pretty much just given up. Your contribution could make a difference (NOTE: Improved health will not improve his complexion. Please stop returning Andy Daltons to our home offices because he never gets any less red-faced.)
This is Josh. When we discovered Josh he was lost and confused, his nourishment coming solely from garbage time. Josh is one of the silent victims of the system, moving through mismanaged organizations like government-subsidized corn moves through his bowels. He wants you to hear his voice. For just 1% of your FAAB budget, you could provide a fantasy home for Josh against an Atlanta team that is not great against the pass and should provide ample opportunity for playing-from-behind passing magic.
Little Jalen has had quite a tumultuous life, but he never stayed down. I've enjoyed watching each and every one of his life's moments until the FBI told me to stop. His square shoulders and north-south running instinct should make him the favorite back of the Oakland Raiders Home for Wayward Boys. A solid sponsorship at just 20% of your FAAB dollars, Jalen should provide immediate dividends while also making for a great long term stash to get him through the cold winters.
His first name isn't the only horrible obstacle D'Onta has had to overcome. As an at-risk youth, he got mixed up in drugs, guns, and returning to his old college to party even though he had already graduated. He still faces an uphill battle: Despite being the most skillful runner on his team, D'Onta won't get the start in Seattle. However, Lamar Miller could struggle, paving the way for D'Onta to show off his unique skill set. He is definitely worth 1% of your FAAB budget in super deep leagues.
Juju Smith-Schu has been the victim of a system that has churned out a steady stream of overhyped duds. His life hit an all-time low this week, when he had his bicycle stolen, Still, the "Touch Monster" has the potential to be the second player Ben Roethlisberger(known humanitarian) looks at when going through his reads. 10% of your household FAAB budget is probably the amount you blow streaming kickers and defenses, but it could be the difference Juju Smith-Schu needs to turn his life around.
Corey Davis dreams of catching a football pass and being able to walk without limping. But, most of all, Corey dreams of a secure future. Although Corey needs at least one bye week of special treatments, your investment of a measly 1% of FAAB dollars should be enough to give him a teddy bear and a pep talk when he returns to the field. Don't ever, ever doubt the bizarre power of fresh legs in the NFL.
Some of our orphans have seen strife, hunger, even war. But none have seen the atrocities that Nick has: He has seen the general management of the Buffalo Bills. Nick is going up against an Oakland squad that is horrible against tight ends. He is worth exactly one of your FAAB dollars. I don't care what percentage that is, he is worth one FAAB dollar.