If you've never heard of my BBQ salary cap strategy, here's the elevator pitch: It's a simple, repeatable method to ensure you leave your salary cap draft with a competitive team without spending any effort at all. 
If you're already sold and just want the cheat sheet that guides you through a foolproof, effective salary cap draft, download it right here.
Now, you may be saying, "hey, guy on the Internet, I have my own way of doing salary cap drafts and it's better than your BBQ strategy."
To which I would reply: Yeah, you are probably right. Hop into our discord and nerd it up with us salary cap nuts.
The whole point of BBQ isn't to be the best strategy, it's to give you the best team possible without any time investment. Every year, I do sooo many mocks and collect all the data, then derive this strategy. I then test it in mocks to make sure it can be done every single time. It's for people who want to keep up in their salary cap leagues but don't want to delve down the rabbit hole that is analyzing and theorizing about fantasy football draft market trends.
So, let me jump right into my 2022 Superflex salary cap draft strategy:
2022 BBQ Salary Cap Superflex Draft Strategy
 

1. Get Two Top-Tier QBs

I guess they went with this idea when
"Starfish Flavour Corn Snacks" tested poorly
We give a lot of advice and have even more discussions about Superflex formats in our Discord. By far, the most common question we get is, "how should I value quarterbacks?" The answer we give, unanimously, is "like a running back." But does that mean you should pay as much for the top QBs as the top running backs?
Overwhelmingly, yes.
Think about how much a top fantasy running back is valued due to scarcity and potential for points. Now realize this: Top Superflex QBs are just as scarce. They also score more than RBs. They also have about 1/20th the chance of getting injured. We recommend at least 2 QBs go in the top 3 picks of a snake draft, and we are budgeting $87 of $200 for just these two positions in salary cap drafts.
That brings up a key point I want to make about the cheat sheet at the end of this article: It's a budget. A lot of people think they need a sheet with every player value on it, and that they should bid up to that value then pass. THAT DOES NOT WORK IN SALARY CAP LEAGUES, whether Superflex or otherwise. You end up with all the players who have too many risks and question marks for any other manager to want to pay sticker price for. You end up with no stars, either.
What does work is setting a budget, like when you are grocery shopping for a barbecue. You might have $45 written down for tri-tip steaks or baby back ribs or Josh Allens. But then you see that premium year-aged Travis Kelces have been marked down to $23. But the BBQ salary cap budget sheet allots $18 for the tight end position, does that mean you have to pass up that deal? No, you can just get that wedge of Kelce at a bargain and figure out how to make up the overage somewhere else. As a rule, it's almost always better to go over early and sacrifice bench depth than to wait for values and have a bench full of GREAT guys you don't even start.
Getting back on track: QB is king in a Superflex league: You should always flex a QB every single week. Yes, this means getting a third QB somewhere down the line. On average, a lower-end starting NFL QB will score many more fantasy points than your third or fourth RB and WR, so have a guy ready for bye weeks or if your top guy goes down.
2. Wait for the Wide Receiver Market to Crash, then Get 4 WRs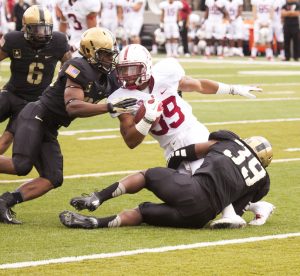 Tragically, this is the only way a WR can crash
with zero chance of CTE
No matter what site you draft on or what sheet you have in front of you on draft day, they will all have something in common: They will add up to the available budget for each manager times the number of managers. So if yours is a 10-team league with $200 budget, the player listings will add up to $2,000. That's the total amount of money in the pool.
Every dollar bid over the listed value has to come from somewhere. If Josh Allen is listed at $45 and he goes for $60, that's fifteen dollars that have to come out of the listed price for other players. Plus, with a Superflex slot driving up QB values, that's even more money out of the pot than in a 1-QB league. This is called a "closed economic market." It makes it so; even though every salary cap draft feels different, there are a limited number of patterns the market can move through.
This means something critical: The WR market will crash in Superflex drafts. Eventually, there will be enough managers starting to run low on crash and just can't find the motivation to start a bidding war over the 20th-ranked WR or whatever. This will happen when there are still decent WR2s on the board.
In fact, this phenomenon is why I spend most of my offseason analyzing and watching tape of the fantasy WR2s and WR3s. The budget chart at the end of this article lists the 13 WRs I think to have a decent enough chance of a breakout that, if you get 4 of them, you stand a solid chance of starting two borderline WR1s each week.
3. Get A Top-10 RB


A Superflex draft team without a top-10 RB
is like barbecuing with roadkill:
If you didn't want lots of early rounders
you should've just gone with snake]
A top-10 RB will usually run you $40-$50 in a 1-QB league, provided you pick your shot and don't push all in on one of the very top guys early. In Superflex drafts, you can often get a top-10 RB for around $30. Note: If your league loves to bid high on even the back-end RB1s, that's okay: Pay a little more for one, knowing your overage has to even out with bonus savings, later. 
4. Get 2 More Top-24 RBs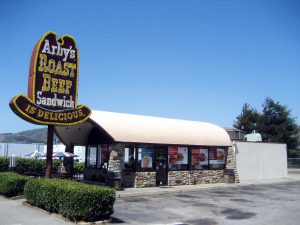 See?! It always comes back to making sure
you've got the meats!
Because of the glut of funds spent on QBs, the RB market will have an early dip, too. Now, this most likely will not be as dramatic as the WR market crash (where WRs will start going for less than 50% of listed value), but it still means startable RBs can be had for a bargain if you have the patience to wait and strike when the iron is hot… er, cold… er, low. It's a low iron you want to strike with.
5
. In Smaller Leagues, Bid More for a Top-6 Tight End (In Larger Leagues, Don't)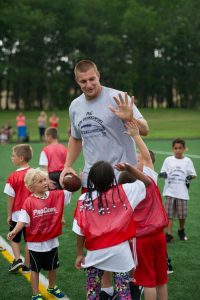 If you have done zero prep this offseason:
Know that Gronk retired.
No, I don't know if it's for real, this time
But, please, don't draft Gronk
One big tool you should keep an eye on is the budget for the tight end position. In my spreadsheet, it's $20. But really it's more like $25 for leagues with 10 or fewer teams and $10 in leagues with 12 or more. The theory is that the advantage at tight end diminishes the more teams there are that have to start tight ends from "the blob." To illustrate this, think about playing in an 8 team league where you don't have a top-tier TE. Say there are six of them: Maybe Kelce, Pitts, Andrews, Schultz, Kittle, and Waller. That means 6 out of every 7 weeks you face an opponent who has a positional advantage at tight end that you must overcome somewhere else. But if you're in a 14-team league, you'll face an opponent without this positional advantage in over half your matches.
This strategy gives you an elegant out for if you have to overbid on top players in bigger leagues, which frequently is the case. Loosening up $10 of your tight end budget really helps.
6. Fill out Your Bench with Toolbox Targets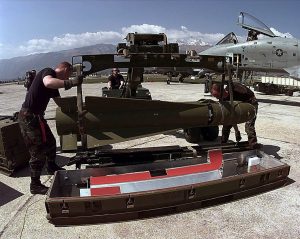 Fun Fact: If you type "toolbox target" into
Google Image Search, this is the only
fair-use picture that makes remotely any sense
I don't believe in the concept of "bench depth," at least not for salary cap leagues. Bench depth implies the players there serve the function of offering replacement level production for your starters if there's injury or bye weeks. Just treading water might get you to the playoffs, but it won't help you beat the teams that got better over the season. So I use a strategy called Toolbox Bench. Basically, every bench player serves one of three functions: Rookies that could break out, running back handcuffs for players you aren't rostering that will see a spike in fantasy points if there's a key injury, and high-floor bye-week replacements. Note that there can be some overlap: Baker Mayfield is a nice high-floor replacement for when your better QBs are on bye, but he also could become a solid enough start that he becomes a key mid-season trade piece to a manager who didn't think to play it safe at quarterback.
That's it! Happy super-flexing, and remember we LOVE talking theory and discussing individual draft strategies in our Discord.
Download a Printable BBQ '22 Cheat Sheet, here
[Image credits: ttps://www.flickr.com/photos/telstar/208536590, https://jenikirbyhistory.getarchive.net/amp/media/andrew-urrette-a-running-back-with-the-kinnick-high-d07bea, https://world.openfoodfacts.org/product/5010052109878/quarter-backs-golden-wonder, https://www.flickr.com/photos/west_point/9764280602, https://garystockbridge617.getarchive.net/amp/media/rob-gronkowski-new-england-patriots-tight-end-high-fives-71ce35, https://nara.getarchive.net/media/a1c-jerry-heron-driving-a-mhu-83-be-lift-truck-sra-jason-chaffin-left-and-ssgt-c50722] under cc-2.0]