If you've never heard of my BBQ salary cap strategy, here's the elevator pitch: It's a simple, repeatable method to ensure you leave your salary cap draft with a competitive team without spending any effort at all. 
If you're already sold and just want the cheat sheet that guides you through a foolproof, effective salary cap draft, download it right here.
Now, you may be saying, "hey, guy on the Internet, I have my own way of doing salary cap drafts and it's better than your BBQ strategy."
To which I would reply: Yeah, you are probably right. Hop into our discord and nerd it up with us salary cap nuts.
The whole point of BBQ isn't to be the best strategy, it's to give you the best team possible without any time investment. Every year, I do sooo many mocks and collect all the data, then derive this strategy. I then test it in mocks to make sure it can be done every single time. It's for people who want to keep up in their salary cap leagues but don't want to delve down the rabbit hole that is analyzing and theorizing about fantasy football draft market trends.
So, let me jump right into my 2022 salary cap draft strategy:
2022 BBQ Salary Cap Draft Strategy
1. Get a Top Tight End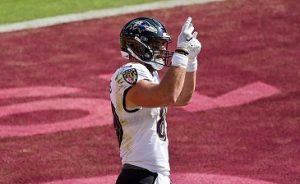 Tight Ends are the meat of this year's BBQ.
Unless you're vegan, in which case
Tight Ends are the cauliflowers
It is quite feasible for a manager to mull through the $1 TEs and waiver wire and come up with a passable player at that position. That's not what I'm doing here: I'm doing the thing that guarantees your team will be competitive, and that's getting a top 5 tight end: Mark Andrews, Travis Kelce, Kyle Pitts, Darren Waller, or George Kittle. That's all, get one of those. If you really want to guarantee an advantage, get either Kelce or Andrews. The data says you should be able to get one of those two for $35-45. You don't have to go nuts, though, there are always the other 3 guys in the second tier if Kelce and Andrews fetch too insane a price.
Let's talk about the numbers that prove this positional advantage is worth a premium… Actually, let's not: The whole point of this article is to give you something you can pull up 5 minutes before your draft and still rock a great team. If you want to talk numbers and strategy, hop into our Discord. We're talking and mocking all day, in there. If you just want someone to give you a simple checklist to follow, trust in me: I'm the person who spends all day studying and writing about salary cap drafts.
2. Wait for the Wide Receiver Market to Crash, then Get 4 WRs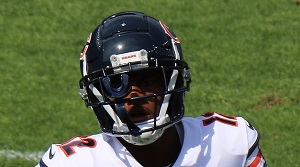 First Stafford, now Robinson:
The Rams are becoming a safe space for
players from deranged NFC North offenses
The number one most useful piece of advice I can give to salary cap novices and veterans alike is that there will come a time when startable wide receivers start going for huge discounts. In my ten team mocks, WRs start going for 50% of listed value usually around WR15.
That means there is a HUGE financial advantage to just punting on getting a top WR and then rostering 4 lower-tier WRs. Why four? It's the optimal number to ensure you have two decent matchups each week to guarantee a WR20 floor, and also gives you lots of chances at getting this year's Cooper Kupp.
So draft players based on "ceiling": the chance that they could flip out and make the leap into top 12 WR territory. Don't know which players have a high ceiling? Okay, I'll just list all of the guys I am targeting for this step of BBQ strategy: Courtland Sutton, Russell Gage, Jerry Jeudy, Amon-Ra St. Brown, Mike Williams, Rashod Bateman, Marquise Brown, Darnell Mooney, Allen Robinson, and JuJu Smith-Schuster. Give me any four of those (they will go for a total amount that is around the same as other managers will be bidding on just ONE top six WR).
3.
Spend $10-$20 on QB (or get Russell Wilson)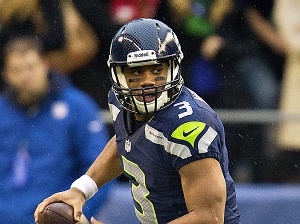 In 2020 Tom Brady switched teams and won the Super Bowl.
In 2021 Matt Stafford switched teams and won the Super Bowl.
That means the next Super Bowl winner will clearly be
Marcus Mariota and the Atlanta Falcons
In recent years, my advice at this position was to spend ~$10 total on two high-upside young QBs. This was a great way to hit on Lamar Jackson in 2019 and Josh Allen in 2020. But the top tier of 2022 QBs is deep and flat, so for just a few dollars more in 2022 you can roster one QB with a much higher floor. 
Josh Allen, Jalen Hurts, Joe Burrow, Tom Brady, Justin Herbert, Lamar Jackson, and Kyler Murray all have a top 12 floor with QB1 overall upside. All of those QBs regularly go for between $10-20. If you really want value, Russell Wilson often goes for single digits and is a talented, former #1 fantasy QB about to step into upgraded QB scheme.
4. Get Two Top-12 RBs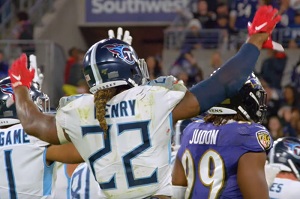 Or 1 RB that's the size of 2 normal RBs
That works the same… right?
Okay, here's another new wrinkle in this strategy. In the past, I have advocated using a chunk of your money to get 2 top 6 RBs/WRs. However, the high-end backs are less promising this year than usual. Jonathan Taylor just had the lowest-scoring season for a fantasy #1 RB in the past 6 seasons. Austin Ekeler is a decent target who goes around mid $50s, but the other "tier 1" RBs have a string of injuries. Remember, my salary cap draft success depends upon me not taking any player who has a decent risk. So, this season, I'm saying just get 2 players in the top 10-14 (depending on your league size: If you have a 14-team league you want 2 RBs in the top 14).
In previous seasons I had advocated spending $100-$130 on two players. Now I'm saying spend $90. Getting two RB1s is very doable on that budget. Here is my aggregate data for 10 team mocks, I've bolded the top 10 RBs.

Notice how even the "max" value I've seen bid can still net two of these for just over $90. In seasons where there is no significant advantage in the top tier, the key to success is to be deep at the next highest tiers. Please note: "$90" is just the budgeted amount. If your league is paying more for RBs, feel free to bid up to $110 and make up the savings by waiting for more values elsewhere.
5. Get 2 starting RBs on your bench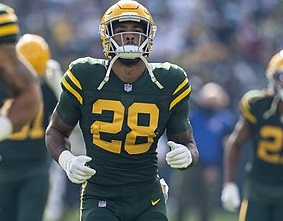 Lots of teams can field two "starting" RBs
(not just teams that hate their MVP quarterback)
Yes, solid Zero RB drafters can work hard to trawl up some successful RB1s from the dollar bin or the waiver wire. But BBQ strategy isn't about doing a lot of work. You want to get your immediate RB depth from proven rushers. Based on the market, you should be able to spend $30-40 and end up with two decent-if-boring RBs, although you may have to wait a while.
6. Fill out Your Bench with Toolbox Targets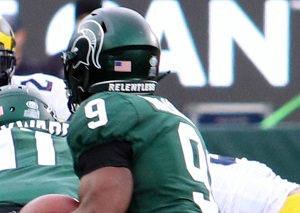 Seattle's is the real-life equivalent
of the zero RB fantasy strategy
except with quarterbacks
Toolbox Bench strategy is what elevated my fantasy salary cap draft game into "consistently makes the finals of the playoffs" territory. But you're not here to read an entire article about players that won't even start on your team to begin the season, so let me break it down:
Get 1-2 of these players: AJ Dillon, Tony Pollard, Alexander Mattison, Kareem Hunt, Nyheim Hines
Get 1-2 of these players: AJ Dillon, Melvin Gordon, Tony Pollard, Nyheim Hines, Cordarrelle Patterson, Michael Carter, James Robinson, Allen Lazard (yes, the overlap from the last list is intentional)
Get 1-2 of these players: Kenneth Walker, James Cook, Treylon Burks, Garrett Wilson, Chris Olave, Jameson Williams, Josh Dotson, Skyy Moore
This should ensure you have a healthy mix of bye week starts and late-season breakout potentials.
Here's the cheat sheet, if you want your salary cap draft to be as foolproof as possible. As you roster players, fill this in to let you know how much extra wiggle room you have to upgrade other future players.
Download a Printable BBQ '22 Cheat Sheet, here
[Image credits: https://negativespace.co/barbecue-meat-vegetables-cooking/ and https://commons.wikimedia.org/wiki/File:Allen_Robinson.JPG and https://commons.wikimedia.org/wiki/File:Mark_Andrews_Ravens2020.jpg and https://commons.wikimedia.org/wiki/File:Russell_Wilson_vs_Jets,_November_11,_2012.jpg and https://commons.wikimedia.org/wiki/File:Derrick_Henry.png and https://commons.wikimedia.org/wiki/File:A._J._Dillon_%2851631649396%29.jpg and https://commons.wikimedia.org/wiki/File:KennethWalkerIII.jpg under cc-2.0]