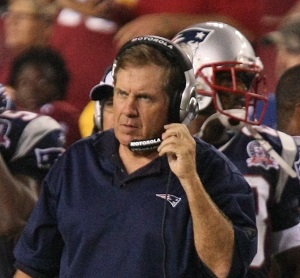 The NFL Combine for coaches was held this week, and a lot of NFL teams are rethinking their leadership. The disappointing performance of over 30 head coaches in Combine activities has been an eye-opener. Many underperformed in events such as the bench press, cone drill, and Gatorade absorption.
Many questioned the very existence of the coaches' NFL combine. Naysayers claimed that nothing could really be gained from determining how fast or strong a head coach is. In response, NFL P.R. representative Charlotte Webb said, "how is that different from the regular NFL Combine?"
One coach's stock took a particularly disastrous hit due to their Combine numbers. Andy Reid, whose contract is up in 2023, underperformed even the lowest expectations of him. The former Punt, Pass, & Kick winner put up a score of zero in both the broad and vertical leaps. He actually managed to get -1 in barbell reps, because the weight bench collapsed. Reid could not be reached for comment, as he was still finishing the 40-yard dash, three days after the Combine wrapped.
Reid wasn't the only underwhelmer of the 31 coaches at the Combine (when asked to participate, Jon Gruden simply glared at Roger Goodell for five consecutive minutes.) Former All-American and Washington Coach Jack Del Rio did not live up to his ex-pro-athlete billing. After failing at all five drills, Del Rio gave the excuse, "I just had cancer, jerk! Seriously, who would be so cruel as to even fund this combine? What kind of sick, sadistic excuse for a human being is responsible for this?"
But the identity of the Coaches' Combine's founder will probably be forever shrouded in mystery. It would have to be someone who has unbelievable amounts of cash, a rivalry with Washington, and is an all-around horrible human being. Rest assured, Football Absurdity's satire team will crack this case which, again, will probably be forever shrouded in mystery.
For more Football Absurdity, set these three links five yards apart. Then run over and click one, run over and click another, then make a 90-degree turn and run over and click the third:
[Image source: https://commons.wikimedia.org/wiki/File:Bill_Belichick_8-28-09_Patriots-vs-Redskins.jpg  and https://commons.wikimedia.org/wiki/File:Andy_Reid_and_Dani_Welniak.JPG under cc-2.0]