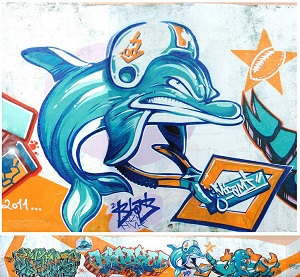 Not content with flipping draft picks more often than a pillow on a hot night, Miami announced a new trade Monday. The extravagant Miami Dolphins trade involves several other teams, prominent military brass, and some guy  in a trenchcoat in Little Haiti who only answers to "Turtle."
To start, the Dolphins will trade the Patriots' #6 overall draft pick they got from the Eagles. In exchange, they will receive the Patriots' 2023 first and second-round picks and a limited-edition Bill Belichick throw pillow. Then, the bobblehead will then be shipped off to Bostonian Liam O'Leary in exchange for $10,000 and a spinner from the board game LIFE.
The aforementioned spinner will then be sent to the Chicago Bears. Subsequently, the Bears will spin it to decide whom to start at quarterback. In return, the Eagles will be given the rights to produce a Broadway play based on the Super Bowl Shuffle.
Jug Band to Play Major Role
In addition, the Dolphins are dealing the second-round pick acquired from the Pats. Former Dolphins assistant coach Chris Foerster will be the recipient. Foerster was dismissed from the team in 2017 after video surfaced of him snorting cocaine in his office. Now with the 49ers, Foerster will receive the 2nd round pick in exchange for Jimmy Garoppolo's secret skincare regimen and a bootleg VHS copy of Emmet Otter's Jug Band Christmas.
These dynamic moves have Dolphins fans excited for the first time in 47 years. "Emmet Otter's jug band could bring us the interior offensive line help we need," somebody said. Somebody else remarked, "all those years doing odd jobs around town to help out his mother. I'm glad Emmet Otter gets a second chance at football!"
After the Miami Dolphins trade was complete, Dolphins head coach Brian Flores weighed in on the moves. "Emmet Otter got a bad shake," Flores opined. "His band had carefully rehearsed their song Barbecue. The Riverbottom Nightmare Band stealing that song at the Waterville talent show was unconscionable. Soon, I shall avenge Emmet Otter on the gridiron!" More on this story as it develops. Or maybe not.
For more Football Absurdity, trade five box tops to the Dolphins for these 3 links:
[Image sources: https://upload.wikimedia.org/wikipedia/commons/5/56/Miami_Dolphins.jpg and https://pixy.org/4308953/ under cc-2.0]