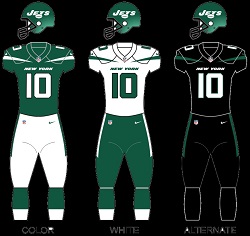 You know how on a hot day you don't want to jump in the kiddy pool in your backyard because it's too cold? So you wait around until it warms up to a temperature that can best be described as "tepid." That's an apt metaphor for what the Jets are doing to their roster this offseason.
Despite having $30 million in cap space, the Jets decided not to pursue any A-list free-agent offense players. Football Absurdity caught up with team GM Joe Douglas. When we interviewed Douglas, he was at a diner sitting on a wallet full of cash and ordering meatloaf. "Baby steps, man," Douglas said. "We're not trying to win a Super Bowl. We're just trying to improve Sam Darnold to the point where he doesn't have the worst QB rating in the entire league."
New Jets Signings Fail to Impress
As such, the Jets have made a slew of yawn-worthy free-agent signings. Wide receivers Corey Davis and Keelan Cole were shoved onto the roster. Pundits might point to their 120 total receptions in 2020. However, that averages 60, one more than the Jets' leading receiver Jamison Crowder had last season. This testifies to the Jets' commitment to being slightly better.
Not content with having so-so players only at wide receiver, the Jets also added Tevin Coleman and Tyler Kroft. Like the stove that bears his name, Coleman is best known for providing a small amount of heat for cooking while camping. However, Kroft is honestly probably a great move, considering he is an excellent blocker. So, they got one right, let's give them a medal!
Put it all together, and you've got a team built for improving on the previous season. Jets brass would clearly be over-the-moon if they doubled their 2020 win total. That 4-12 record would be a shining beacon of the Jets' inability to tank for the top draft quarterback. You know the old saying: When you reach for the stars, you just might grab the next rung on the very long ladder to success.
For more Football Absurdity, these links are definitely above reproach:
[Image credits: https://pixy.org/1315194/ and https://commons.wikimedia.org/wiki/File:NY_jets_uniforms19.png under cc-2.0]