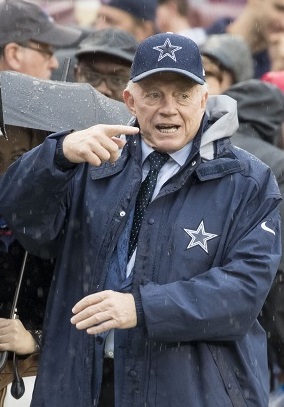 The NFL awarded draft slots for teams that lost free agents in 2020. Four Cowboys compensatory picks were given. "We've hit the jackpot!" Exclaimed team owner Jerry Jones, whose Wikipedia rundown includes the names of his children and the price of his yacht.
Jones immediately reached out to the neighboring Houston Texans. The Texans have been hit hard by years of Bill O'Brien running rampant. As a result, they are without a draft selection in the first two rounds of the 2021 NFL draft. Jones is attempting to take advantage of this need by offering his #10 overall pick. In exchange, Jones is asking for the Texans' first-round pick in each of the next 75 years. This 7500% markup is the exact same amount Jones' gas company gouged freezing Texas citizens for in February.
The first-round pick is not the only draft selection Jones is shopping around. In fact, rumors are swirling he is trying to trade most of the Cowboys' compensatory picks. Inside sources say Jones is looking for a talented safety or domestic abuser.
Cowboys Reject Houston QB Trade
In Houston, the team has been trying to recoup some early picks by taking trade offers for their talented quarterback. So they offered a trade to the Cowboys, who then counter-offered. Houston turned down this counter-offer because, according to general manager Nick Caserio, "we do not have 75 Deshaun Watsons."
The move comes after Dak Prescott signed on to a 4-year, $160 million deal. The deal prompted Jerry Jones to utter, "if anyone has ever taken advantage of me financially, I'm proud it's the one next to me." Later in the press conference following the signing, Prescott commented, "the best ability is durability." Onlookers were surprised when he did not add, "the best cell is Duracell" as part of some bizarre, forced product placement.
Did someone say "product placement?" For more Football Absurdity, hit up these links:
[Image credit: https://commons.wikimedia.org/wiki/File:Jerry_Jones_(24176024648).jpg and  under cc-2.0]