2021 Wild Card Predictions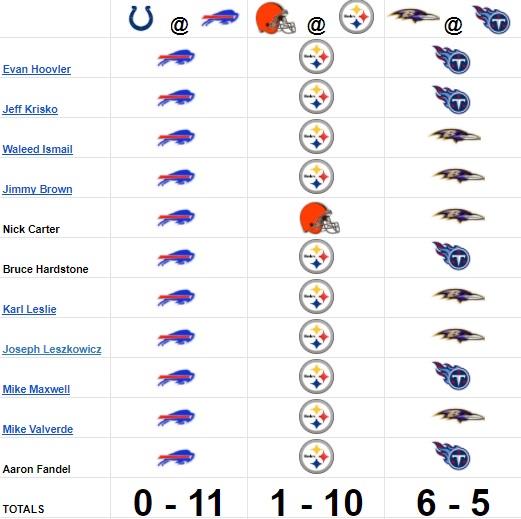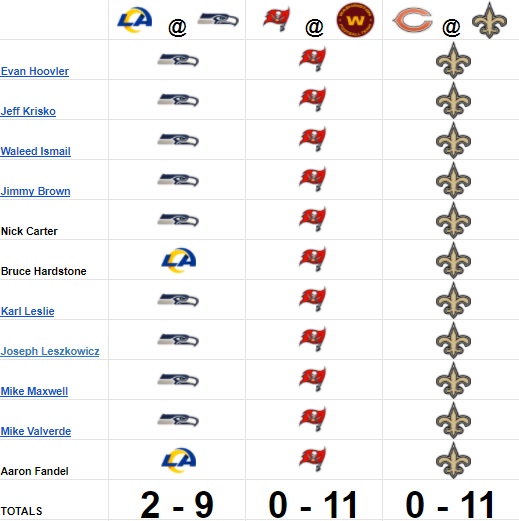 We weren't planning to do write-ups for our 2021 Wild Card predictions, but some of our writers did, anyway. That's the kind of over-the-top devotion you readers get from Football Absurdity.
Colts @ Bills
Indy started out the season with the best defense in football, but those numbers have finally slipped. Buffalo has been an offensive powerhouse and I'm not sure that Philip Rivers can keep up anymore. I think the Colts will keep it close for a while, but ultimately not have the horses to keep up. BILLS 30 – COLTS 23
Ravens @ Titans
Last year, Derrrick Henry was a revelation in the playoffs, trucking anyone who opposed him. This year, the Titans passing game under Tannehill has made them one of the more exciting offenses in football. But I'm not sure this will be enough against a Ravens team on a five-game win streak. The Titans beat the Ravens once this year, but they won't be able to do it twice. Ravens 30 Titans 20
Browns @ Steelers
After an eleven-game winning streak to start the season, the Pittsburgh Steelers have lost four of their last five games. Including last week to the Browns. However, the Cleveland Browns have lost a bunch of players and coaches to COVID, showing once again that nobody is better at losing than the Cleveland Browns. Steelers 23  Browns 13
Rams @ Seahawks
This game is going to be a hard one to predict because we don't know if Jared Goff is playing. This isn't to say he has any chance of beating the Seahawks. The only difference Jared Goff makes is if the Seahawks win by a little or a lot. Seahawks 24 Rams 20
Bucs @ WTF
The Tampa Bay Bucs have to feel like Dwayne Haskins at a strip club. While Washington has a good defense, they don't even have the best defense of the teams playing in this game. What they do have is an albatross named Dwayne Haskins holding an already mediocre offense back. Bucs 33 WTF 9
Bears @ Saints
As a Bears fan, Alvin Kamara possibly not playing has given some fans hope that the Bears might be able to steal a win. Also as a Bears fan, I can tell you that hope is a lie. Saints 36 Bears 23
Mike Maxwell, Football Absurdity Columnist
Rams @ Seahawks
If you thought PAC-12 football was lackluster, wait until you watch these two NFC West teams line up this weekend. Seattle has a one dimensional offense, albeit a perennial MVP candidate in Russell Wilson. The Rams really are as two faced as a playoff team comes. Fortunately for all forecasting, they'll be missing Jared Goff. Which leads us to the question, can one really miss Jared Goff? Seahawks: 27 Rams 13
Bucs @ Football Team
Tell me the NFC isn't the weaker conference this year. We have a losing record divisional champ without a healthy starting QB in the playoffs. The Bucs will win in a battlefield promotion of a decision, let's just hope Chase Young makes Brady sweat or whine a bit. Tom Brady will have to keep count of the Washington QB's used and the down he is on. Bucs: 31 Football Team: 10
Saints @ Bears
The two NFL teams with arguably the most insufferable battle cries play each other Sunday. At least in this NFC Wildcard match up, both teams have their starting QB's ready to go. Bears QB with a bruised ego and chipped shoulder. Drew Brees is back with his paper mache rib cage, and lifeline Alvin Kamara. Even with the Saints banged up, they're playing against one of the worst coached teams in the playoffs. Sean Payton is able to keep the farewell tour for Drew alive. Saints: 27 Bears: 16
Steelers @ Browns
Recent developments tell us the Browns are missing their coach due to COVID. Unless Jim Brown was suiting up, I'd be picking the Steelers. Sure they lost to the Browns just a week ago but barely and with back ups. Big Ben is well aware that ginormous melon of his can barely fit through the closing championship window. Steelers: 24 Browns: 20
Bills @ Colts
Just last year we were treated to seeing Rivers be utterly embarrassed and infuriated on national tv. This whole season has been a retribution for him and the Indianapolis Almosts. Too bad they're running into a legit and comprehensive team in the Bills. Sure the Colts can put a little scare into this game but they're unable to stop the new found dynamic duo of Allen and Diggs. Bills 28 Colts 17
Ravens @ Titans
Any other year, this could be a conference final match up. We are treated to the toughest matchup in the Wildcard weekend as the rushing champ Derrick Henry looks to carry the Titans into the next round. The Ravens have shown their scoring potential since Lamar returned from the COVID protocol. I believe in the power running game and off season drama. Titans winning adds to their swagger and let's those big game questions mount for Jackson. Winning this game cements that Tannehill was not a bust as he and the powder blue Titans edge the Ravens. Titans 20 Ravens 17
Want more predictions? Follow 
us on Twitter
. Want to fight us about our 2021 Wild Card predictions? Hop on into
our Discord
!
[Photo credit: https://commons.wikimedia.org/wiki/File:Steelers_vs_Browns_10.jpg under cc-2.0]