Super Bowl LV Predictions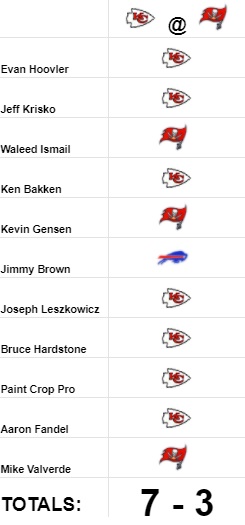 Super Bowl LV Predictions Explained
Evan Hoovler, Football Absurdity Co-Founder
You know what? All season long I try to be as objective as possible. Even when it's brutally painful for me to share a revelation, I try to do the best to give you readers the best information possible. Well, this is the last "real" thing I have to write about for the 2020 season, and I'm not going to put down something dry and "factual." I'm going to make my Super Bowl LV predictions doing that thing where I choose the result I want, NAY NEED to happen. Then I'm going to just cherry-pick arguments that support my position. You know, that thing that apparently 74 million Americans do.
The thing I need to happen is that I need Tom Brady to lose. It's funny, as a lifelong Raiders fan, the Chiefs are my least favorite team. However, thanks to that old saying, "my favorite team is whatever team is playing Tom Brady" the Chiefs are actually my favorite team this week. The Chiefs will come out and steamroll the Bucs. Tom Brady will look lost, throwing two picks in the first half. The Chiefs will lead a halftime 28-3. The announcers will spend all halftime and the first 5 minutes of the third quarter talking about how we can't count out Touchdown Tom. Touchdown Tom will then throw two more picks. He will slam his helmet into the bench. He'll yell at his offensive line. He will cover his face with Gisele Bundchen's pool cover, so no one can see his tears. But I will see them. I will see them every time I gaze upon a rainbow. Chiefs 38, Bucs 10
I keep going back and forth on the Chiefs versus the Buccaneers. As of right now, I'm going with my heart. As in, this is what I want to happen. Yesterday, I photoshopped Tom Brady and his six rings together with Patrick Mahomes and his one ring. It made me realize something… I'm plain tired of Tom Brady, so I am going to actively root against him. I just plain want Patrick Mahomes and the Chiefs to win, despite what they did to my San Francisco 49ers last season. People are already doubting Mahomes, which is insane. I want him to crush Tom Brady and usher in a new era of football. Tom Brady, Peyton Manning, Curtis Painter, all gone. Their time has passed. It's the Patrick Mahomes era, and I will not get caught flat-footed trying to act like it's not. The Chiefs' OL woes give me some worry, but give me the Chiefs in a hot one: Chiefs 37, Bucs 31
Counting out Touchdown Tom is usually advised, right?
There is nothing I enjoy more than a classic story of good versus evil, which this Super Bowl is shaping up to be. On the side of good, you have the young, talented, and handsome hero known as Patrick Mahomes. On the side of evil, you have history's greatest villain: Tom Brady. Mahomes has to travel to the belly of the beast and confront the worst evil imaginable. In classical stories, the hero would storm the stadium, slay the evil monster, and save the day. But this is the Super Bowl for the 2020 season. Evil wins. Bucs 34, Chiefs 30
Called it before the playoffs started and I will call it now: Chiefs over Bucs. Brady hands over the torch and Mahomes becomes the first QB since Brady to win 2 Super Bowls within 3 years of being named the starting QB. Is there a more storybook ending to this? But, as for the game, the Chiefs jump out to a 14 point lead early. Then they waste it away relying on their inept running game, allowing Tampa to come back. Tampa takes a lead at the start of the 2nd half but the high-powered Chiefs offense proves too powerful for the Tampa defense. Chiefs 38, Bucs 28
Kevin Gensen, Lord of Beersheets
Tom Brady demonstrates that he truly is the GOAT, driving Tampa Bay into a victory within the spread. Drunk on victory, Brady challenges Roger Goodell for leadership of the NFL through trial by combat. Goodell accepts, and in a stunning reversal reveals Eli Manning as his champion. Brady falters and is cast down to Canton, forced to retire and spend the rest of his life with his supermodel wife doing whatever the hell he wants.
Jimmy Brown, FA Writer (reporting from his preferred universe)
As I called before the playoffs started, the Bills' victory over the Packers in Super Bowl LV will be so one-sided it will send Rodgers to the LA Rams in a stunning trade on the eve of the NFL draft. The Josh Allen – Stefon Diggs connection is too much for the Packers defense to handle just like the hapless Chiefs experienced in the AFC Championship game. Ed Oliver is named MVP for a sack that sent Rodgers all the way to LA.
Joseph Leszkowicz, FA Writer
I was on the Chiefs' bandwagon since February 3rd, 2020. This team is explosive. It's the best offense in the NFL and Pat Mahomes is the best player on the field. A quick reminder that when they turn on and click, they can pummel anyone with 28 points in a quarter. This game will be close, as all Chiefs games are. The Chiefs score in the air, not on the ground. Tampa is amazing at stopping the run. But KC doesn't really run much. #boldpredictions: Daniel Sorensen and Tyrann Mathieu pick off Brady and score points from those turnovers. Kelce goes for 10 catches and a TD, Hill breaks a big play loose for a TD, and Pat is the MVP with 4 TDs and 0 interceptions. Brady leads a comeback charge in the 4th to take a lead, but Pat drives down as well to seal it. Chiefs 31, Bucs 28
Bruce Hardstone, FA Writer
Paint Crop Pro, FA Writer
I'm saying the Bucs start hot and go up 10-13 points in the first half. KC settles in, their offense goes ham, and they are ahead by 3-4 in the 3rd quarter. The winner will be whoever wins the turnover battle in the 4th quarter. Brady throws a pick and the Chiefs win by 6.
Aaron Fandel, FA Writer
Both teams start hot and score on their first drives. Then both teams struggle until the 4th, where both teams ramp up again. Brady leads a drive at the end to tie the game and go into OT, only for the Chiefs to get the ball first and score. Chiefs 26, Bucs 20
I predicted the Chiefs to make the Super Bowl, and I was right. Also, I predicted them to lose the Super Bowl to the Saints. I will pretend I said the Tampa Bay Buccaneers and Brady and crew will take home the Bucs second Super Bowl championship; obviously, we all need to see Brady win another (roll-eyes) and be incorrectly called
the GOAT
.
Bucs 30, KC 27
[Editor's Note: any links contained inside Mr. Valverde's prediction do not necessarily reflect the feelings of Mr. Valverde.]
If these Super Bowl LV predictions has you hankerin' for some fantasy sports, try out Fan Duel! That link lets them know we sent you! It also gets you a 20% deposit match up to $500!
Then, follow Football Absurdity on Twitter!
After that, get free fantasy football advice by joining our Discord! Come and discuss/hate on our Super Bowl LV predictions
Finally, if you like what you read here, check out our podcast and our Patreon
[Photo Credit: https://commons.wikimedia.org/wiki/File:Raymond_James_Stadium02.JPG under cc-2.0]