Divisional Playoff Predictions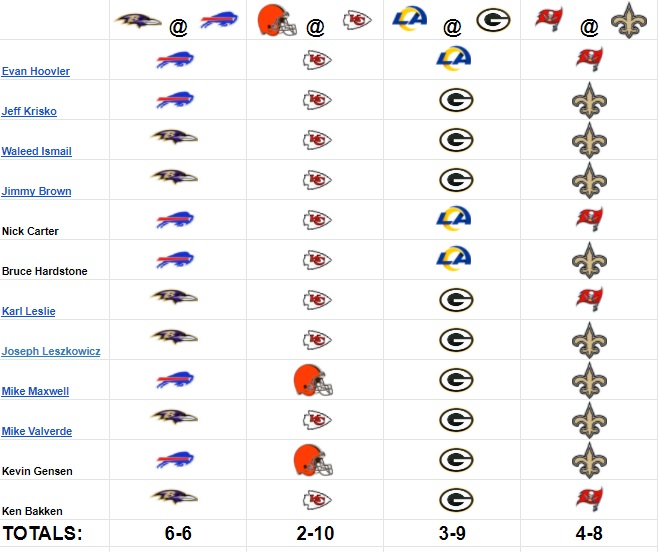 Divisional Playoff Predictions Write-ups
Evan Hoovler, Voted "Best Writer in America" by the Hoovler Gratuitous Award Foundation
Divisional playoff predictions:
Rams at Packers
Oh, you sneaky, sneaky Rams. Right after I declare you to be the "hottest team in the NFL," you lose to the then-winless Jets. Then when I declare you as stale and toasted as, well, stale toast, you thump the Seahawks. Now, I must yet again make this coin flip of a call, and I'm calling Rams. Two of Green Bay's three losses were to the Colts and Bucs, two stout defenses. The Rams allowed fewer regular-season points than both those teams and every other team in the league. Aaron Donald gives me yet another reason to root against Aaron Rodgers. I just don't like that guy, his face is so punchable. Give me the Rams.
Ravens at Bills
I picked the Bills to win it all on our preseason podcast. While I am way less sure of this now, I am not going to flip. I picked KC over SF last year before the playoffs and then flipped to SF over KC and I'm not going to burn myself again. A lot of talk of burning in my copy, wonder what that's about. Anyway, the Bills torch the Ravens.
Browns at Chiefs
I'm picking the Chiefs in our never-ending Football Absurdity survivor pool. This is mainly because I have no idea which team to pick, so I went with the buffer of "if KC loses I'll be the happiest." I don't think an upstart Cleveland squad is going to oust the defending Super Bowl champions in their first playoff game. KC just has better firepower. Cleveland should be able to stay competitive for a few quarters but KC's score-in-bursts strategy will eventually burn this barn to the ground.
Buccaneers at Saints
Speaking of punchable, it looks like Tom Brady's in the postseason, again. The Bucs offense and defense is really solid, and I'm pretty sure Drew Brees is holding his bones together with scotch tape. It's a divisional rivalry playoff, rare for this point in the preseason, which makes it even harder to call. Tampa Bay just looks like a better team than the Saints, so that's my pick.
Waleed Ismail, Football Absurdity CFO
Divisional Playoff Predictions
Rams at Packers
Have you ever seen Aaron Rodgers angry? Because that is what this football season has been about. They told Rodgers he was too old and he responded by putting up one of the best seasons of his career. And I'm somehow expected to believe the Rams and Jared Goff are going to stop him? Please, I don't even think the Rams won last week so much as the Seahawks lost. Green Bay 27 – Los Angeles 17
Ravens at Bills
Josh Allen has made a strong case for MVP this season, whereas Lamar Jackson has taken a step back from a historically good season in 2019.  Having said all that, Baltimore has a history of winning when they aren't supposed to, and Buffalo has a history of losing, regardless of how good or bad they are. Baltimore 30 – Buffalo 23
Browns at Chiefs
Kansas City has been rolling. Before their week seventeen loss in a game that meant nothing to them, they were on a ten-game winning streak.  They won the Super Bowl last year. By all accounts, they are the best team in football. On the other hand, Cleveland is still Cleveland. Asking them to win two playoff games in a row is a big ask Kansas City 33 Cleveland 24
Buccaneers at Saints
In the Geriatric Bowl, we will finally get to see if quarterbacks age like a fine wine. If both of their previous games are any indication, I expect this to be a mostly defensive match-up. I think in a close game, the refs err on the side on not screwing over the Saints again. New Orleans 20 – Tampa Bay 14
Jeff Krisko, Editor-in-Chief & Podcast Co-Host
Sean McVay wants to act coy like the guy who was rushed to the hospital with a neck injury last week might be the starter. It will be Jared Goff. But that's the problem… I'm an NFC West fan and I've seen a lot of Jared Goff over the years. He can be good, but every once in a while his Mr. Hyde comes out, who I lovingly call Jared Goof. We all saw Jared Goof against the 49ers on national television. I just can't bet on Goff, no matter how many Aaron Donalds the Rams may or may not be frantically cloning to chase around Aaron Rodgers. The Packers' OL will be without David Bakhtiari, but with him, they allowed the lowest pressure rate (14.2%). It will be Donald bashing into that line while Rodgers laughs and throws 500 passes to Davante Adams. Give me the Packers.
The Ravens' defense started to look really good last week. That's the only thing that scares me about this game. The Ravens offense is what it is, even though it looks better, is still fundamentally the same. The Bills just have to shut down Marquise Brown and everything else will follow. Buffalo allowed the third-fewest yards per target this year, so I feel confident they can turn Hollywood Brown back into Reseda Brown. This is all a lot of bluster because I picked the Bills to win the AFC, so I have to go ride-or-die with these boys. It will take Josh Allen 2 Stefon Diggs over the Ravens running game in this one. Buffalo looks like they could snap the league in half, which is the same fear the Ravens instilled last season. Give me Buffalo winning their seventh-straight home game in a squeaker that has sneaky shootout potential.
Cleveland gave us a good time last week. It was a lot of fun to dunk on Ben Roethlisberger crying on the bench after turning a shellacking into a respectable game. The Kansas City Chiefs are not the Pittsburgh Steelers. Unfortunately, you can't slow down the Chiefs, and the Browns will need another massive effort to outscore them. Two teams topped 32 points against the Chiefs, and both were the Chiefs' losses. Cleveland will need to hit those heights… something they've done in half their games this season. This one will be a lot closer than we think thanks to the matchups in the trenches, but I am going to bet on Patrick Mahomes over Baker Mayfield. Give me the defending champion Kansas City Chiefs to make it back to the AFC Championship Game.
I don't know why anyone would pick anyone but the Saints in this one. We've seen Tom Brady versus the Buccaneers twice this season, and one game was an absolute laugher that saw Tom Brady throw three picks. In the other one, Brady threw two interceptions. The Saints defense has Brady's number and a defense that allowed one of the lowest running back yards per touch in the league. The only real chance the Bucs have is for Mike Evans to evict Marshon Lattimore from the penthouse apartment between his ears, and we've seen how that goes. This playoff run will be Drew Brees' last ride, but this will not be his last game. Give me the home team Saints in this one.
Mike Valverde, Podcast Co-Host
Divisional playoff predictions:
Rams at Packers
The Rams have the best passing defense in the NFL and should keep Rodgers in check. However, the Packers also have a great run game and it will be difficult to stop both. The Packers are awful against the run, and Akers is a threat, but Green Bay is too powerful and should win this in a close but easy win. Packers 24-10.
Ravens at Bills
The Ravens won their first playoff game with Lamar Jackson at quarterback and their defense is SB quality. The BIlls have a great offensive unit, but in reality, the Bills should have lost to the Colts as Indianapolis's bad playcalling and missed opportunities ended their hope for an upset. This won't happen with the Ravens and their run game is too powerful for the Bills to stop. Ravens in the upset 24-20.
Browns at Chiefs
The Browns had a quality win against Pittsburgh but their fun ends now. KC should take them apart and this will be the biggest blow-up on the weekend. KC 31-14
Buccaneers at Saints
The Saints defense should corral Tom Brady and Alvin Kamara will break one. This will not be a high scoring game as both defenses are highly touted. Go with the home team in this game. Saints 20-17.
Rams at Packers
Given the facemask restrictions on the sidelines, NFL fans will not be able to fully determine who has the best five o'clock shadow between Sean McVay or Matt LaFleur. Rodgers is a man on fire who likely was supposed to be fired. The Rams will make this closer than most warm weather teams normally do. Go Pack Go. B
Ravens at Bills
I do believe that the Ravens validated themselves last week beating the Titans. That being said, the Bills had their own wake-up call and will be much more prepared to put it on the Ravens. Jackson is contained and so is the Buffalo win. Bills 20 Ravens 17
Browns at Chiefs
Can Cleveland slay dragons two weeks in a row? Some of the crushing last week was self-inflicted by the Steelers. This battle of semi-lovable losers will be a fun matchup for fans. The Chiefs are dialed in and have more depth than any AFC team. It should be a slam dunk but I like drama. Let's put the red carpet away for the heir to the NFL crown, Mahomes. Browns 38 Chiefs 31
Buccaneers at Saints
Perhaps the one scripted storyline from the start of the season to still hold in place: Brady vs. Brees. Either way, this goes down, an old man is crying before the night is over. Both teams have demonstrated dominance and futility this season. The easy out is, "Brady is healthier so the Bucs will win." This is the last shot for Drew, I think it falls to him in the clutch. Saints 31 Bucs 24
Kevin Gensen, Lord of Beersheets
Divisional playoff predictions:
Rams at Packers
Sean McVay has this amazing habit of turning into a pumpkin right around the time people expect him to do well, and now he's facing a rested and ready Green Bay in their natural habitat. GB wins but within the spread.
Ravens at Bills
This is 2021 and I want good things to happen. For me, there's nothing better than seeing former bottom-tier teams explode and win it all. Give me the Bills to beat the spread.
Browns at Chiefs
Look, I like Pat Mahomes. I like Andy Reid. But if I'm going to continue this "good things in 2021" narrative then I require a Browns/Bills Conference Championship game. Browns within the spread.
Buccaneers at Saints
Tom Brady almost lost to Washington and their fourth-string quarterback. Now he's facing a much more coherent and cohesive unit, and I suspect this is where things will end. NO to beat the spread.
Joseph Leszkowicz, Writer
Divisional playoff predictions:
Rams at Packers
Ravens at Bills
Jimmy Brown, Writer
Divisional playoff predictions:
Rams at Packers
Packers. Not only are the Packers the best team in the NFC but a wild card West Coast team has to travel to Green Bay where it's going to be 30 degrees with a chance of rain. Not saying the Rams don't have a chance but the Rams don't have a chance.
Ravens at Bills
Ravens. "The Browns is the Browns." That's when I saw my Bills pick as Super Bowl champs evaporate. Never underestimate the value of bulletin board material. I had complete confidence in the Bills getting past the Steelers who they should be playing this week and the Chiefs next week. The only team I had doubts of the Bills defeating is the Ravens. Seeding initially took care of that worry for me but a certain WR had other ideas. Thanks, JuJu! Sidenote: The JuJu thing was blown out of proportion by the media and the question with his answer was completely fine.
Browns at Chiefs
Chiefs. Defending champions. Best player in the NFL. Best TE in the league. One of the best WRs in the league. One of the best coaches as long as clock management doesn't enter the equation. Almost forgot the semi-overhyped rookie RB. AND A VASTLY UNDERUTILIZED LE'VEON BELL. The Browns will need 14 guys on defense to stop all these weapons.
Buccaneers at Saints
Saints. The two career leaders in passing yards and touchdowns face each other. This is an AARP commercial I can get behind. There were reports last weekend that Brees is retiring at the end of the season so with that I'm giving the Saints the edge in an otherwise coin toss of a game. Plus Brees was compared to SpongeBob during the Nickelodeon broadcast. He was drafted only two years after the SpongeBob debut. That's wild.
Ken Bakken, Writer
Divisional playoff predictions:
Rams at Packers
Aye Rodgers! Lambeau in the cold against the FU tour of Rodgers, give me Green Bay. Goff also looked bad last week and looked as though he's still recovering from his injury. I expect this to be a blowout.
Ravens at Bills
Baltimore's defense looked great last week and I think they repeat. On the other side, Baltimore looks like a different offense with Dobbins leading the backfield and I think Lamar runs his way to the AFC Title game.
Browns at Chiefs
David vs Goliath… Running vs Passing… Mahomes vs Baker. Chiefs by 20.
Buccaneers at Saints.
Give me the Bucs. The team is loaded on offense, the defense is playing out of its mind and Drew Brees has looked old since his return from injury. That's why I like Tampa to win this game with ease, despite losing both regular-season match-ups to the Saints. Tampa seems to be running on all cylinders and the Bears played it close vs NO for a lot of the game last week.
NFC Title Game: Brady vs Rodgers. AFC Title Game: Lamar vs Mahomes
Bruce Hardstone, Writer
Divisional playoff predictions:
Rams at Packers
I can't pick all higher seeds so let's go RAMS in this one, leaning on their defense and having Ramsey and Donald step up in a huge way. A low-scoring slog ends with the Rams winning 22-17.
Ravens at Bills
Josh Allen is on one hell of a ride and I don't expect it to stop here. The Ravens are solid, but the Bills are just better both overall AND right now. Bills stomp hard, 38-20.
Browns at Chiefs
Much as I would love to see a Bills/Browns matchup for the AFC crown, I just don't see it happening. Therefore, I anticipate Mahomes having a day very similar to Roethlisberger last week, minus the ludicrous turnovers. Chiefs take it 45-24.
Buccaneers at Saints
I like the Saints' rushing defense as the difference-maker here, with a Kamara TD the difference after two ancient QBs throw more passes combined than the sum of their ages. Saints win 34-30.
If this has you hankerin' for some fantasy sports, try out Fan Duel! That link lets them know we sent you! It also gets you a 20% deposit match up to $500!
Then, follow Football Absurdity on Twitter!
After that, get free fantasy football advice by joining our Discord!
Finally, if you like what you read here, check out our podcast and our Patreon
[Image source: https://commons.wikimedia.org/wiki/File:NFL_Wild_Card_Game_Packers_at_Cardinals.JPG under cc-2.0]