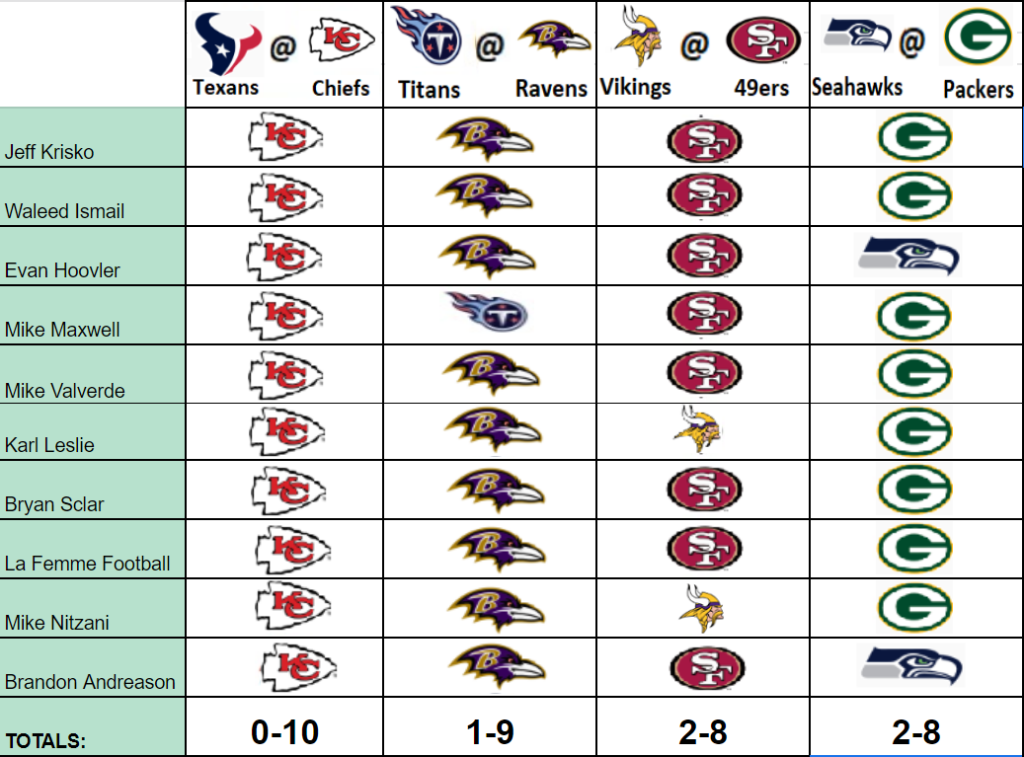 We're down to 8 teams vying for the Super Bowl. We asked our Football Absurdity staff to weigh in on each of this week's four exciting NFL divisional round playoff matchups.
Vikings at 49ers
Saturday, 1/11 @ 1:35 PM (PST)
Line: 49ers -7
Jeff Krisko, Football Absurdity Editor-in-Chief & 49ers Homer

I'm a 49ers fan who spent Sunday actively rooting for the Minnesota Vikings over the New Orleans Saints. That means that this is literally the matchup I wanted! Of course, I want the 49ers will take this one down. Therefore, I think they will win. Ultimately, they're 13-3 and will have Dee Ford, Kwon Alexander, and Jaquiski Tartt back for this one. This one won't be close, but a big Stefon Diggs play in the fourth quarter will make it seem closer than it is. Niners 27, Vikings 22

In the Saints' 2018 playoff game, there was a pass interference call that was so bad that pass interference can now be reviewed. But in this year's Saints playoff game, the refs decided that not all game-changing pass interference has to be reviewed. Kirk Cousins could be heard screaming in the locker room "You Like That!" Considering he is going to have to face a 49ers defense that devours running backs and a Nick Bosa who devours quarterbacks, I think the answer to that question is, "no, Cousins won't like that." 
Evan Hoovler, Football Absurdity Illuminati & FA Liasion to the Bilderberg Group and the Council on Foreign Relations
So I'm watching the Vikings-Saints game, and this truck commercial comes on and tells me that the testimonials they were showing were from "real people." And I'm like, "are they worried I'm going to think that these people are actually, like, cyborgs?" In short, that's what the Vikings are going to be saying about the 49ers, this weekend, "are these people actually, like, cyborgs?"49ers 38, Vikings 16
Mike Maxwell, Football Absurdity Weekly Columnist
If you are a fan of mid-tier quarterbacks who are out to prove the haters wrong, this is your game! The Niners host the Vikings in this defensive throwdown. Garoppolo is the rich man's Rex Grossman and he's here to make some noise. Another nail biter but this time Shanahan doesn't forget to RUN THE BALL in the fourth quarter. 49ers 24, Vikings 20
This game might be more exciting than it looks on paper. Dalvin Cook can expose the 49ers defense, but Kirk Cousins will need to play as well as he did against New Orleans to keep the offense churning and on the field. It will be a difficult task as San Francisco is bringing back three key defenders in Dee Ford, Kwon Alexander, and Jaquiski Tartt. However, the Niners defense struggled against the run, allowing 4.5 yards-per-carry. On the opposite end, San Francisco's passing game improved with the emergence of Deebo Samuel and the acquisition of Emmanuel Sanders. The running game has been good all-season with Raheem Mostert, Tevin Coleman, and Matt Breida. Minnesota plays good defense, but their offense will struggle.49ers 23, Vikings 3.
O.K., Kirk: We like that. When making my predictions in the last round I forgot to check what time the games were on–to the point that I made a joke about the game time and was wrong. I'll blame my copy editor [Ed. Note: I don't even know what time it is, right now]. We all know Kirk Cousins is an elite quarterback until 5 PM PST / 8 PM EST. So, given kickoff is at 1:35 PM PST / 4:35 PM EST, I'm hoping for a good game.
The Vikings have struggled with their identity all season. They are a run-first team with a QB making $28 million a year and two star wideouts. The 49ers secondary will have to deal with both and they have struggled with star receivers this season. If everything is clicking, I see this being a fun game to watch. After the 49ers narrowly got away with a win against a banged-up Seattle I'm going to say it.Vikings 24, 49ers 17.
The Vikings were WAY better defensively than I gave them credit for. Unfortunately, the 49ers are WAY better defensively than the Saints, and have had two weeks to prepare for this one. Jimmy G winks at Kirk Cousins after their postgame hug and says, "you like that?" 49ers 23, Vikings 17.
The Vikings and 49ers face off in what I'm calling, "the Battle of Teams Named after Really Old Stuff." This is where the home-field advantage comes in to play. You do not want to fight a coal miner in an actual coal mine. They know the optimal way to swing a pickaxe and will dismember you before you can get your horned hat unstuck from the ceiling. 49ers 17, Vikings 7.
Although the smart money is on the 49ers in this one, Minnesota reminds me of my favorite football team ever. If you remember, the 1995 Indianapolis Colts, in that they gained respect by winning their divisional playoff game. The Vikings are going to win this game because Vikings, by and large, are more mythical and godlike than gold miners. Being that the country is on the fiat currency standard, I'm going to go with the more mythical, magical team with this one and declare the Vikings victors. No need to play this one out.
The Vikings managed to ruin my Super Bowl predictions with a boring, yet smart approach to slow down the Saints last week. The question is: can they do it again to Kyle Shanahan and the 49ers, who had an extra week to get their players healthy? Kirk Cousins was able to finally get a  win in a game in which the country could watch only him and not flip to a Dolphins game or Law and Order: SVU rerun. Now it's on Jimmy Garoppolo to get a victory. 
The Vikings stopped the Saints by standing near the sidelines and waiting for Alvin Kamara to run at them. Seriously, the Saints didn't bother to establish a running game up the gut, despite being shut down outside all day. The 49ers probably aren't going to make the same mistake. I'm shocked to say this, but this will almost certainly be a higher scoring game than last week. The 49ers are going to have an easier time establishing the run at home, which is going to open up the passing game for San Francisco. The Vikings burned me already, but I'm going to double down: the 49ers are going to win by at least 10 points.
Titans at Ravens
Saturday, 1/11 @ 5:15 PM (PST)
Line: Ravens -9.5
JK – Thank God for Derrick Henry. He ran roughshod all over the Patriots last week and ended Tom Brady's Patriots career. Absolutely beautiful. Marvelous. Chef's kiss. The Ravens are a buzz saw, and the best Henry can do this week is hurt them. He will not break them. Ravens 38, Titans 24.
WI – I don't think we can say enough about the service Tennessee provided football fans everywhere. I'd say David slew Goliath, but the way Derrick Henry ran the football, it was more like Goliath slaying a smugger Goliath who cheats. But now, Cinderella Goliath has to travel to Baltimore and face the wickedest stepsister of all… Lamar Jackson. Ultimately, this fairy tale ends with Jackson bludgeoning the Titans to death with their glass slipper (i.e. his legs). Baltimore 33, Tennessee 13.
EH – [Note: Evan wrote his copy for this article last week, before going on vacation. Luckily, with some sharp edits, you won't be able to tell the difference -Ed.]
The New England Patriots Tennessee Titans come into Baltimore with a head of steam after last week's victory. However, this team has rarely had to play as an underdog proved they can be the underdog. Tom Brady Derrick Henry proved he has what it takes to throw run a lot of solid passes handoffs to the perfect spot for receivers tacklers to catch them miss him. However, it's going to be hard for one man to fight off the Rubix-cube-with-knives-taped-to-each-square that is the Baltimore Ravens. Ravens 31, Patriots Titans 21. Also, screw Tom Brady. Screw Tom Brady!
MM – If you are a fan of teams with quarterbacks that scouts said have no business throwing the ball professionally on Sundays, well this is the game for you! Hot off humbling the defending champs, Tennessee visits AFC's heir apparent. In the playoffs, someone's heart has to be ripped out. Last year, New Orleans. This year it's Baltimore. Titans 27, Ravens 24.
MV – Can anyone stop Lamar Jackson and the RPO offense? Can anyone halt it? I mean, can anyone even slow it down? If Tennesse can, they will win. Jackson struggled at gaining yards and scoring touchdowns when facing a top-15-defenses, with two exceptions (Buffalo and Los Angeles). However, the Titans fall just outside that range (19th) and need Derrick Henry to blow up the clock and run just as he did against New England when he put up 182 ground yards and a score. Ryan Tannehill is more of a game manager who exposes the approaching secondary as they try to stop the run. Tannehill routinely gets big plays from A.J. Brown while not making mistakes. For example, Tannehill's thrown only six interceptions this season.
On defense, Tennessee will need to stop the intermediate passing game. The Ravens passing offense goes through the arm of Jackson to mostly his tight ends in Mark Andrews, Hayden Hurst, and Nick Boyle. Stopping the tight end has been a massive weakness in the Titans defense as they rank 30th against the position. Baltimore will dink-and-dunk to victory: Ravens 27, Titans 17.
KL – Vegas has a 9.5-point spread for this one, folks. Given that the Ravens had a bye week and a number of the starters had two weeks off, I'm shocked this line isn't higher. Lamar Jackson was a shining star this year and is focused on playing February football. I'm a big Derrick Henry fan; he carried my fantasy teams across several leagues. But, can he carry the titans into the next round? I don't think so. Ravens 48, Titans 27.

BS  – Transcript of a closed-door meeting between Brady and Belichick – 1/4/2020:
Belichick: Ok, Tom, how do you want to play this out? There's no way we're making it past the Ravens. Week 9 was embarrassing, and I still have no idea how to stop Lamar Jackson. Do you really want your last game as a Patriot to be a blowout loss, on the road, in Baltimore?

Brady: Nah, I'm done with this (expletive). Our receiving corps is literally made up of scarecrows in helmets. I'm rich, my wife is super hot, and I would love to spend more time staring at my reflection in my trophy case.

Belichick: Sounds good. Would you mind making a bunch of terrible throws so it's easier on the fans when we don't re-sign you?

Brady: Tell you what. If I get the chance, I'll end the game with a pick-six.

Ravens 28, Titans 15.
LFF – I learned to root for the underdog as a struggling youth on the mean streets of Baltimore. So, this game has me very conflicted. I'm trying to find a game script where the Titans win, any given Sunday and all that, but it's just not the time to bet on rolling snake eyes. Baltimore 24, Titans 13.
MN – I have to go with the Ravens in this one. They have a much cooler name, as it is in reference to a mythical bird in a poem. Sure, Titans are mythical too, but not being that cultured in literature, I couldn't tell you what a Titan is. Really, I don't care because it's probably Irish or Scottish lore or something. What matters in today's time is that the Ravens have a splendid quarterback in Lamar Jackson and the Titans do not have a splendid quarterback named Lamar Jackson. Ravens 27, Titans 1 [Ed. Note: He really did predict the Titans to score 1][Second Ed. Note: Titans were very cool, and Zeus defeated them to become King of Olympus]
BA – Don't overthink it. Lamar Jackson is the new god we live under. Ravens by 20.
Texans at Chiefs
Saturday, 1/12 @ 12:05 PM (PST)
Line: Chiefs -9.5
JK – Chicago Bears fans look away. Both these quarterbacks were drafted after Mitchell Trubisky. These two guys (Deshaun Watson and Patrick Mahomes) combined with Lamar Jackson will form the new Tom Brady/Peyton Manning/Ben Roethlisberger atop the AFC for the next 10+ years. The Texans needed OT to barely squeak past a Bills team that rapidly imploded in the second half. This one will be close, but the Chiefs will stay in the driver's seat all game long. Chiefs 30, Texans 24
WI – Houston could barely contain Josh Allen. So what the h%$! are they going to do when Patrick frickin' Mahomes comes to town? If the regular season is any indication, they will allow the Chiefs to pass at will against a secondary that loves giving up big plays. In the battle of Watson vs Mahomes, the one thing these teams can agree on: thank God we didn't draft Mitchell Trubisky. Chiefs 27, Texans 24.
EH – Why are the Chiefs whopping 9.5-point favorites? That's the same spread of the Ravens against the lowly Titans. Did some billionaire Kansas City oilman roll into Vegas, take off his ten-gallon hat, pull out a giant safe, dial the secret combination, pull out the Hope Diamond, and plunk it down on the Chiefs to win, thus shifting the point spread? Does Kansas City even have oilmen? I don't care. Ultimately, the Texans get the big plays and try a bend-don't-break defense that manages to bottle the Chiefs enough to pull out a win… but then a surprise 90-yard bomb puts the Chiefs over. Chiefs 31, Texans 30.
MM – If you are a fan of teams who chronically choke in the playoffs and break your heart, well this is your game! Someone will have to win this game. I am sorry, but it's best for the NFL and country if the Chiefs win and J.J. Watt goes back to rescuing people in natural disasters. Chiefs 38, Texans 24.
MV – In a Week 6 meeting this year, the Texans had a road win in Kansas City, 31-24. The Chiefs had a difficult time corralling Deshaun Watson, Carlos Hyde, and even Duke Johnson, who could all find considerable holes in the weak Chiefs run defense. Kansas City strangles the passing attack, so as we saw with Buffalo, Watson will need to find the running lanes. This exposes the Chiefs to running back dump-offs. Look for Johnson to be a quiet surprise for Houston in this game. The matchup between Charvarius Ward who is a supreme shut-down corner and DeAndre Hopkins is also an exciting thing to watch for.
On the flip side, it will take much effort to slow down the Patrick Mahomes machine. This machine includes the following parts: Tyreek Hill, Travis Kelce, Sammy Watkins and the rest of the offense. Not only is this wrecking crew good, but they also protect the quarterback and Houston struggles to get after the signal-caller: Houston is 31st in quarterback pressure and tied for 26th in sacks allowed. Houston needs to get off the field on third downs as well; they struggle in doing so, while the Chiefs offense is one of the best in converting third down. JJ Watt may change that after missing eight weeks with a torn pectoral. This game will go down to the wire, but KC should pull it off at home. Chiefs 28, Texans 24.
KL – LETS GO! 2017 QB class represent, sorry Mitchell. It's not hard to get excited about two of the biggest gunslingers in the league with coaches that fully embrace them. I'm not sure what the O/U is for this game, but I'd hammer the over [Ed. Note: O/U is 50]. Touchdowns and turnovers will be the story. Not much to say about this game except enjoy the show. Chiefs 31, Texans 28.

BS  – Some people were impressed with what Deshaun Watson and the Texans were able to do against the Bills last week. Others are expecting the Chiefs to have this one in the bag by half time. I'm one of those others. Mahomes asks Watson to hold his Hunt's. Chiefs 32, Texans 20
LFF – Growing up as a rich child in a high-rise Houston penthouse, I am drawn to the plight of the put-upon Jerry Jones. Watching the other Texan team ascend to the AFC Championship might break his spirit and cause him to hire some washed-out coach from up North. Chiefs 27, Texans 21. Do it for Jerruh.
MN – This is a battle for America's heart and soul.  On one side, Texas, with their guns, Whataburgers, and supersize everything vs the Kansas City football team.  As I am from California, I feel that Texas is the new East Coast in spirit, and the West Coast is so much better.  Poor Tupac vs. Biggie references aside, this game will be a shootout and, contrary to U.S. history, Chiefs will win in a nothing burger, because, they're more West Coast than East Coast in my personal book.  And that's a fact: Chiefs 35, Texans 5.
BA – The Ryan Pace Bowl! Mahomes vs. Watson in a battle of guys who were drafted after Mitch Trubisky in the 2017 NFL Draft! Bears fans should be properly blackout drunk for this. Mitch Trubisky would throw a party for this game, but the party would probably land six yards short. The Texans made a great comeback last week against the Bills, while the Bills did everything humanly possible to hold a grenade in their own hand while they pulled the pin.
The Chiefs pose a very different problem, as Andy Reid will wait until the final two minutes of the game before they blow it. For the most part, though, the Chiefs are much more well-coached than Buffalo. The Chiefs are actually probably happy to see the Texans, as the Bills had the more daunting defense to overcome. Andy Reid has a tendency to horribly mismanage games from a timeout and clock management perspective, but it shouldn't matter this week. The Chiefs should win this game by double digits.
Seahawks at Packers
Sunday, 1/12 @ 3:40 PM (PST)
Line: Ravens -4
JK – The Seahawks scratched and clawed and fought to squeak past Josh McCown, Boston Scott, and Greg Ward. The Packers will be at home, with a projected temperature peaking in the high 20s. Moreover, Green Bay's pass defense will stymie Tyler Lockett and D.K. Metcalf, leading the Packers to a victory in a slobber knocker defensive affair. Packers 20, Seahawks 16
WI – In the 2014 NFC Championship, the Packers blew a 16-0 lead and lost in a spectacularly inept fashion. In overtime of their 2003 playoffs, Matt Hasselbeck hilariously told the ref after winning the coin toss, "We want the ball and we're going to score," and then technically scored if you consider a pick-six a score.  Even without their crazy playoff appearances, you have moments like the Fail Mary, which ended the referee strike. What I'm saying is, it doesn't really matter who is going to win, I'm just looking for some more of the clown ball I've come to love when these two teams play each other. Packers 20, Seahawks 16.
EH – This is a closely-matched game that could go either way. In that spirit, I flipped a coin for my decision between the Packers and Seahawks, and it came up… Eagles, because it was an old quarter. I'll take that as a vote for the bird team: Seahawks 23, Packers 17.
MM – If you are a fan of quarterbacks that the rest of the NFL fan base is tired of their whining, not just winning, this is your game! I'm not sure who will look stupider by the end of this game: Aaron Rodgers pouting with that mustache or Pete Carrol forgetting clock management again. No worries, Cheeseheads. Packers 34, Seahawks 20
MV – Can the Green Bay Packers stop the magician that is Russell Wilson? Wilson carried the team time and time again this season, and did it against Philadelphia last week, passing for 325 yards and a touchdown. Wilson rarely exposes the offense to dangerous situations but could have difficulties running against a third-ranked defense in yards allowed to quarterbacks. He will need to rely on D.K. Metcalf and Tyler Lockett's athleticism to get the job done in their big-play offense. Green Bay is robust against the intermediate to short zone coverage but tends to give up chunks of big-play yards (they are tied for 21 st in allowing passing plays going longer than 20 yards).
On the flip side, the Packers will need to get after Wilson with Za'Darius Smith and Preston Smith, who tallied a sum of 25.5 sacks together. Seattle lacks pass protection skills (21st in NFL), which makes this season for Smith and Smith. Aaron Jones should dominate while Jamaal Williams gives the Packers a real balance against one of the worst defenses against the run (29th). Seattle forces teams to throw interceptions, but Aaron Rodgers has only four picks all season. The running game of Jones and Williams, intermingled with the arm of Rodgers, will beat out Wilson and crew to move Green Bay on to the NFC Championship game. Packers 27, Seahawks 24.
KL – Seattle's last win at Lambeau field came in 1999, and that was on the back of four Brett Favre interceptions. Aaron Rodgers threw four interceptions all year and I don't foresee him doubling that number in this game (hopefully not even in this entire postseason). Under Pete Carroll, Seattle turned running team that relies on its star QB to make a few key throws. It's going to be cold, and cold football means running the ball even more… and when your three starting running backs are on IR… that's not a good look. That is not to say Packer fans don't fear the Bubblegum Man and his sidekick, Nanobubbles. Carroll and Wilson will find a way to make this game way too close. Packers 28, Seahawks 24.

BS  – Firstly, a thank you to the Seahawks for helping me not go 0-4 with my wild card weekend predictions. That said, once Wentz went down, the Seahawks essentially had that one in the bag. They won, but not very convincingly. They're going to have a much tougher boat to row up there in Lambeau (yeah, I spit bars). Packers (Rodgers makes championship belt gesture at least 2x) over Seahawks (Beast Mode only has one bag of Skittles).
LFF – Growing up as an animated puppy in a children's cartoon, I developed a certain affinity for animals. However, I'm not even sure what seahawks look like or if they even are animals or just some weird marketing gimmick. So I'm going to have to rely on my backup plan for picking this game: rigorous tape analysis. Seattle's missing a key cog in a running game that's, sadly for Lynch fans like me, faltering. Meanwhile, the Packers have been clicking on all ends during their 5-game winning streak: Packers 31, Seahawks 20.
MN – On the Green Bay-Opoly board game, Lambeau Field is Boardwalk and Park Place is Brett Favre.  Wait, that's irrelevant.  The point is that rent in the red zone for the seahawks is uber expensive, much more than downtown Seattle. Therefore, Russell Wilson and the Seahawks will probably try and Airbnb things, but the stingy Packer defense calls this place, the "Green Zone", and the only thing that will be served for breakfast at Lambeau is smashmouth football. Packers 10, Seahawks 7.
BA – The only team that the Packers beat with an above .500 record this year that wasn't named the Vikings was a game against the Chiefs. Otherwise, they struggled against teams that had a level of competence. The Seahawks are the battle-tested team and can grind out a win any way they need to. I'm mostly making this prediction because Seahawks versus 49ers III is the NFC Championship game we deserve. I'm taking the Seahawks
For all our content get on our Twitter, or hear our Podcast, or jump in our Discord and hang with us