I love when someone can't talk about a subject for two seconds without spilling out all their personal problems. But many sources for this spectacle get pretty one dimensional like Youtube (racist problems), Facebook (politics problems), or NextDoor (young children, animals, older children, racist, teenagers, and politics problems). That's why I like to trawl through Amazon reviews. You can flip through and spot the one that's like two paragraphs long: odds are that person has issues boiling over and spilling into every aspect of their life including writing football-themed product reviews. Like this person:

Five stars for a great product, but I'm taking a star away because my boyfriend left me. Maybe he would still like it. Maybe I should do a few more shots of kombucha and drive over to his and his wife's house…
Finding people with issues in alcohol container reviews is like shooting fish in a shotglass:

If you are buying shotglasses of rival teams you have alcoholism. I don't care if you never drink, you still have it.
This wife has more than alcohol issues, she has issues expressing negativity:

This liquid container literally can not contain liquid. Three stars, I don't want to hurt the feelings of the people who turned fine alcohol into plastic poison!
Unless she secretly wants to poison her husband, then 3 stars is the perfect rating: Nice attempt, could have been better.
Speaking of things that can't be contained:

Hmmm, yes: I would hate to be the one wearing a slightly tight shirt in the circus freak show that is a dozen extremely obese dudes drafting at B-Dubs.
Speaking of which, I'd be willing to bet that this poster is overweight, just based on personality: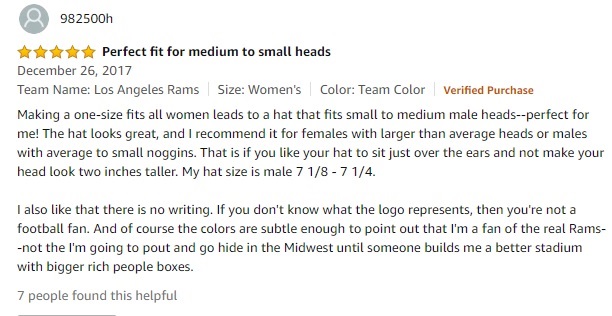 "If you don't know what the logo represents, then you're not a football fan" is a pretty neckbearded statement. Also, "females."
I've thought about this far too long but I can't figure out who this guy is rooting for. It can't be the new Los Angeles Rams because he chastises the "go hide in the midwest until someone builds me a better stadium." So he's a fan of… the St. Louis Rams? That don't exist anymore? Is this why he doesn't want the team name, because he is in a perpetual state of denial about the location of the Rams? Issues, man!
On the flip side, this reviewer's issues are not so buried:

I know "football widows" is a phrase, but it's for women who are still married. Otherwise it comes off like this lady murdered her husband because he watched football.
At least she's direct and knows how to stand up for herself, unlike this doormat:

I ordered something and it turned out bad. So I ordered it again and it turned out bad. I'm thinking about not ordering it a third time, but that comes dangerously close to having self esteem and Mother hates that.
Finally, a review that confuses as much as it TMI's: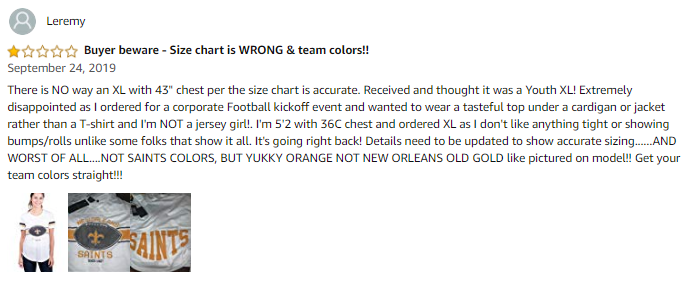 I can totally understand getting mad you got Saints gear in Browns colors, that's ridiculous. What I don't understand is this woman's issues with fashion. I have literally no idea what "not a jersey girl" could possibly mean: It's not girly enough for her? Also "I don't like anything tight or showing bumps/rolls unlike some folks that show it all," is delicious. What is this "corporate football kickoff event?" Do you mean "our company got a box at the football game?" because just say that. Anyway, I like to imagine at this "corporate football kickoff event," someone showed up in a top that managed to be both low cut and a sports jersey and just broke this reviewer into a pile of passive-aggressive anger. So never accuse me of not seeing the good in people,  because this lady's meltdown is hilariously good.
For more La Femme Football, check these out:
Six "Sexy" Football Cheerleader Costumes (That I Would Find Impossible to Wear to Bed)
Fantasy Football Romance Literature: Does It Actually Exist?
8 Weird Fantasy Football Gifts for Women
For more football humor and advice, join our Discord and Twitter