With fantasy football drafts mostly in the rear-view mirror, or pending this weekend's Labor Day blowout bash, it's time to stop and take stop of every team and their overall situation by determining the one question each team has that will make or break the fantasy football prospects of the most players on the team. Yesterday, we looked at the one question that could make or break the fantasy football prospects of every AFC team. Today, we wrap it up with the questions for the NFC.
NFC WEST
Arizona Cardinals: Can Kyler Murray make the leap and produce all season long?
Kyler Murray and the Cardinals inked a massive deal this offseason, but they did it on a wing and a prayer that Murray could actually put a full season together for the first time in his career. The former first overall pick, now entering his fourth season, has an 83.9 QB rating in December, compared to 99.7 in November, and 105.0 in October. Kyler has a tendency to fall off of a map as the season progresses, something he and his head coach Kliff Kingsbury have in common. But, the Cardinals hope that he can make it all the way through the year without suffering any sort of drop-off, and our fantasy football rosters also hope that he can do the same. This will change how we feel about Zach Ertz, DeAndre Hopkins, Marquise Brown, and even James Conner. Fingers crossed.
Los Angeles Rams: Will health stymie their ability to repeat their Super Bowl-winning 2022?
The Rams are already dealing with a Super Bowl hangover. And I don't just mean Matthew Stafford and Sean McVay the day after their Super Bowl parade. Matthew Stafford is battling elbow issues, which could cause wild inconsistencies in his throwing. Running backs Cam Akers, Darrell Henderson and Kyren Williams are also dealing with issues, meaning that before we take one single snap this season, the Rams' entire offense is already behind the eight ball. While this is unlikely to be a major issue, it is still a question mark that looms over every Rams' fantasy football asset.
San Francisco 49ers: Is Trey Lance "the man" at quarterback?
The 49ers threw a wrench into the "yes" vote here by restructuring and retaining Jimmy Garoppolo. But I'm here to say yes, so: yes. Retaining Jimmy Garoppolo is not an indictment on Trey Lance's development, it's merely good roster management by the Niners. By restructuring Handsome James, they save $19 million against the cap while retaining their ability to trade him later in the season (no trade clauses can be, and are, waived all the time!) or reap a compensatory pick when he leaves after this season. They've also had seasons derailed by QB1 injuries in two of the last five years, so if anyone knows the value of a high-talent backup, it's the 49ers. So, we don't really have to worry about Trey Lance. He's the man there, and he will be in the future. If you're trying to find a reason why this is bad for Trey Lance, go argue with a wall. You don't know what you're talking about.
Seattle Seahawks: Can Geno Smith and Drew Lock fill Russell Wilson's shoes?
No. It's going to be an abject disaster. Next question.
Okay, fine, I'll write more. The Seahawks are dedicated to running the ball as much as humanly possible this season, which is why they bulked up their offensive line, brought back Rashaad Penny, and drafted Ken Walker in the second round of the 2022 NFL Draft. Pete Carroll hopes to answer this question with distraction and obfuscation. Of course, they can't fill Russell Wilson's shoes, but what if they decide to just run the ball, instead? Sure, that will crush D.K. Metcalf and Tyler Lockett, but it will also… not win many football games. But, you can't deny that it will be a High T move from Seattle.
NFC NORTH
Chicago Bears: Can Justin Fields overcome his decrepit wide receiver corps?
Justin Fields turned in a hot performance to end the preseason, going 14-of-16 on passes for 156 yards and three passing touchdowns. He did this while targeting Khari Blasingame, Ryan Griffin, and Dante Pettis. So, it can be done, at least in short spurts. But, it's a massive step down from Darnell Mooney to… anyone else in the wide receiver room. Their second best real-life receiver is Velus Jones, I guess (?) who is there to stretch the field and do not much else. There's a reason we all think that Cole Kmet will be a big weapon this year, and it's not because he's a transcendent talent. Fields will have to overcome a lot this year to find fantasy football relevance, but arguably the talent of his receivers is one of the biggest things he will need to overcome.
Detroit Lions: Is Amon-Ra St. Brown a legitimate fantasy football wide receiver?
Much like Gabriel Davis, Amon-Ra St. Brown is the argument of the offseason on fantasy football Twitter. I don't want to belabor this point, but ARSB is better than T.J. Hockenson and DJ Chark. Yes, it's true. He deserves targets over them. So, I don't care that they're on the roster, Amon-Ra St. Brown is still going to garner the most targets. And no, I don't think he's getting 10 targets per game; I'm not an idiot. But, he proved that he deserves targets. Amon-Ra St. Brown had 119 targets last year, and since 2016, rookie wide receivers to get at least 90 targets in year one average 125 targets in year two.
Green Bay Packers: Can a mishmash of receivers replace Davante Adams?
Allen Lazard, Christian Watson, Romeo Doubs, Sammy Watkins, and Amari Rodgers. All have found their own backers this offseason in various corners of the internet. But, can any of them step in and fill the shoes that Davante Adams left empty in Green Bay? I mean, probably not. Allen Lazard turns 27 this year and has never gotten more than 4.6 targets per game, Christian Watson is a Marquez Valdes-Scantling clone, Romeo Doubs isn't a favorite to break the Day Three Receiver curse, Sammy Watkins will blow up in week one, and then disappear entirely, and Amari Rodgers is about as useful as a swiss army knife as those free ones you get as a freebie from your contractor. The Packers will need one, or more, of these guys to step up to fill Adams' shoes, and I'm not so sure any of them can.
Minnesota Vikings: What will Kevin O'Connell do for this offense?
The Vikings have been very productive for fantasy football as Kirk Cousins, Justin Jefferson, Adam Thielen, and Dalvin Cook all toiled away in a Kubiak offense led by Mike Zimmer. Now, they get a Sean McVay offense led by Kevin O'Connell. And what can this do for them? That's not a rhetorical question, what can it do for them? I've seen everything from Dalvin Cook not getting targets to Irv Smith getting a ton of targets to Justin Jefferson being a shoo-in for 190 targets. In the end, we don't know what will happen until they kick off week one, but for now, we know that there will be an improvement, we just aren't sure where that improvement will come.
NFC EAST
Dallas Cowboys: Can the offense overcome their losses?
The Cowboys will be without La'El Collins and Amari Cooper this season and will be without Tyron Smith for a massive chunk of the year. The only guy who remains from their studly offensive line as of right now is RG Zack Martin. The time of the studly Cowboys OL seems to be in the past. But, it's not just that. They also salary dumped Amari Cooper, lost Cedrick Wilson to the Dolphins, and will be without Michael Gallup and James Washington to start the season. The receiving corps is suddenly CeeDee Lamb, rookie Jalen Tolbert and… that's it, really. Dallas has its sights set high this year, but can they overcome all these issues on offense? But for fantasy, where do we go? Can we get Dak? Is CeeDee Lamb worthy of a top-ten pick? Is Jalen Tolbert a sleeper? Opportunity is knocking in Dallas, and we need to know who picks up the phone.
New York Giants: Does Brian Daboll offset Daniel Jones?
Daniel Jones has been one of the most disastrous quarterbacks in the NFL in recent years, and the Giants brought in Buffalo Bills offensive guru Brian Daboll to hopefully fix some of Daniel Jones's worst issues. Unfortunately, there might be an issue where there is simply too much Daniel Jones for Brian Daboll to fix. Tons of breakouts and bounce backs sit at the intersection of Daboll and Daniel Jones; Saquon Barkley, Kadarius Toney, and Wan'Dale Robinson are all favorites to finish higher than their draft price. But Brian Daboll or Daniel Jones, which way East Rutherford Man?
Philadelphia Eagles: Will investing in Jalen Hurts pay off?
The Eagles doubled down on Jalen Hurts this offseason, trading for his best friend and #1 wish list target A.J. Brown and continuing on with living meme Gardner Minshew as the backup quarterback in Philly. They are turning this offense over to Hurts and will go as far as he can take them. If he does it with his legs, then we are going to run into issues with Brown, Dallas Goedert, and DeVonta Smith. But, if they just let him throw the ball a little bit, then we are cooking with all three. So much fantasy football value relies on Jalen Hurts's shoulders, and doubly so since some guys have Hurts top-five at quarterback (it's me, I'm some guys).
Washington Commanders: What… do they do?
The Commanders have so many moving parts that it's exceedingly difficult to nail down what exactly their plan is for this season, at least when it comes to fantasy football purposes. They spent a first on Jahan Dotson, they extended Terry McLaurin, Curtis Samuel and Logan Thomas are returning, they wrestled J.D. McKissic from Buffalo's grubby little paws, they may or may not hate Antonio Gibson, Brian Robinson got shot, and Carson Wentz isn't ready to take command. Honestly, I look at this team and I have no idea where anything falls. There are simply too many moving parts to feel good about any of them.
NFC SOUTH
Atlanta Falcons: Will Kyle Pitts return his #3 tight end value?
For the second-straight offseason, the most argued-about tight end is Kyle Pitts. While Pitts had one of the best rookie tight end seasons of all time, the moribund Atlanta Falcons offense helped keep him to just one touchdown last season. Not much has changed in Atlanta, and things arguably got worse with no Calvin Ridley at all, Matt Ryan becoming Marcus Mariota, and the running back room being two career part-timers in their 30s and a fifth-round rookie battering ram. The Falcons could be the worst team in the NFL, and we think that taking Kyle Pitts is just fine. I'm still worried about the touchdowns, mostly because I don't see an avenue where they come. Is he getting 50% of their passing touchdowns? Because this team screams 20 passing touchdowns this year. And he would have needed every bit of those ten touchdowns to finish higher than TE3 last year. As it stood, he was TE8 in points per game, and we moved him from draft TE4 in 2021 to draft TE3 in 2022. A lot of people went out on a lot of limbs for this one, and a lot of fantasy football teams hang in the balance for its resolution.
Carolina Panthers: Does Baker Mayfield make this offense hum?
The Carolina Panthers stupidly exercised Sam Darnold's fifth-year option before he was in the building the last offseason as a sign of faith in the young quarterback. They then traded for embattled quarterback Baker Mayfield as soon as humanly possible this offseason. While the trade is funny, it also came along with a ton of stock up and rocketship emojis on Twitter. Needless to say, a lot of people became very excited about D.J. Moore, who they immediately vaulted into their top ten at wide receiver. But, what if Baker Mayfield isn't the answer? Is D.J. Moore once again stuck, mired in the WR15 range? The agony, the horror, the absolute torment of those who drafted D.J. Moore expecting him to break through with Baker Mayfield under center. But, then again, he could do the unthinkable: score a fifth touchdown. Who's to say what might happen?
New Orleans Saints: Do Alvin Kamara and Michael Thomas effectively play 17 games?
This really is the question out of all of Saints camp, isn't it? With Alvin Kamara potentially eating a suspension and Slant Boy potentially having literally just one ankle, things aren't very settled for the two fantasy football studs on the New Orleans Saints. The Alvin Kamara situation seems poised to resolve in the offseason, meaning that his RB8 ADP is going to look exceptionally spicy once he's back to being a top-three running back all season long. But, then again, the court could take away his NFL freedom at the snap of their fingers about halfway through the season. So, if you take him at RB8 and he disappears mid-season, his RB8 ADP is going to look exceptionally stupid.
Then, we get to Slant Boy. The last time we saw Michael Thomas for a full season, he was the hands-down dynasty WR1. Then, two seasons of injuries to the same ankle left him as an afterthought in our collective consciousness, and given that he's already missed time this preseason with a hamstring, we have to wonder if Slant Boy upgraded to Mr. Glass. But, should Michael Thomas return to form as the league's premier PPR threat with Jameis Winston, then we have an absolute steal on our hands at WR30. There's essentially no downside there when you calculate his upside is literally WR1 since he did it the last time he was fully healthy. At the end of the sixth round, you could go with Michael Thomas or Amari Cooper. The choice is easy, for me at least.
Tampa Bay Buccaneers: Is Tom Brady on his last legs?
There's a lot of just… weirdness surrounding the Tampa Bay Buccaneers. Tom Brady disappeared for weeks and when he came back his only explanation is "there's a lot of sh*t going on." I mean cool man, you're a unanimous first-ballot Hall of Famer, but what is that explanation? It's not anything. It also cost him time with his new look offense, with the offensive line getting shuffled, the wide receiver corps getting shuffled, and the Buccaneers drafting Rachaad White to mix in with Leonard Fournette. While Brady is the G.O.A.T., everyone benefits from extra time with the quarterback.
I'm not on Team #GradualDecline, but I am concerned about what this means for the Tampa Bay Buccaneers' offensive weaponry in 2022. Chris Godwin is making his way back from injury and is going at a ridiculous discount (WR26), and Russell Gage & Julio Jones were both trendy sleepers at different points this offseason. If Brady can't return to form, then none of that will matter, and taking Mike Evans inside the top-ten at wide receiver will be an abject disaster. Again, while I don't anticipate that happening, Father Time comes for us all, even Thomas Edward Patrick Brady. If it's his time, and the line can't protect him, then things could get ugly fast in Tampa Bay.
If you would like our $7 Draft Kit, then follow this link!
Want more 2022 fantasy football draft discussion? Check out these links!
Discord!
Podcast!
Patreon!
Twitch!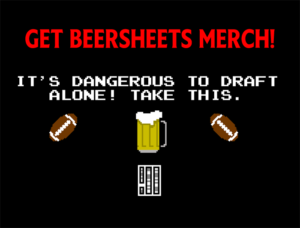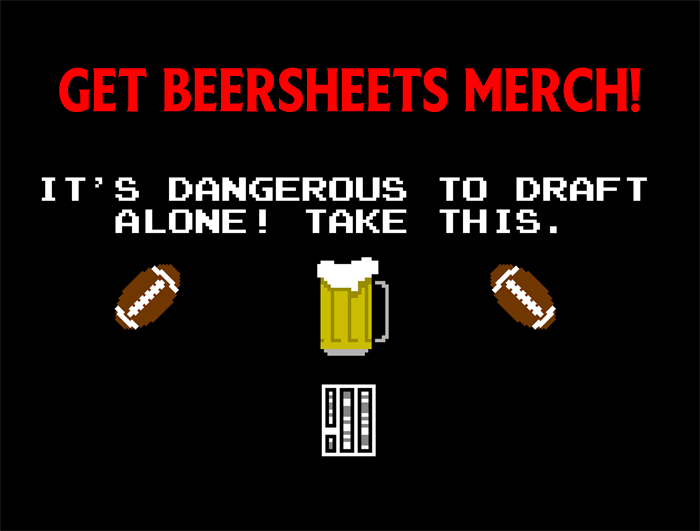 [Image Source: https://commons.wikimedia.org/wiki/File:Jalen_Hurts,_2020.jpg, cropped under CC BY SA 2.0]