With fantasy football drafts mostly in the rear-view mirror, or pending this weekend's Labor Day blowout bash, it's time to stop and take stop of every team and their overall situation by determining the one question each team has that will make or break the fantasy football prospects of the most players on the team. We start with the AFC and figure out what each team needs to sort out to most benefit the only thing that matters: our fantasy football teams.
AFC WEST
Denver Broncos: What does the Melvin Gordon & Javonte Williams split look like?
Originally, this was going to be about Russell Wilson. But, do we really have that many questions about Russ? He's an all-timer going to a team that seems tailor-made to maximize his talents and those of his receivers. But, the major question here comes from the backfield. Javonte Williams was the heir apparent to dominate the backfield in 2022, but the Broncos re-signed his 2021 running mate, once again forcing him into a timeshare. Javonte Williams is a talented back, but so is Gordon, and Williams did little to separate himself from Gordon in 2022. With Javonte going as a top-ten running back and Gordon going in the thirties at the position, a near-equal timeshare would devastate Javonte's value while making Melvin Gordon an incredible value play in drafts.
Kansas City Chiefs: How do they replace Tyreek Hill?
The Chiefs were a powerful and focused offense, with most of the production coming through Patrick Mahomes giving the ball to Travis Kelce and Tyreek Hill. Now, with Tyreek Hill gone, they have a bevy of receivers, including JuJu Smith-Schuster, Mecole Hardman, Skyy Moore, and Marquez Valdes-Scantling. Every part of the fantasy football cognoscenti staked out their corner of the Chiefs' wide receiver room. But, if one of these players takes up Tyreek Hill's target share, then they will lead their team to glory. More than likely, however, JuJu Smith-Schuster takes a ton of underneath targets and everyone else just splits targets.
Las Vegas Raiders: Is Darren Waller commanding 120+ targets again?
Darren Waller's hamstring, or contract dispute, or both, or neither, was the hidden terrifying thing about training camp and preseason this year. We haven't seen Waller in a long time, and the Raiders added Davante Adams this offseason. Adams will get his 150+ targets, but what about Waller? Since he broke out in 2019, he's averaged 140 targets per 17 games, a number that will most certainly come down this year with the Adams addition. But, what if it doesn't? What if the Raiders funnel 300 targets into two players? That will destroy everyone else on the roster, including Hunter Renfrow. But, if they don't do that, then Waller could be a wasted pick at ADP. Everything hinges on Darren Waller's target share.
Los Angeles Chargers: Can Justin Herbert support two top-15 receivers?
Austin Ekeler is set as a top-five running back, and Justin Herbert is set as a top-five quarterback. But, what about the wide receivers in Los Angeles? Right now, we have both Keenan Allen (WR10) and Mike Williams (WR15) going inside the top-fifteen at the position. So, one of two things will happen: Justin Herbert will have a massive season and support both of these players, or he will falter, and someone will fall on their face (hint it's not the guy who is the walking 95 catch, 1,100 yards, 6 touchdown season). Justin Herbert struggling would bring down Mike Williams, and given the shallow passing game options in Los Angeles, vice versa could also be true. There's a lot riding on this passing game, and a lot could go wrong.
AFC NORTH
Baltimore Ravens: Do they return to the ground game in 2022?
The Baltimore Ravens drastically changed their complexion last season, as they let (or were forced to let) Lamar Jackson go from 25 pass attempts per game in 2020 to 34 pass attempts per game (if you exclude his game where he was injured after ten plays). Obviously, this changed a lot about their fantasy football-eligible players. Mark Andrews vaulted up to be the TE1 in all of fantasy football, and the newly-departed Marquise Brown finished as WR21 on a per-game basis. Now, why did they do this? Probably because they lost J.K. Dobbins, Gus Edwards, and Justice Hill all at once like Mike Tomlin was doling out missions in some sort of Hitman-Madden cross-over. Now, Dobbins may or may not be back for week one, and Edwards may or may not be back for week one, but the Ravens will have them both back at some point this year. And when they come back, do the Ravens go back to ground and pound? If so, this will drastically reduce Mark Andrews' fantasy potential.
Cincinnati Bengals: Will they change how they operate with a new offensive line?
The Cincinnati Bengals had one major issue last season: their offensive line was a mix between swiss cheese and turnstiles. They were truly awful, with poor Joe Mixon getting just 2.3 yards before contact on each rush, and Joe Burrow eating a league-leading 51 sacks last year. So, they did what any rational team would do in this situation, they went out and beefed up the offensive line. But, are they going to do things significantly different than last season, or is it going to be more of the same? The Bengals let Joe Burrow throw the ball just 520 times in 16 games, thanks in part to their focus on dominating time of possession and grinding out football games (they ranked #31 in offensive pace of play) that got them to the Super Bowl. Now, Burrow is a top-six fantasy quarterback, and both Ja'Marr Chase and Tee Higgins are ranked inside the top-12 at wide receiver. Should they just use their offensive line to do more of the same in 2022, it's going to be a long year for people who put their faith in Burrow and Higgins.
Cleveland Browns: How does the team operate during Deshaun Watson's suspension?
Deshaun Watson should be eating a whole season, but that's neither here nor there. The Cleveland Browns will turn to Jacoby Brissett for the first twelve weeks of the season, and the vast majority of our fantasy football regular seasons. Now, the Cleveland Browns have several guys who are near-universally drafted (Nick Chubb, Kareem Hunt, and Amari Cooper) and a couple of fridge sleeper/breakout types in David Njoku and David Bell. But, what does their offense look like without Watson? Are there enough targets to go around? Can Nick Chubb score enough touchdowns in a moribund offense to justify his price? Will Brissett go full-on dump-off mode and turn David Bell or Kareem Hunt into a PPR machine? The non-Watson Browns have a lot of question marks ahead of them for 2022, and I honestly can't blame anyone who steers clear of the team entirely.
Pittsburgh Steelers: What does their post-Ben Roethlisberger offense look like?
For the first time since 2003, and the first time in Mike Tomlin's era as the head coach of the Steelers, Pittsburgh enters the 2022 season without Ben Roethlisberger in their plans at quarterback. Instead, they have a two-headed quarterback committee (three if you count Mason Rudolph alongside Mitch Trubisky and Kenny Pickett) and no real direction with their passing game. They let JuJu Smith-Schuster walk, gave Diontae Johnson a big contract, and drafted George Pickens. The only thing set in stone seems to be that the Steelers will feed Najee Harris until he vomits.
AFC EAST
Buffalo Bills: Will Gabriel Davis ascend?
The Buffalo Bills are one of the best teams in the NFL, and a lot of that comes from their robust offense, led by Josh Allen and Stefon Diggs. But, the ancillary pieces have some question marks. Well, a lot of question marks, actually. There isn't an established veteran in this passing game other than Diggs who doesn't carry a ton of questions. The most impactful one for fantasy football purposes seems to be Gabriel Davis. He's WR27 by redraft ADP, and WR20 by best ball ADP, meaning that his upside will make or break a lot of Josh Allen-Gabriel Davis stacks in best ball while having less impact on redraft rosters should he falter. Still, this is probably the question that most roils fantasy football Twitter, and will continue to roil them until the 2023 offseason.
Miami Dolphins: How does Tua Tagovailoa handle his new offense and new weapons?
We all hope and expect that Tua Tagovailoa takes a massive step forward in 2022. After all, he has an offensive head coach, a top-three tackle defending him, Tyreek Hill, Chase Edmonds, and Cedrick Wilson to catch passes. Unfortunately, Tua hasn't done much to truly silence critics at this point. He's had some wow throws… with obvious flaws. His biggest so far was a 50+ yard pass to Tyreek Hill that led to Tyreek significantly veering off of course and diving to even make a play on the ball. Sure, it got there, but did it, really? Tagovailoa is yet to put it all together for any period of time through his first two years in the league. So maybe the third time is the charm?
New England: Will Matt Patricia and Ben McAdoo destroy this offense?
Things are bleak in New England, mostly thanks to Bill Belichick playing games with the squad. They have a lot of replacement level to slightly-above replacement level weapons on offense, with Damien Harris, Rhamondre Stevenson, Jakobi Meyers, DeVante Parker, and Hunter Henry leading the way. While Mac Jones has plenty of talent around him, his development has stagnated thanks to the Patriots deciding to put head coaches who spectacularly flamed out in charge of the offense and Mac Jones' development. There are zero good vibes coming out of the Patriots at this point, and we have to wonder if Bill Belichick lost his fastball without Tom Brady there to make it all work.
New York Jets: Does Zach Wilson take a step forward in 2022?
If you believed Dr. David Chao, the question was "will Zach Wilson take a step in 2022?" But, Wilson's torn ACL was miraculously turned into a meniscus cleanup, which should leave Wilson ready to go for 2022. Like with all teams, Wilson is the straw that stirs the Jets' offensive drink. But, he was dreadful last year. Since 2010, 31 rookie quarterbacks have thrown at least 350 passes. Zach Wilson threw 383 last season and boasted the fifth-worst completion percentage among that cohort. He finished just below Blaine Gabbert, DeShone Kizer, Andrew Luck, and Josh Rosen. He finished just ahead of Geno Smith, Brandon Weeden, and Sam Darnold. Only Josh Rosen had a lower yard per attempt than Wilson in that group, meaning he was throwing short and not completing them. The Jets will only go as far as Zach Wilson takes them, and it doesn't look like he's taking them that far this season.
AFC SOUTH
Houston Texans: Is Dameon Pierce "that dude" in the Houston backfield?
Dameon Pierce was the talk of the fantasy football preseason, as he kicked Marlon Mack to the curb and ascended to being the RB1 of the Texans without much trouble. But, last season, the Texans had exactly one player who even sniffed fantasy football relevance in 1QB leagues, and that was a wide receiver, Brandin Cooks. With Cooks finally getting a modicum of respect, a crumb of acknowledgment, an iota of admiration, does that leave the Texans with another breakout candidate in Dameon Pierce? He's currently going in the 30s at running back, around pick 100 in most leagues. He could be the next James Robinson (an unheralded back who somehow makes it work on a terrible team) or he could be the next in the long line of running backs to get 1,000 empty yards and 3 touchdowns, toiling away on terrible teams. If he does the former, he could make a lot of fantasy football managers very happy.
Indianapolis Colts: Can Matt Ryan bring this team to glory?
There's no other way to put this: Carson Wentz dragged this team down last season. I don't know how else I can put it, but Wentz destroyed everyone but Michael Pittman and Jonathan Taylor. Now, they have a statue with a cannon Matt Ryan in tow, and fantasy football's feelings around the offense have improved. It doesn't seem to just be Jonathan Taylor and Michael Pittman getting run this season, but also people have faith in Nyheim Hines and Alec Pierce as potential breakouts or sleepers. It all depends on Matt Ryan distributing the football in a quick and efficient manner, however. And if he can't, then that spells trouble ahead for all the Colts.
Jacksonville Jaguars: Will Doug Pederson's offense right the ship?
The Jaguars were a disaster last season. After all, Urban Meyer was more concerned with kicking it with special teams players and co-eds than actually coaching the team. That gave the whole roster a year of service time without much to show for it. Trevor Lawrence disappointed, Travis Etienne's foot committed suicide to avoid Urban Meyer, and Laviska Shenault and Marvin Jones shared the emptiest 220 targets that the NFL has ever seen. Fast forward a year, and Trent Baalke spent an offseason putting wide receivers in a wind tunnel, giving them whatever contract terms they were able to grab (and he forgot to put bad terms in there) and Doug Pederson leads the way. The Jags hope to be pointed in the right direction, but a lot of fantasy football rosters are relying on Trevor Lawrence supporting guys like Christian Kirk and Travis Etienne thanks to Pederson. But, will it work?
Tennessee Titans: How do they replace A.J. Brown?
A.J. Brown is one of the best young receivers in the NFL, and the Titans refused to pay him. Instead, they traded for Robert Woods, traded Brown to the Eagles, and took his replacement, Treylon Burks. They also snagged Austin Hooper out of free agency. For the first time in a while, the Titans seemed poised to spread the ball around, and not just focus on a couple of guys. They will need this to work, as they will need to replace Brown's production, and Nick Westbrook-Ikhine isn't going to cut it. Both Treylon Burks and Robert Woods are going outside the top-30 at wide receiver, and both could be great values should Burks turn into a competent NFL wide receiver. But, it all comes down to how the Titans choose to use those two guys. That could make a lot of fantasy seasons.
If you would like our $7 Draft Kit, then follow this link!
Want more 2022 fantasy football draft discussion? Check out these links!
Discord!
Podcast!
Patreon!
Twitch!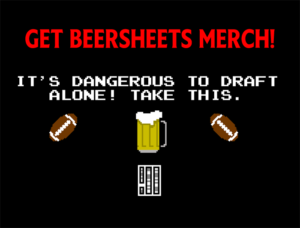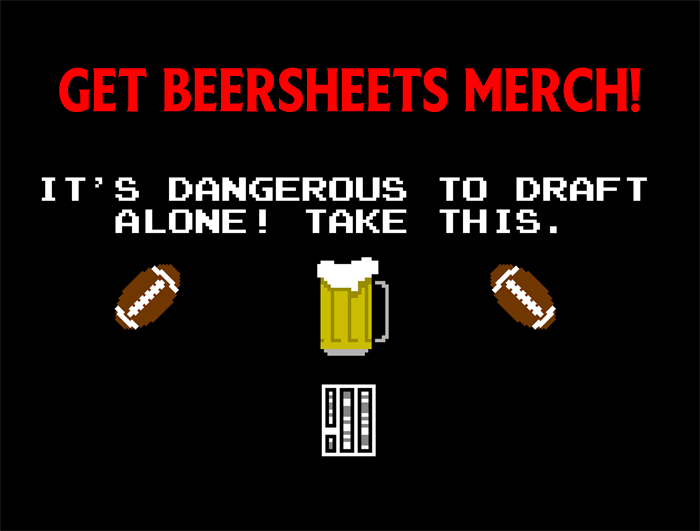 [Image Source: https://upload.wikimedia.org/wikipedia/commons/f/f0/Melvin_Gordon_TD_WFT_vs_Broncos_OCT2021.jpg under CC BY SA 2.0]