Every summer, we take a deep dive into the fantasy football average draft position (ADP) of players on each real-life NFL team. We do this so that we can determine which guys are undervalued, overvalued, or valued just right. As we Goldilocks this ADP, our draft board forms based on our opinions of players and where they go in fantasy football drafts. Since drafters draft (mostly) by site algorithms, site algorithms drive ADP on that site. So, we use FantasyPros' aggregate average draft position data in order to smooth out those edges. To really smooth out the edges, I will use half-PPR average draft position, which you can find here. We continue our series with the 2021 Minnesota Vikings.
Not much changed in the offseason for the Minnesota Vikings' offense. Kyle Rudolph said "what are you gonna do, cut me?" and the Minnesota Vikings did just that. Kirk Cousins returns to build on his 2020 campaign, and by that I mean, figure out how to throw it even more to 2020 Fantasy Football MVP Justin Jefferson. Also, Adam Thielen and a whole bevy of running backs are there. Hit that griddy, it's the 2021 Minnesota Vikings sleeper breakout, and bust (I know, I know, I'm a 35-year-old suburbanite, I shouldn't say hit that griddy, I'm trying to delete it).
Sleeper: Kene Nwangwu, Running Back (no ADP)
Ngwangwu is an extremely fast (if one speed) runner and a fourth-round pick out of Iowa State, who has a lot of trouble changing direction, getting a head of steam into the line of scrimmage, and powering through tacklers. Other than that, though, Ngwangwu is fine! He's very fast, and is a big and athletic running back (9.89 RAS score!), so it makes sense that the Vikings snatched him up to replace the departed Mike Boone.
Right now, they have Dalvin Cook and Alexander Mattison, two backs that are basically carbon copies of each other. Adding Ngwangwu gives them a new aspect: pure speed. It's unlikely he supplants Mattison as the backup, but he does add a different component to their run game that plays whether it's Dalvin Cook or Alexander Mattison at the helm. I ultimately think he slots in as a change-of-pace guy to start his career, but an injury to Alexander Mattison or Dalvin Cook would get him into fantasy football conversations.
Breakout: Irv Smith, Tight End (TE15, 134 OVR)
Kyle Rudolph played "play me or cut me" chicken with a team that had no intent on playing him (or paying him) in 2021. So, he's a New York Giant. That leaves Irv Smith as the only competent pass-catching tight end in Minnesota. Some people like to talk a big game about Tyler Conklin, but I honestly can't find myself caring about Irv Smith's backup stealing some targets.
Irv was extremely efficient last season, turning in the eighth-highest yards per target and second-highest quarterback rating when targeted, among tight ends. He's a downfield guy, ranking in the top-ten in tight end average depth of target, as well. This all rolled up into a preview of what we might see without Kyle Rudolph in Irv's last four games without him: he ranked eighth with 12.8 fantasy points per game. Unfortunately, that seems like his ultimate upside: a backend TE1. Don't let anyone tell you differently. He's small (6'2" and 242 pounds) and isn't exceptionally athletic, posting just a 4.78 RAS score (out of 10).
But, as you can see, his TE8 is all opportunity, getting lots of downfield targets (but very little after the catch) while posting just an 81.1% true catch rate (#33 according to playerprofiler). He's simply not all that great, but could get a lot of opportunity with Kyle Rudolph gone, and Adam Thielen creeping ever closer to the big wide receiver room in the sky. I'm buying into the opportunity fueling his upside, and overcoming his less-than-even-partway-good Relative Athletic Score.
Bust: Irv Smith, Tight End (TE12, 113 OVR)
When I first mapped out the players for this article series, I found Irv Smith at a decent(ish) value in 2021 redraft fantasy football leagues. You can read all my feelings on that just one slot above. But, when I came back around to figure out updated ADP, he had moved. Normally, I just shift my thinking and move on, but Irv Smith makes for an interesting test cast in value. Is Irv Smith a decent breakout candidate? Absolutely. Does that mean taking him as a TE1? Absolutely not.
Granted, Irv Smith is part of the Tight End Blob. The Blob™ is a group of tight ends from about TE6 to TE16, wherein guys really don't distinguish themselves and it all comes down to target load and guessing who will get more touchdowns this year. After all, fewer than three tight ends a week finished as a top-12 tight end without scoring a touchdown. Does Irv Smith have a shot at being an upper-end blob guy? Absolutely, you saw above what that meant. But, this is a cautionary tale to not reach up inside the blob. The blob is called that for a reason. It's gooey and amorphous, and trekking out definitively in one direction is likely to get you nowhere. Be careful if Irv Smith starts to squirt up into this range at tight end, and let him go. You can get another Smith—Jonnu—several rounds later, and he has the same shot and upside as Irv Smith.
Don't Sleep on These Links!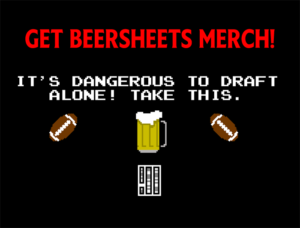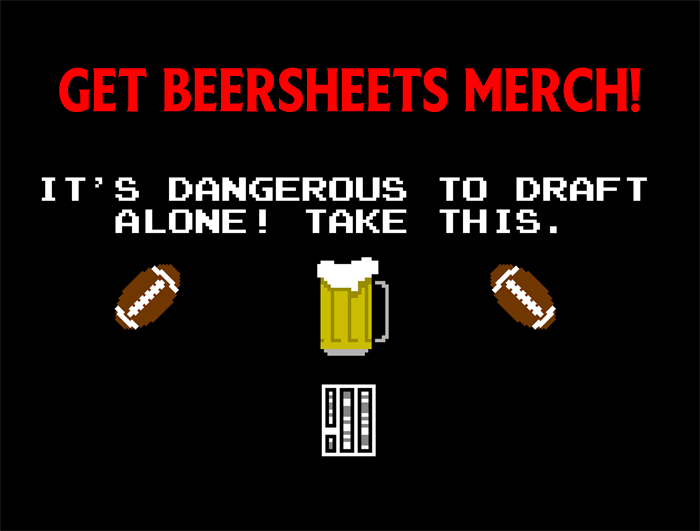 Image Source: https://upload.wikimedia.org/wikipedia/commons/5/57/Kirk_Cousins.jpg under CC BY SA 2,0, cropped]