You may have not even thought about 2021 auction strategy tips yet. But I have been thinking about it since January. Now that the NFL draft has concluded, I am finally able to get some true mocks in. While these auctions are mostly bots, the values set by each online platform will influence real bidders.
So I have tips for three of the major platforms: Sleeper, ESPN, and Yahoo! While most people aren't auctioning until August, there may be a reason you are seeking out early 2021 auction strategy tips. Perhaps you are part of a military league and you're all shipping out for a six month tour in the Saudi desert. Perhaps you are some sort of human-bear hybrid and need to enter hibernation (also you live in the Southern Hemisphere). Or, maybe, like me you just want to be the absolute most dominating fantasy football auction player, which involves devouring information for many months.
Whatever the reason, here is one takeaway from each of the listed platforms. I have gotten in about 5 mocks for each.
ESPN Mock Auctions
Okay, this one is a real wild beast, right now. Basically, every usual strategy is going out the window because of this: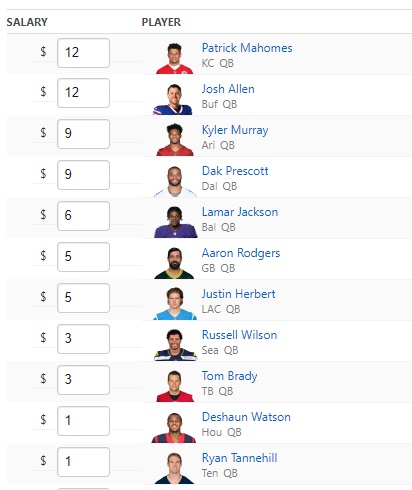 I'm one of the lowest in the industry in terms of QB valuation, and still I think this is too low. All of the quarterbacks are valued at $67 total. This is for a 12-team league. By contrast, Yahoo!'s QBs are listed at $137 total and Sleeper's at $219. That's dozens and dozens of ESPN bux that aren't being drained from the pot. This mostly reflects Wide Receivers: There are no deals.
Followers of my time-tested BBQ strategy know that a key piece is that a startable WR always falls to well below market value. Not in ESPN leagues that are following their QB listing, however. Not when bidders have $5-15 more to bid up WRs ranked in the 20s. So far, I've had the best luck just accepting that I'm going to be spending $10 on, say, Jaylen Waddle and Tee Higgins as opposed to Keenan Allen and Terry McLaurin. Once I populate enough mocks with real people and can see how closely they adhere to listed values, I can provide even better information.
Yahoo! Mock Auctions
Rookies are not valuated properly. That means in a mock with bots, one can play pretty loose at the RB position and fill it in with a rookie or two later. That will never happen. I got Najee Harris for $2 the other day! There's no way he's going for less than $20 with well-studied human bidders (I have him valued at $45).
So watch out: If your league is relatively inexperienced, you could snatch a rookie for an absolute steal. This was a big tip for users on NFL.com's platform, last year. Yahoo! will probably update its values on June 2, when it starts providing average $ data for players based on mocks. So check back to make sure these early 2021 auction strategy tips haven't gone stale.
Sleeper Mock Auctions
Okay, this is a real weird one: Sleeper has different valuations based on whether you are on a mobile device or a laptop. I have no idea how that could possibly happen. But it is: I'm in a 12-team HPPR mock on my phone and my computer (I am a giant nerd). For instance, on my laptop Alvin Kamara is listed at $79. On my phone it's $73. In fact, scanning the top 24 players, only CMC is listed at the same valuation for both devices.
So, having mocked on both, the takeaway is this: If you are counting on bidding 10% over for a top player, understand that that 10% might be 0% on someone else's computer. Be prepared to go higher, just stay within that magic $130 number for your top 2 guys.
Okay, back to mocking. Stick with Football Absurdity all preseason for the most obsessively researched and thoroughly tested fantasy football auction strategies.
For more Football Absurdity, click these links more times than the next highest-clicker at the table:
[Image credits:  under cc-2.0]