2021 Conference Championship Predictions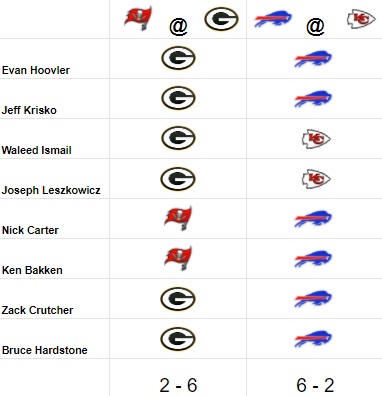 2021 Conference Championship Predictions Writeups
Evan Hoovler, Football Absurdity's Awesomest Guy Who Was Definitely NOT Left in Charge of Writing His Own Job Title:
Conference Championship Predictions
Bills at Chiefs
Look, in 2019 I picked the Chiefs over the 49ers in the Super Bowl before the playoffs started. Then, the week before the Super Bowl, I flipped and picked the 49ers, bringing massive shame to my family and the 5 other people on Earth with the last name "Hoovler." So I'm sticking to my guns with my preseason prediction: Buffalo's momentum on both sides of the ball is too much for Kansas City, especially with Mahomes not at 100%.
Buccaneers at Packers
The Pack has looked better than the Bucs. Plus I can never pick Brady or I bring much shame to my family and that one other guy named "Evan Hoovler" who is pissed I keep ganking all the "evanhoovler" addresses on social media. HOWEVER, I said I'd stick to my guns, and that means I have to continue to pick Atlanta, who I said would lose to Buffalo in the Super Bowl. So, my prediction is, that once the Packers take the field, they are arrested for DEEP STATE LIES and Atlanta emerges as the actual opponent and beats the Bucs.
Jeff Krisko, Football Absurdity Editor-in-Chief
Conference Championship Predictions
Bills at Chiefs
Look, I told you all I was #BillsMafia from the U Can't Touch This practice dance video. I have to go all the way. Do I feel good about it? Probably not. But the Chiefs are 2-2 with a -9 points differential when a team scores more than 30 points against them this season. The Bills average an AFC-leading 31 points per game. If anyone can knock off these Chiefs, it's the Buffalo Bills. Toss in Patrick Mahomes' neck and foot injuries likely giving him fits, and I think I've convinced myself to go all the way. Give me the Bills.
Buccaneers at Packers
I should know better than this. I shouldn't count out Touchdown Tom, especially since this is a rematch of a week six game (just like the BIlls-Chiefs game). The Buccaneers crushed the Packers in that game in an unusual one. In that game, Aaron Rodgers threw an early pick-six and it crushed the offense for the rest of the game. Aaron Jones had one of his two games with fewer than 75 total yards in that one (the Packers lost both those games). The Buccaneers have turned it on lately, but the Packers feel like an unstoppable juggernaut coming out of the NFC. I'll take the Packers.
Waleed Ismail, Football Absurdity CFO
Conference Championship Predictions
Bills at Chiefs
Kansas City is probably the best team in football, but Buffalo is by far the hottest. They entered the playoffs on a six-game winning streak and have decimated their opponents. However, they are still Buffalo.
Kansas City 35 Buffalo 27
Buccaneers at Packers
It's the battle of the bays nobody ever wanted. Whether it is meth or cheese curds, you'll find a way to abuse your body and your soul. Which is exactly what happened to Green Bay the last time they played the Bucs. I don't see a repeat of this happening. This is me counting out Touchdown Tom.
Packers 33 Bucs 17
Joseph Leszkowicz, Writer
Conference Championship Predictions
Bills at Chiefs
Mahomes will be back from concussion protocol along with the return of CEH. The Bills remain the hottest team in the NFL. And my preseason pick of a repeat still holds. It would not surprise anyone if either team makes the SB. So let's look deeper at this one. Mismatch Kelce will take care of business up the middle. Darrell Williams did great last week. And bringing CEH back (and his 161 yards rushing from their last matchup) only helps. Buffalo can easily win this game. KC hasn't looked sharp in weeks. Mahomes is banged up. But I'm sticking with my pick: KC over Buffalo, 24-17
Buccaneers at Packers
My least confident pick last week was NO over TB. Brees hadn't looked sharp since his rib injury and, in retrospect, I should have jumped on the Tom-pa bandwagon. But I'll just say it: Brady didn't look sharp. This will be more about Green Bay's efficiency. Their offensive line was perfect. LaFluer's play calling was on point. And the defense made stops when it needed. Last matchup, the defenses shined. I can see this game going all-out offense: 35-31 Green Bay over Tampa.
Nick Carter, Writer
Conference Championship Predictions
Bills at Chiefs
Bills because I'm gonna vote my heart.
Buccaneers at Packers
Buccs because the world is a place full of suffering. I will however be very happy to be wrong about Tampa Bay.
I got cute and picked against a favored team last week (GB) and that brings me to a conundrum: I predicted a Bills/Buccs Superbowl and both of those guys are the underdogs Sunday. Not going to chicken out now.
Ken Bakken, Writer
Conference Championship Predictions
Bills at Chiefs
I've been team Mahomes this entire time, but I think the injuries are going to hurt the offense. He seems to have had turf toe in the Browns game. The Bills will come out firing on Defense. My original preseason pick of Chiefs in the Super Bowl has been defeated by the injury bug. Josh Allen gets his "moment" with a 2-minute drive to win the game. Buffalo wins 24-21.
Buccaneers at Packers
Normally Green Bay would have a distinct advantage due to the cold weather here but with TB12 coming to town there's no advantage. I think the defense for Tampa contains Green Bay and the high power, NBA-like ring chasing, Bucs take this one easily. AB is the game-changer. Bucs win 31-14.
Zack Crutcher, Writer
Conference Championship Predictions
Bills at Chiefs
The Chiefs have been alternating between moments of being unplayable and moments of being unconvincing for what feels like 2 months now. It hasn't stopped them from making it to the AFC championship, but I will go against the grain and say this is where their journey ends. The Bills are the real deal, Josh Allen is my dad, and they can go toe-to-toe with any team in the league regardless of circumstance. We just saw them beat the red hot Ravens 17-3 in a game where the wind was so bad that Justin Tucker nearly went 0/3 on field goals. This is a team with Devin Singletary as their RB1 and they won in the worst conditions. Now they get a Chiefs team that may be missing Mahomes?
It is easy to look at the success of Damien Williams last week and the return of Clyde Edwards-Helaire who rushed for 161 yards in the Week 7 matchup between these two contenders and feel confident in KC's ability to dominate on the ground, even if Mahomes is not 100%. One thing that is worth noting is the absence of Matt Milano, the Bills' linebacker, who was out for the week 6 game. With Milano on the field, the Bills are #9 against the run. Without him? The Bills are a pitiful 28th. Milano will be available on Sunday for the Bills and is my x-factor to give Buffalo the edge in a close one. 31 – 24 Buffalo
Buccaneers at Packers
Let's start with what will be on everyone's mind: Tampa Bay absolutely destroyed Green Bay in week 6, posting 38 points unanswered to go from being down 0-10 to winning 38-10. They made Aaron Rodgers look like Jordan Love, and Green Bay was shaken to the point that they were never able to fight back into the game. While I think the popular pick will be to bet against the spread (GB -3), I am inclined to invest heavily in a Green Bay victory. With just under 13 minutes left in the 2nd quarter and leading 10-0, Rodgers threw a pick-6 to Jamel Dean. Rodgers was intercepted again a minute later, and the Bucs found themselves on Green Bay's 2-yard line where Ronald Jones would score to put Tampa Pay up 14-10 and they'd never look back.
These interceptions and turnovers are the moments that change games completely, and Aaron Rodgers just might be the best quarterback ever at not turning the ball over. After playing against the Rams' stellar defense last week, Tampa Bay will be a refreshing change of pace. I predict Rodgers and LeFleur to adjust their play calling and blocking schemes from the earlier encounter this season, with Rodgers having more time in the pocket to choose his spots and methodically pick the Tampa Bay defense apart. 34-21 Green Bay
Bruce Hardstone, Writer
Conference Championship Predictions
Bills at Chiefs
Somehow this Josh Allen ride is gonna keep on rolling. Despite the offense struggling against the Ravens, the defense showed up in a big way, holding the Lamar-ful Ravens to just 3 points. Buffalo shows up once again, but this time shows off their offense, winning a slugfest 35-31.
Buccaneers at Packers
The streak of a Super Bowl host never playing in the game itself continues, as Tom Brady falters in his first appearance in the NFC Title Game. The Bucs defense may be solid, but the trio of Rodgers/Jones/Adams is rock hard, baby. Green Bay cruises in a game that's not as close as its final score of 27-14.
If this has you hankerin' for some fantasy sports, try out Fan Duel! That link lets them know we sent you! It also gets you a 20% deposit match up to $500!
Then, follow Football Absurdity on Twitter!
After that, get free fantasy football advice by joining our Discord!
Finally, if you like what you read here, check out our podcast and our Patreon
[Photo Credit: https://upload.wikimedia.org/wikipedia/commons/d/d9/NFL_playoff_treezh.PNG under cc-2.0]