Week ten of the 2020 NFL season and now the injuries are mocking up. Just when you got Christian McCaffrey back, you might lose him yet again! O' cruel fantasy football season, what shall we do now? Lucky for you, Football Absurdity is going to help you salvage your decimated rosters. If I don't mention someone whom you think I should be talking about, just know there are many reasons why I overlooked them. Maybe they are owned in most leagues. Maybe they are so bad I don't even consider them. Or maybe it's because your opinions cannot be trusted. After all, you are here. So let us examine what our week ten waiver wire options…
(options are in my preferred order at each position)
Week Ten Waiver Wire QBs
Tua Tagovailoa, Miami Dolphins (22% rostered)
Two starts into his rookie campaign and Tua Tagovailio is 2-0 as a starter. While that didn't show as much in his week nine numbers of 248 passing yards, 35 rushing yards, and 2 touchdowns, Tua showed flashes of why the Dolphins drafted him. While he wasn't quite a QB1, he helped the Dolphins win and had a solid game against a defense that is tough on quarterbacks. In week ten, Tua will go up against a Chargers defense that has given up the fourth-most fantasy points to opposing quarterbacks. If you need a quarterback to stream, Tua is an interesting, high-upside option.
Drew Lock, Denver Broncos (17% rostered)
Two weeks in a row, Drew Lock has done enough in the fourth quarter to make you think he can help your fantasy team. In week ten, Drew Lock threw for 313 yards, 2 touchdowns, and 1 interception.  Lock also tacked on another 47 yards rushing and 1 touchdown. But chasing Drew Lock feels like fools gold when there are better options. Still, Blake Bortles won fantasy seasons doing exactly that.
Week Ten Waiver Wire RBs
J.D. McKissic, Washington Team (29% rostered)
A guy who has been quietly consistent over the past few weeks is J.D. McKissic. While he only had 3 carries for 17, he had 9 catches for 65 yards. In PPR leagues, a guy like McKissic holds some real value.  While he won't get you many big games, he has a very high floor. Over the next three weeks, he faces Detroit, Cincinnati, and Dallas, who give up a lot of points to running backs. If you need a band-aid until a running back comes back, J.D. McKissic can help staunch the bleeding on what has been a brutal 2020 fantasy season.
Wayne Gallman Jr., New York Giants (23% rostered)
Three weeks in a row, Wayne Gallman Jr. had a touchdown. Over that timespan, his yards per game and his usage on the Giants offense has gone up. In week nine, Gallman has 68 yards and 1 touchdown. Whether his good production will last is anyone's guess. So many things can derail Gallman, be it Devonta Freeman coming back from injury or the Giants offense itself. However, Wayne Gallman has produced solid fantasy numbers enough times in a row that I'd feel comfortable taking a flyer. I still don't think Wayne Gallman will sustain this production, but weirder things have happened in fantasy football seasons. And running backs are becoming scarce.
Duke Johnson Jr., Houston Texans (16% rostered)
When David Johnson suffered a concussion against the Jaguars, Duke Johnson came in and finished the week as an RB1, with 73 all-purpose yards and 1 touchdown. The short of it is, Duke Johnson only has value if David Johnson doesn't play week ten. Not sure it is worth burning a waiver on him unless you have David Johnson rostered.
Ryan Nall, Chicago Bears (0% rostered)
Everything I said about Duke Johnson Jr. can be applied to Ryan Nall, except for one small difference. You want no part of the Chicago Bears offense. Yes, David Montgomery was producing low-end RB2 numbers, but he was having to put up a herculean effort to get that amount. Even though Ryan Nall had 4 catches for 35 yards and 1 touchdown, he got those numbers in garbage-time. If you want to bet on the Bears offense to produce a consistent running back, go right ahead. As a Bears fan, I've been waiting since the start of the John Fox era.
DeAndre Washington/Salvon Ahmed, Miami Dolphins (1%/0%rostered)
Salvon Ahed has 38 rushing yards in week nine. Jordan Howard had 19 rushing yards and 1 touchdown. DeAndre Washington was just traded to the Dolphins. Everything I said about Ryan Nall can be applied to the Miami Dolphins running game, except for the fact that you have no idea who the actual starter will be in week ten.
Kalen Ballage, Los Angeles Chargers (1% rostered)
There must be something about that California coast that makes it impossible to predict running backs. Justin Jackson left the game with an injury, and despite returning, Kalen Ballage took the bulk of the carries. His 84 all-purpose yards and 1 touchdown was among the best production of week ten. However, since Kalen Ballage was just reverted to the Chargers practice squad, you probably shouldn't claim him. If Ballage isn't going to help the Chargers squad, he certainly won't help your make-believe squad.
Week Ten Waiver Wire WRs
Jakobi Meyers, New England Patriots (9% rostered)
With Julian Edelman dead and N'Keal Harry slightly less dead, Jakobi Meyer got the majority of the Patriots targets in week nine. With 12 catches for 169 yards, Jakobi Meyer is the priority add of week ten waiver wires. Meyer has the makings of a PPR machine if those other two players miss a significant amount of time. For at least one more week, Jakobi Meyer could be an impact player. If N'Keal Harry's injury lingers, Meyer could be a WR2 rest of the way.
Curtis Samuel, Carolina Panthers (36% rostered)
Last week, I said of Curtis Samuel that it was hard to trust him since he was the third receiver on an average offense. His 9 catches for 105 yards and 1 touchdown make me wonder if I'm treating Curtis Samuel unfairly. While Samuel is still the third receiver on Carolina's offense, it looks like Carolina is using these match-ups to their advantage. If I need receiver help, I'd definitely consider grabbing Samuel and starting him when he has a favorable match-up.
Nelson Agholor, Las Vegas Raiders (19% rostered)
After a certain point, it is hard to start arguing against a guy. In week nine, Nelson Agholor had 2 catches for 55 yards and 1 touchdown. Agholor has had double-digit fantasy weeks in four of his last five weeks. I couldn't tell you how he is suddenly playing the guy we always thought he could but, but Nelson Agholor has been doing well. He probably should be on a roster. However, I also know that the minute I add him to my fantasy roster again, he will go back to being Nelson Agholor.
Olamide Zaccheaus, Atlanta Falcons (0% rostered)
With Calvin Ridley out, Olamide Zaccheaus finally found his time to shine. Olamide Zaccheaus was only behind Julio Jones in snap count in week nine and had 4 catches for 103 yards and 1 touchdown. Olamide Zaccheaus only holds value if Calvin Ridley doesn't return soon. Ridley doesn't appear to be expected to miss a lot of time long-term, so Zaccheaus is a guy I'd either prioritize really low or wait to grab him once waivers clear.
Marques Valdez-Scantling, Green Bay Packers (13% rostered)
It is easy to get distracted by the 2 touchdowns Marques Valdez-Scantling had in week nine, but do not forget that he also only had 2 catches for 53 yards. MVS was fourth in targets on the team and the reason Davante Adams keeps getting fed is that Adams is the only guy Rodgers trusts. Marques Valdez-Scantling is a boom or bust player and if you take a gamble with him in your starting line-up, you are rolling the dice.
Richie James, San Francisco 49ers (1% rostered)
In week nine, Richie James had the best week of any fantasy receiver with 9 catches for 184 yards and 1 touchdown. Richie James has only as much value as you have faith in Nick Mullens. If you believe Nick Mullens can throw over 250 yards a game, then Richie James has a ton of value. All the 49ers wide receivers are back except Kendrick Bourne, so I'm not sure what you are trying to prove with Richie James
Week Ten  Waiver Wire TEs
Adam Trautman, New Orleans Saints (0% rostered)
Adam Trautman was drafted in the second round of the 2020 NFL draft and a lot of people had dreams of Jimmy Graham 2.0. While Jimmy Graham wasn't Jimmy Graham until his second season, he started showing flashes midway through his rookie year. Graham ended the last three games of his rookie season with four touchdowns. Looking at Trautman through this lens, his 3 catches for 39 yards and 1 touchdown could be the start of a rookie tight end separating himself from the pack. I like gambling on Trautman if you need a tight end. In week nine, Trautman stole snaps, despite no apparent injury to Cook. They drafted Trautman for a reason and if he pays off, he could pay off big.
Irv Smith Jr, Minnesota Vikings (6% rostered)
Irv Smith Jr. had 2 catches for 10 yards and 2 touchdowns in week nine. While his production should be met with some level of skepticism, it also should be noted that Irv Smith Jr has been a TE1 in three of his last four starts. If you need a tight end, why not take a flyer. What's the worst that can happen? Irv Smith Jr. is just like the rest of the tight ends you've tried starting?
Now that you have a fancy new team how about grabbing a pint of beer-themed fantasy team names?
If this has you hankerin' for some fantasy sports, try out Fan Duel! That link lets them know we sent you! It also gets you a 20% deposit match up to $500!
Then, follow Football Absurdity on Twitter!
After that, get free fantasy football advice by joining our Discord!
Finally, if you like what you read here, check out our podcast and our Patreon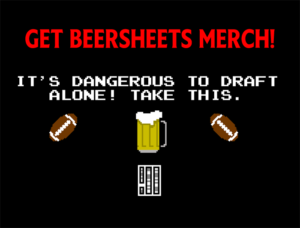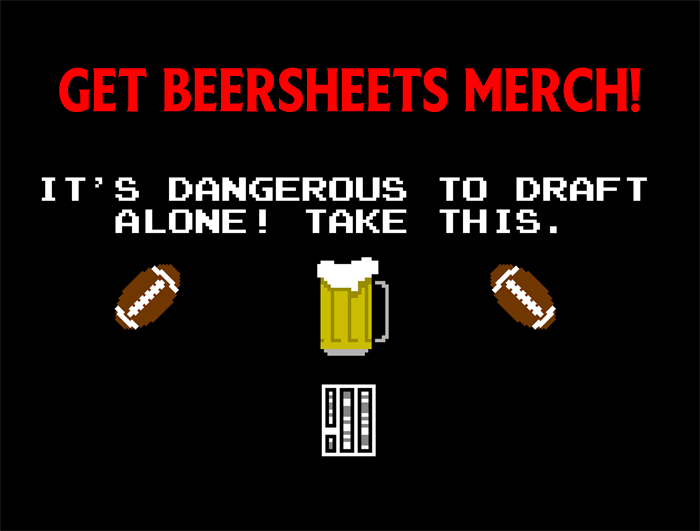 [Header Image Source: https://commons.wikimedia.org/wiki/File:Drew_Lock.JPG under CC BY SA 2.0]