Fantasy football puzzles, week 7 edition! The Eagles-Giants game has the potential to cause a lobotomy. Let's keep our brains sharp for the weekends' sit/start decisions with some mind teasers. For the answers, check out our discord.
Commonalities
What fantasy football-related theme do all of these phrases share?
Aimless nerds
Cherry kinder
Scorch rains
Hamster meteor
Major boniness
Meat Hunker
Drop Quotes
For this trio of fantasy football puzzles, take each letter and put it in a box in the same column. When you're done, you should have a fantasy football-related quote: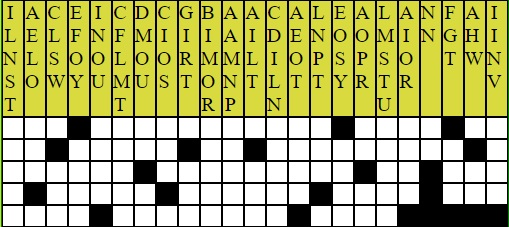 (made with help from http://puttzy.com/puzzles/dropquote/creater.php)
Cryptolist
Each item in this list uses the same cryptogram letter substitution:
Tight Ends with the Most HPPR Points on the Season
X V C B E Q    A G S W G
J G H V J G    A E X X S G
N C V A    C R L V G F Q
K H R R P    Q N E X Y
V H O G V X    X H R U C R
L C V V G R    F C S S G V
K E N N U    J V C Y C N
X U S G V    Y E J O G G
Y C U L G R    Y P V Q X
N E A G    J G Q E W A E
(made with help from wordles.com)
You're so smart! Use that huge brain to win some money with Fan Duel! That link lets them know we sent you! It also gets you $5 bonus cash to play with if you make a deposit.
Then, follow Football Absurdity on Twitter!
After that, get free fantasy football advice and answers to these puzzles by joining our Discord!
Finally, if you like what you read here, check out our podcast and our Patreon
[Photo credit: https://www.pxfuel.com/en/search?q=crossword+puzzle under cc-2.0]