The leaves haven't even changed colors yet but late Monday night, the NY Jet fan base went from 'WE GOT Le'VEON!' to 'WE GOT GASED!' I am sorry for your loss NY Jets, but your season is over. Will the Jets make the playoffs? No!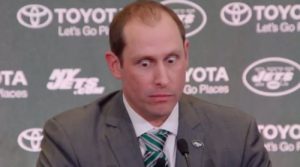 2019 began with some nice promise for the Jets. They got the leftover uniforms from the University of Marshall Buffalos' booster event, then signed the stud hold out to bolster the run game, and then they hired Adam 'failing upward' Gase to run the team. What could go wrong?!
You know your team is destined for futility when the face of the franchise is sidelined with the same debilitating illness that knocks out half the homecoming court. It's ok, the Jets were smart to sign Trevor Simeon as a backup.  Will the Jets make the playoffs with Trevor Simeon? Did you even watch the game?
Monday Night Football was the biggest stage the Jets have been on since the Sanchise era. OBJ had an axe to grind and put up his longest career reception and found the end zone as well. The Jets' defense was not able to stop the run, either. Chubb rattled off a 19 yard TD while the infamous Gregg Williams was left reaching for answers. 
A moment of silence for the theoretical greatness that was to be the NY Jets offense. Darnold out with mono, then Simeon goes down with a rolled ankle from Myles Garrett. Third string QB Falk came in and got to play recess for the remainder of the game while trying to not die in the process. 
The NY Jets are certainly the red headed stepchild of the Empire State but they could always say 'well we're not the Bills!' Gang Green has festered to a point where, if I were a New Yorker, I'd cut it off. 
Will the Jets Make the Playoffs? Jets, you are now on the clock. Start scouting lineman.
For more Mike Maxwell, follow him on Twitter and check out these articles:
Sorry for Your Loss Week 1: The Miami Dolphins
Madden 20 Soft Skills Revealed
Super Bowl LIII Predictions from Comedians
Also check out our Discord for free fantasy advice from our experts, and get all of our funny NFL articles sent to you on Twitter
Photo Credit: https://commons.wikimedia.org/wiki/File:New_York_Jets_National_Anthem_(30249694088).jpg under https://creativecommons.org/licenses/by/4.0/deed.en