Will the Bengals make the playoffs? If you're looking for a definitive answer, we've got it. If you're optimistic, you came to the wrong place.
Week three was an exciting one. There were some great comebacks but we are starting to see that some franchises had harder working PR teams in the off-season than rosters. The over-ambitious hiring of Zac Taylor gave Bengals fans something to get excited about. 
Finally, a younger coach to lead the team to an 0-3 start! This is the youth movement we hear so much about on Linkedin right? Fun fact: The last three Bengals coaches started 0-3 their first season in charge. Traditions, we all have 'em. I am sorry for your loss Cincinnati, but your season is over. Will the Bengals make the playoffs? No. Start shopping QB's.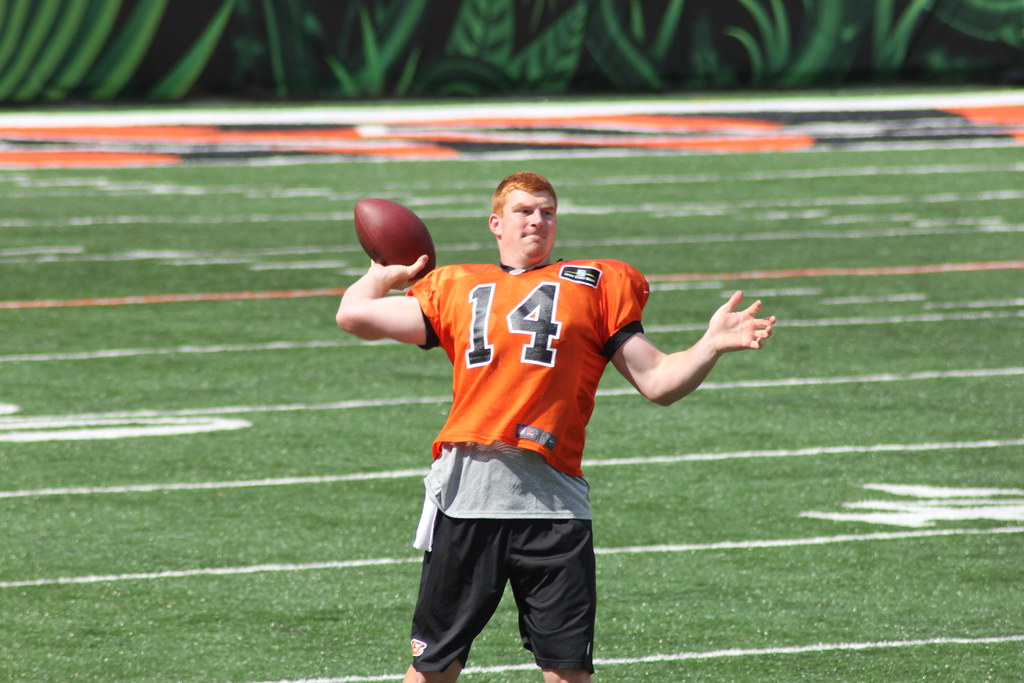 We wanted a picture of him showing poor throwing form. We didn't have to look hard.
Cincinnati traveled to an equally depressing municipality in Buffalo, and Andy Dalton (the man of consistency that he is), put forth another 250+ yard passing, 1 TD and 2 INT day. The offense flew out of the gates with three first downs in nine possessions to get the game going. Eventually, the offense clicked where both Bengals touchdowns were scored from one yard out. 
Having a three-point lead with under five minutes to play was apparently all the stress in the world for the Bengals. Josh Allen's hot and cold abilities turned on when it mattered most. Hitting rookie tight end Dawson Knox for a 49-yard completion was enough to bring the Bengals defense back to reality. The Bills retook the lead with the elder statesman, Frank Gore, punching in the go ahead touchdown. 
'We're 0-3. It sucks. It feels terrible,' Coach Taylor added, an equally adept summary of his team's performance so far. This shouldn't be an alarming thing for the Bengals nation: 0-3 is their thing. The Cincinnati Bengals walk into the new season typically with more 'if's and maybe's' than a kindergartner negotiating their way out of a time out. 
2019 had some possibilities for the Bengals as they added youth to a division in transition. However, when it comes down to execution, the Bengals still have issues with consistency and shooting themselves in the foot. 
I am old enough to remember the heyday (not heydays) of the Bengals with Boomer. Look, Dalton put up a good year for them. Maybe we can rename the franchise the Cicadas since they only show up every seventeen years, then wither right in front us. But will the Bengals make the playoffs this year? They 100% will not.
Follow Mike Maxwell on Twitter and check out his other Sorry for Your Loss pieces:
Sorry for Your Loss Week 2 (J. E. T. S. … LOST LOST LOST!)
Sorry For Your Loss: Week 1 Lo Siento Mi-ami
Photo Credits: https://www.flickr.com/photos/navin75/7847205200 under https://creativecommons.org/licenses/by/4.0/deed.en