Jon Gruden resigned from his position as Raiders coach on Monday night in light of a seemingly never-ending barrage of emails that managed to be offensive to nearly everyone. Whether you see it as a justified firing or a media hit job is almost secondary at this point. The fact of the matter is this: Jon Gruden should have already been fired for being a terrible coach and the worst personnel man the NFL has seen in a very long time.
To put it into perspective, Gruden came into the NFL at the same time as Chicago Bears head coach Matt Nagy. Since they entered the league, Nagy has led the Bears to two playoff appearances, a division title, and a Coach of the Year award. And Chicago fans still have their pitchforks in hand just in case he decides to try to call plays again. Nagy is 31-22 as head coach and there is still a general sense he could be fired.
In that same timeframe, Gruden is 22-31. He has no playoff appearances to speak of. The roster is full of retreads and players that will be considered busts within the next couple of seasons. All the while, Gruden was making 10 million dollars per season. Now, the money he is making isn't his fault. That lies directly on the shoulders of Raiders owner and noted bowl haircut enthusiast Mark Davis.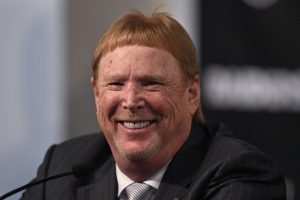 Davis reportedly had wanted to bring Gruden out of retirement for years before finally settling on an astonishing number that i'd say reset the market for how much coaches make, but honestly, no other coach even asked for that because they knew that it was so insane that they would be laughed out of the room if they tried.
The issue is, Davis also gave him near full control of personnel decisions. And Gruden has gone out of his way to prove that he has no damn clue what he is doing. He is the fantasy guy in every league who goes completely off the reservation with his first-round pick every year, and then finished 4-9 and blames injuries and the scoring setup, and not his horrifying choice in players. Seriously, let's look at his first and second-round picks since he showed up. And it's worth noting that he has had multiple first-round picks in multiple drafts due to his trading of Khalil Mack prior to the 2018 season.
2021
1st round: Alex Leatherwood. Considered a massive reach when it happened (get used to hearing that phrase), Leatherwood has struggled badly this season.
2nd round: Tre'von Moehrig. Starting and averaging all of 3 tackles per game.
2020
1st round: Henry Ruggs III. Has hands made of stone. Is good for one big play a game and provides little other value.
1st round: Damon Arnette. Barely plays and is on injured reserve.
3rd round: Lynn Bowden. I know I said first two rounds, but this is just too amusing to pass up. Bowden was traded before his rookie season even started. He busted so spectacularly, he wasn't even going to break camp as a rookie with the team as a third-round pick. [Editor's Note: Lynn Bowden was traded with a sixth-round selection to Miami for Las Vegas' own pick].
2019
1st round: Clelin Ferrell. Considered a maaasssssiiiiiivvvveeeee reach when it happened, he is a complete nonfactor on defense. Devin White and Devin Bush were both drafted in the top 10 AFTER this guy.
1st round: Josh Jacobs. The guy who seemed like the least bust potential, but you should never draft a running back in the first round, and the Raiders are allergic to keeping this guy on the field on third down or any passing situations. He is strictly a two-down running back.
1st round-Jonathon Abram. The guy who might actually stay a starter for a while, except for the fact that he is a near-constant risk to concuss himself into oblivion every play.
2nd round-Trayvon Mullen. Generally a nonfactor. Did have an interception for him, so good for him. On injured reserve.
2018
1st Round: Colton Miller. The anchor for a mediocre offensive line.
2nd Round: PJ Hall.  Not currently in the NFL.
That's…not great. If anything, getting the Gruden stink off of the Raiders will give them an opportunity to build an actual franchise to be worth the time and energy of going to their fancy new stadium in Las Vegas. They can start by bringing in a new personnel department and a forward-thinking head coach that wasn't daydreaming of being at Hooters while at practice every day.
The worth mediocrity is expensive mediocrity. It might have taken a bunch of damning emails for the Raiders to get out of that contract, but the franchise is better off for it.
Green Bay Packers (-4.5) at Chicago Bears
Do you know which cornerback has the lowest QB Rating when thrown to in the NFL? Trevon Diggs of the Cowboys. But who is second? That would be Jaylon Johnson of the Chicago Bears. While the Bears correctly deserved to be skewered at every opportunity for cutting Kyle Fuller and keeping Jimmy Graham, they have gotten a monster sophomore season thus far from Johnson, a second-round pick last year out of Utah.
So far this season, the Bears are fifth in the NFL in expected points contributed by the defense. The Packers rank 17th. On the other hand, the Packers have Aaron Rodgers and Davante Adams. While the Packers are only 22nd in offensive yards so far this season, the team is 19-4 in their last 23 games against the erstwhile monsters of the midway. And while there is hope that the Bears are going to get where they are looking to go on offense, eventually, there is still a Lake Michigan-sized gap between the two teams.
The Bears' defense should do a good job of making it a long day for the Packers' offense, but the Bears' offense is still a long ways away from being able to keep up. It will take a massive running attack and Justin Fields being unleashed to throw downfield. I'm dubious of both things succeeding, so I'm taking the Packers giving the points, along with potentially teasing their number down to -2.5 with some other games.
Kansas City Chiefs (-7) at Washington Football Team
The Chiefs' defense sucks, quite possibly the worst in the league. The Washington offense sucks, mostly because they refuse to completely turn over their running game to Antonio Gibson. This feels more or less like a "don't overthink it" game. The Chiefs are definitely flawed, but Washington has not exactly proven they are able to stop much defensively. The WFT have given up the sixth-most total yards and sixth-most passing yards this season, after coming into the year being a trendy top unit pick by experts.
Patrick Mahomes and the Chiefs offense are going to find a day to get it right, and it looks like this could be a big day for their offense. I'll be betting the Chiefs, and might even go so far as to alt line this up to -9.5 because this could easily be a blowout.
Houston Texan (+9.5) at Indianapolis Colts
The Texans have been decent against the pass this season. That should be just fine for the Colts, because the Texans are the 7th worst rushing defense in the NFL, and they have two players in Jonathon Taylor and Nyheim Hines that can take advantage of that. On the other hand.
On the other side of the ball, the Colts are coming off giving up 400 passing yards in a furious comeback to Lamar Jackson and the Ravens.
The best way to beat the Texans is to put constant pressure on their inexperienced quarterback, Davis Mills. That means that a team that brings heavy pressure in their defense can make life miserable on their offensive line and kill some drives. The Colts blitz the ::checks notes:: 4th fewest times in the NFL on average. Hmm. Maybe their defensive line just gets to the quarterback? Nope, they only have 10 sacks this season. To put into perspective, the Bears are one of only three teams that have blitzed fewer times than the Colts, and they have 18 sacks in the same amount of time, 1.6 sacks more per game than Indy. The other two teams below them, Philadelphia and Las Vegas also have more sacks.
What if they are at least getting to the quarterb….nope, that's not it. They have pressured opposing quarterbacks at the second-lowest percentage in the NFL.
Maybe the Colts' defense is just bad. Their offense should be okay this week, but they aren't going to score enough points to keep Houston more than 10 points out all day. This feels like a good spot for the Texans. If you are feeling frisky and want to bet the upset, you have my thumbs up. I'm going to bet them to cover the spread this week.
Arizona Cardinals (+3) at Cleveland Browns
This game will swing, like many Browns games, on the defense's ability to keep Nick Chubb and Kareem Hunt in check. That isn't an easy task for this Cardinals team, as they have given up the fifth-most rushing yards this season. They have also given up the second-most rushing yards per play so far. The Cardinals can flood the box to try to sell out and stop the run, putting the game in the hands of Baker Mayfield, but they haven't shown to be particularly proficient and getting to the quarterback, either.
Even though Arizona blitzes on 33.3 percent of their plays, they have only hurried the quarterback 14 times this season, leaving their hurry % at an abysmal 7.2 percent. They have knocked down the quarterback 22 times this season, good for fourth in the NFL, and more in line with their blitz percentage, they only have 12 sacks on the season, which means their blitz is not getting home enough schematically to be considered a consistent threat to make Baker and the Browns uncomfortable.
I don't have a great feel for this game, but I'm definitely leaning Cleveland, and I'm going to parlay the over on rushing yards for both Hunt and Chubb.
Dallas Cowboys (-4) at New England Patriots
What did I say earlier? Don't overthink it. The Cowboys are the better team. Bet them to win.
For more fantasy football discussion, please check out these links!
Discord!
Podcast!
Patreon!
Twitch!