Every summer, we take a deep dive into the fantasy football average draft position (ADP) of players on each real-life NFL team. We do this so that we can determine which guys are undervalued, overvalued, or valued just right. As we Goldilocks this ADP, our draft board forms based on our opinions of players and where they go in fantasy football drafts. Since drafters draft (mostly) by site algorithms, site algorithms drive ADP on that site. So, we use FantasyPros' aggregate average draft position data in order to smooth out those edges. To really smooth out the edges, I will use half-PPR average draft position, which you can find here. We continue our series with the 2021 New Orleans Saints.
Throw the New Orleans Saints on the pile of teams who don't have a set week one quarterback. It could be Jameis Winston, or it could be Taysom Hill. Or, and more likely, it will be some unholy abomination amalgamation of both, with neither snatching 70% of the quarterback snaps. I doubt that the last part is going to be the case, but not enough people account for this possibility in their projections.
No matter what happens, the team will be without Drew Brees for the first time since George W. Bush was president, so they are a team in transition. They have some weapons, but it's an extremely top-heavy target share (Alvin Kamara and Michael Thomas). Can we find someone to get enough targets to be a sleeper or a breakout? What about someone drafted high enough to get the "bust" label? Let's sift through some ADP for the New Orleans Saints sleeper, breakout, and bust.
Sleeper: Adam Trautman, Tight End (TE29, 229 OVR).
Trautman is currently going behind rookie Pat Freiermuth and annual bust tight end O.J. Howard in FantasyPros.com ADP, and I'm not exactly sure why? Maybe it's because he's a sophomore tight end, and he already didn't do anything last year (like all rookies do)… but maybe Freiermuth will be different? Who knows! Ultimately, Trautman is an extremely athletic tight end (8.75 RAS) who plays with the same sort of reckless abandon and yards after catch willingness as… George Kittle. Now, I'm not saying Adam Trautman could be George Kittle, I'm just not not saying that.
The only real question marks are the new quarterback system pushing down his target volume, as well as him possibly looking so good in college because Dayton's competition level was so low. I'm willing to take a dive into the deep end with Trautman at his price point because if those questions have answers I don't want, I will simply cut Trautman with no fuss or muss. The Saints have a lot of targets to give, and not a lot of places to go with them. Outside of Kamara and Michael Thomas… where else do they go? Emmanuel Sanders is gone, as is Jared Cook. Trautman is the obvious answer, here.
It's not hard to see Trautman's path to production: strong, athletic, great pass catcher with exceptional YAC ability in a Sean Payton system that averages 76 targets to the #1 tight end throughout the course of Payton's career. That's enough to turn in about four catches, fifty yards, and maybe a touchdown.
Breakout: Latavius Murray, Running Back (RB43, 118 OVR)
Truth be told, I'm not bullish on a lot of the breakout candidates for the New Orleans Saints, but Latavius Murray leads the way. Sean Payton loves to share touches between his running backs, with his RB2 getting two-thirds of the opportunities of his RB1 throughout his career. We've seen this time and again with the Saints, with the RB2 averaging 11 opportunities per game, and the RB1 averaging 17 opportunities per game.
In a deeper league, getting a back who has a chance to touch the ball at least ten times per game gives you a fighting chance in your flex spot, especially one who averages 4.7 yards per opportunity over the last two years. That doesn't sound like a lot, but it's the same as a lot of people getting touted as much better fantasy football backs: Cam Akers, Kareem Hunt, Ezekiel Elliott, Clyde Edwards Helaire, and James Robinson. All he needs is an Alvin Kamara foot injury again, and he's off to the races. Murray is one of the top-tier backups in this league.
Bust: Alvin Kamara, Running Back (I… guess?) (RB4, 4 OVR)
I love Alvin Kamara and I don't want to put him here. I'm not even sure how much I believe Alvin Kamara will bust this season. But, Kamara and the Saints have a downside that isn't priced into his line. Ultimately, Kamara was the best fantasy football running back last year (on the strength of that 6 touchdown Christmas gift), but he's always a top-four guy, with Brees commanding the offense. There's a certain subset of the population who worry about Taysom Hill throwing it to Kamara, and it's definitely a concern (three or fewer targets in three-of-four Taysom Hill games). I also think it's a bit overblown (Kamara also struggled with a foot injury in these starts).
The Alvin Kamara at four pick doesn't price in the possibility that this offense just falls apart entirely, with a guy who has a 30 interception season on his résumé, and a tight end at quarterback. I am still going to make that pick of Kamara at four, but I do acknowledge there is some downside baked into the pick, since the entire offense could just crater overnight without Drew Brees and co-quarterbacks at the helm.
Don't Sleep on These Links!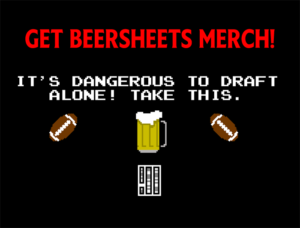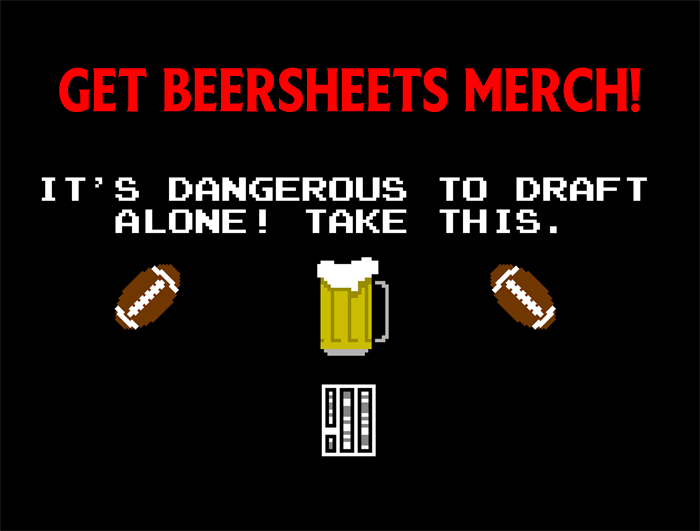 Image Source: Taysom Hill on Twitter