An incident has set afire the always chic and modern fashion capital known as Green Bay, Wisconsin. Quarterback Aaron Rodgers finally attended the Packers' minicamp on Wednesday morning. He was decked out in a sporting jersey pairing the unusual clash of moss green and hornet yellow, with a matching helmet. The top was designed by the famous Greek seamster Nike, and the helmet by Italian artist Vicis.
However, his stroll on the green carpet was short lived. Amidst popping flashbulbs, the icon paused. His ever-present grin became less-than-ever present and faded to a scowl. Rodgers shot daggers from his eyes at British kicker Sir Punt Charmer. Suddenly, there was a cascade of gasps coming from the media. Some covered their mouths in shock, others jotted down the word "gaspcade?" on their notepads before scribbling it out. Rodgers had committed the ultimate faux pas: Not coordinating outfits with his fellow socialites.
Letting out a high-pitched shriek, Rodgers covered his face and began to sob. By the time he had sprinted to the exit, the headlines were already hitting the Internet… Football Fashion Mag quipped, "Errant Aaron." NFL Style Beat wrote, "Favre Pas." "A-Rods outfit instantly ages from sharp cheddar to mold" said Cooking Weekly. When readers pointed out how lousy those headlines were, the rags responded, "yeah but they were fast."
This is not the first time that Aaron has been a fashion "don't." Two years ago he was spotted at a soiree sipping what must have been extremely hot tea without lifting up his pinky finger.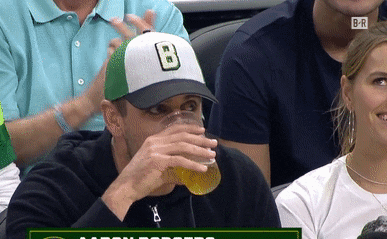 More on this Aaron Rodgers minicamp story never, because we made it all up. Check back to FootballAbsurdity.com for all your fantasy football and high-end fashion coverage.
Hey, now! Don't storm off on these bonus links! I can't work fashion into this plug!
[Header Image Source: https://commons.wikimedia.org/wiki/File:Aaron_Rodgers_2019_closeup.jpg under CC SA 2.0]