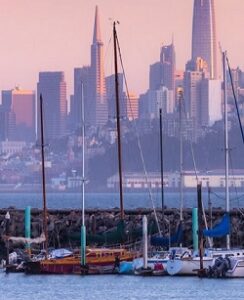 This article brought to you by Laverne's (TM) Steakhouse: I once scored a dime of black tar in their bathroom. Only at Laverne's (TM)!
Rather than reach for Mac "Aroni" Jones, the 49ers made a different stunning draft move. San Francisco trades the #3 pick in exchange for one month of Bay Area rent.
"We just couldn't make ends meet," cried tight end George Kittle. "Everyone on the team was already eating ramen and sleeping in the same bed."
Brandon Aiyuk had his own woes. "I owe so much in student loans," he complained. "I can't pay them down and afford a studio apartment near Levi Stadium on a rookie deal."
Draft Pick Not the Only Thing San Francisco Trades
San Francisco made some more unique deals this week. They traded their 6th round selection to pick-poor Seattle in exchange for a pair of extremely rare Mariners tickets. "We removed all but ten of our seats since, you know, nobody was using them." Seattle officials commented. "Now, we're in first place and have to charge 1,000x as much for those seats, since people actually want to watch."
In addition, San Francisco is sending a 2023 fifth-round pick to Seattle in exchange for the right to laugh for 17 consecutive hours about the Seahawks signing Aldon Smith.
We asked the 49ers front office about their motivation to do several trades within their own division. They replied bluntly, "we have no idea what you are talking about? We never traded anything for rent money or laughing rights or baseball tickets. Are you writing that we did? We will sue you!"
More on this exciting lawsuit as it develops!
For more Football Absurdity, click these links from the computer at the Marin County library you sleep next to:
[Image credit: https://www.flickr.com/photos/parksjd/48030993153 under cc-2.0]