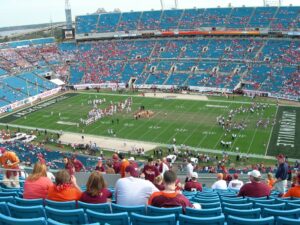 The NFL's worst-performing franchise, the Jacksonville Jaguars, issued the franchise tag designation on local fan Sam Simma. The longtime Jacksonville native recently gained fame as the only Floridian who doesn't deny the existence of Gardner Minshew.
The Jags have been struggling for fans. Everyone in the area changed into Tampa Bay Buccaneers jerseys the day after the Super Bowl. The Jags' P.R. team had been scrambling to explain the steep decline in followers after their 1-15 season. Their job has been made especially difficult by the fact that "they are socially distancing to avoid the pandemic" goes against Florida state regulations.
The Jaguars franchise tag comes with a salary of 1 Trevor Lawrence jersey. Simma will also be paid a weekly Jacksonville Slider, which is a bowl of microwaved Velveeta with sushi. The move comes as the Dolphins courted Simma's allegiance. However, they could not come to terms, as Miami could only pay him only with dignity.
When interviewed by Football Absurdity, Sam Simma at first denied his Jacksonville fandom. He opened up only after we promised not to publish his name. "I just figured when you pick a favorite team, you should stick with them. Plus I was born on a hot dog station at Alltel stadium!" When asked if he would be getting season tickets, which would be free, he replied, "I'm still on the fence."
The team planned a ceremony to give Simma a key to the stadium in honor of the Jaguars Franchise Tag. However, it was canceled after organizers came down with Covid. Thus, they were no longer considered legal citizens, for statistical purposes. We at Football Absurdity wish them a fast recovery from their severe affliction (association with the Jaguars).
For more Football Absurdity, click these links while covertly cheering for the Jaguars:
[Image credits: https://live.staticflickr.com/41/81184357_c1f73ddca2_b.jpg and https://pixy.org/1322593/ under cc-2.0]