Week nine of the 2020 NFL season and the injuries aren't slowing down. This week, we've lost Calvin Ridley, Kenny Golladay, and George Kittle. Lucky for you, Football Absurdity is going to help you salvage your decimated rosters. If I don't mention someone whom you think I should be talking about, just know there are many reasons why I overlooked them. Maybe they are owned in most leagues. Maybe they are so bad I don't even consider them. Or maybe it's because your opinions cannot be trusted. After all, you are here. So let us examine what our best week seven waiver wire players for your run towards the championship are…
Week Nine Waiver Wire QBs
Nick Mullens, San Francisco 49ers (24% rostered)
In garbage time against one of the worst defenses in football, Nick Mullens looked the way 49ers fans wanted the handsome Jimmy Garrapolo to look. He managed to put up 238 yards and 2 touchdowns. If this was the only time we had watched Nick Mullens play football, I would be saying he is worth a flyer. Unfortunately, we have seen him play football a lot and most of the time, it did not look this good.
Philip Rivers, Indianapolis Colts (14% rostered)
In week eight, Philip Rivers destroyed the Detroit Lions to the tune of 262 passing yards and 3 touchdowns. For two weeks in a row, Rivers has thrown for 3 touchdowns. While the Colts offense might be finally clicking, they also might have just had the good fortune of playing the Bengals and the Lions. Having said all that, if you need a quarterback on the waiver wire, Rivers might be your best option, which should probably have you worried.
Week Nine Waiver Wire RBs
Zack Moss, Buffalo Bills (46% rostered)
Last week, I said that Josh Allen was the goal-line back for the Buffalo Bills. In week nine, Zack Moss decided to try proving me wrong with 14 carries for 81 yards and 2 touchdowns. While the splits between Zack Moss and Devin Singletary are even, Moss definitely saw more red zone opportunities in week eight. If this trend continues, Moss will be an RB2 down the stretch.
JaMycal Hasty, San Francisco 49ers (44% rostered)
In week eight, JaMycal Hasty had 12 carries for 29 yards and a touchdown. Without his touchdown, his fantasy performance would not have been worthwhile. What was noteworthy was that he had a neven snap count with Jerick McKinnon, but had 12 carries to McKinnon's 3. The game got out of hand quickly for the 49ers, so it is not unreasonable to think that in a closer game, JaMycal Hasty's numbers would have been stronger. However, it is also not unreasonable to say that trusting Kyle Shanahan to utilize his running backs in a way that helps your fantasy football team is a good way to lose.
Damien Harris, New England Patriots (39% rostered)
After Damien Harris had 100 yards in week four, a lot of you considered grabbing him on the waiver wire, even knowing he was a Bill Belichick running back. If you listened to me, you did not grab Harris. If you did grab Damien Harris, you were probably happy to see his 16 carries for 102 yards and one touchdown. I'm not sure it was worth the two mediocre weeks he had before this Just remember that if you grab Harris off of waivers, the exact same thing will happen!
Nyheim Hines, Indianapolis Colts (32% rostered)
If you look at every point I made for Jordan Wilkins, just note that none of those points apply to Nyheim Hines. Sure, Hines had 3 catches for 54 yards and 2 touchdowns, but everyone looks good when 2 of your 3 catches are for touchdowns. Nyheim Hines was third of the team's three running backs in the snap count at 21%. Hines made some nice plays, but it isn't the type of production you can rely on to win.
Wayne Gallman Jr., New York Giants (20% rostered)
For the second week in a row, Wayne Gallman Jr. had a touchdown. He even had 45 yards to go with that. If you grab Gallman on waivers, you are betting that the New York Giants offense can sustain enough production for him to average a touchdown a game. If you believe this, please call gamblers anonymous because you have a problem!
DeeJay Dallas, Seattle Seahawks (19% rostered)
With every other running back on the Seattle Seahawks dead, week eight was DeeJay Dallas' time to shine. Dallas did so to the tune of 58 all-purpose yards and 2 touchdowns. While not the most exciting line, DeeJay Dallas did this against one of the best run defenses in football. Equally important, Dallas was on the field for 79% of the Seahawks offensive snaps. If Chris Carson is unable to go in week nine, you will want DeeJay Dallas on your roster.
Gus Edwards, Baltimore Ravens (18% rostered)
Gus Edwards had a surprisingly good week eight with 16 carries for 87 yards and 1 touchdown. He split touches with J.K. Dobbins, even though Dobbins was on the field twice as much. There are so many questions surrounding Edwards's potential production. In Mark Ingram comes back in week nine, Edwards value plummets. Even if Ingram doesn't return, Dobbins was clearly the better player on the field, so Edwards could find his opportunities limited. If you are desperate, Edwards is worth a flyer, but he should be a low priority.
Jordan Wilkins, Indianapolis Colts (15% rostered)
I think it is interesting to note that the Indianapolis Colts came out of their bye week and immediately limited Jonathan Taylor's touches. In week eight, Wilkins was on the field for 51% of the team's snaps, compared to Taylor's 34%. Wilkins also had 20 carries compared to Taylor's 11 carries. Perhaps most important of all, Wilkins did much more with his opportunities than Taylor, rushing for 89 yards and 1 touchdown. The Colts are trying to win now and might not have the patience to wait for Jonathan Taylor to develop. If this trend continues, Jordan Wilkins might be one of the most significant additions of week eight.
Week Nine Waiver Wire WRs
Marvin Jones Jr./Marvin Hall, Detroit Lions (50/0% rostered)
Truth be told, Marvin Jones Jr. should probably already be rostered in most leagues. Marvin Hall….not so much. They are both on an offense that will be spending a lot of time playing from behind, giving them lots of opportunities. With word coming out of Detroit that Kenny Golladay might be going to IR, the Marvin's become that much more valuable. Marvin Jones' 3 catches for 39 yards and 2 touchdowns and Marvin Hall's 4 catches for 113 yards were both top performances in week eight. Without Golladay, one of these guys is going to have to do the heavy lifting in this offense.
Corey Davis, Tennessee Titans (42% rostered)
In four of the five games he has played this year, Corey Davis has had double-digit fantasy points in 0.5 PPR leagues. In week eight, Davis had one of the best fantasy performances of the week, with 8 catches for 128 yards and 1 touchdown. Davis is a high-floor guy that is getting looks in a dynamic Tennessee Titans offense. Corey Davis should be the number one wide receiver you target on waivers.
Allen Lazard, Green Bay Packers (29% rostered)
Allen Lazard has been activated from IR, so it is only a matter of time before he starts playing. The belief around Lazard is that Aaron Rodgers has to throw to someone not named Davante Adams. Allen Lazard is the least awful of those options. However, looking at the season Adams is having, I'm not convinced Rodgers has to throw to anyone else. Regardless, Lazard is a decent flyer if you don't believe Adams can continue playing football like a cheat code in a video game.
Mecole Hardman, Kansas City Chiefs (28% rostered)
In week eight, Mecole Hardman had 7 catches for 96 yards and 1 touchdown. Mecole Hardman is a difficult player for me to evaluate. On the one hand, Hardman is a second-year receiver that was drafted early by the Kansas City Chiefs. On the other hand, Hardman is the fourth receiving option on the Chiefs, which makes it hard to trust him. Mecole Hardman has only had three double-digit scoring weeks this year. Coincidentally, those weeks are the only times he scored touchdowns. Hardman is very much a boom or bust receiver, but when he hits, he will hit big.
Curtis Samuel, Carolina Panthers (28% rostered)
Even though Curtis Samuel had one of the best weeks of a receiver in week eight, it is pretty difficult to trust him. His 54 all-purpose yards do not inspire much confidence, even if Samuel did have 2 touchdowns. The issue with Samuel is he is the third receiver on an average offense, so it is very hard to trust him.
Jalen Reagor, Philadelphia Eagles (19% rostered)
If you feel the need to roster a receiver on the Philadelphia Eagles, Jalen Reagor is probably your guy. In week eight, Reagor had 3 catches for 16 yards and 1 touchdown. The first-round rookie receiver is the most talented receiver on the team and should have lots of opportunities by virtue of being the least terrible option. However, at some point you have to ask yourself the question – why would I want to roster any Eagles receivers on my fantasy team?
Week Nine Waiver Wire TEs
Eric Ebron, Pittsburgh Steelers (48% rostered)
Eric Ebron had 4 catches for 48 yards and 1 touchdown in week eight. Ebron has name recognition and one of the better tight end performances of the week. This might make it easy to talk yourself into grabbing him if you need tight end help. Just remember that Pittsburgh doesn't use their tight ends consistently enough to make grabbing Ebron anything other than a high-risk move.
Logan Thomas, Washington Whatchamacallits (16% rostered)
If you are looking for tight end help, there are not really any good options on the waiver wire. The best of a bad bunch is Logan Thomas, but he isn't very good. About the only thing Thomas has going for him is that he is eighth in targets among all tight ends. Thomas is a huge part of Washington's offense. If he ever learns how to catch consistently, Thomas will be a great player
Now that you have a fancy new team, how about a fancy new team name?
If this has you hankerin' for some fantasy sports, try out Fan Duel! That link lets them know we sent you! It also gets you a 20% deposit match up to $500!
Then, follow Football Absurdity on Twitter!
After that, get free fantasy football advice by joining our Discord!
Finally, if you like what you read here, check out our podcast and our Patreon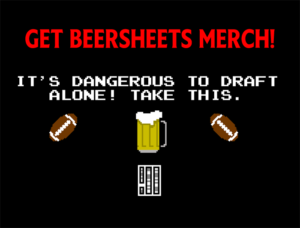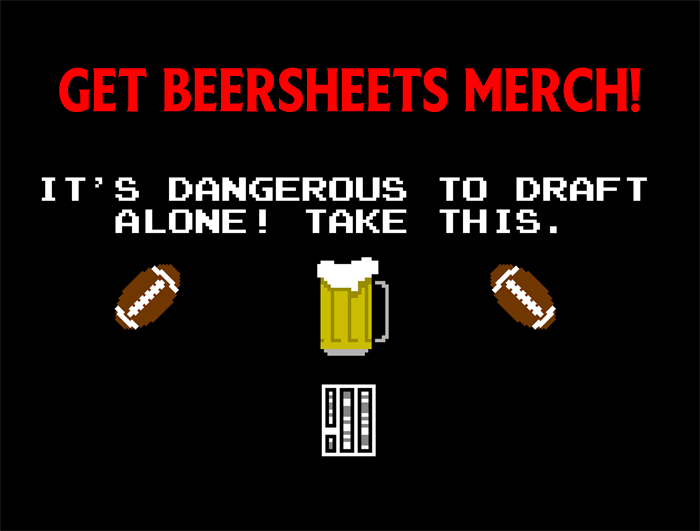 (Header Image Source: https://commons.wikimedia.org/wiki/File:Philip_Rivers_2014.JPG, cropped, under CC BY-SA 4.0)