This is a weekly series where I detail the evolution of the fantasy football auction landscape. I do this based on my extensive mock drafting each week. The purpose is both to show you what you can probably expect if you're in a 2020 auction and to highlight that Football Absurdity is stringently thorough in its fantasy football auction research.
Week: May 11-18
# of Mock Auctions: 12
Yeah, I'm the guy doing a dozen mock auctions in May for a year when there's a pretty fair chance there won't even be a season. But learning how to recognize and read the various types of auction patterns takes time, and if there is a season I'm going to be ready. Here are three takeaways I've made from my first week in studying the auction landscape. I aim for this series to be helpful for fantasy football auction veterans and new players who are asking all the wrong questions.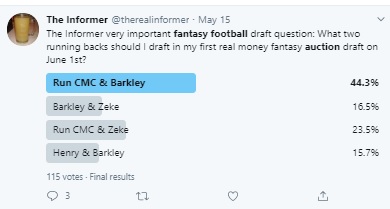 Pictured: The wrong question
Takeaway 1: Barbecue Strategy Is Still the Best
Last year, I unveiled a strategy I found worked in every auction. I'm not sure I need to qualify myself at this point, but I do auctions across a wide variety of social circles and mock draft platforms. So when I say this strategy works for every auction, considering the dynamic and unpredictable nature of auctions, I mean it.
You might be saying, "that's impossible. Two auctions can be completely different in terms of how they play out. You're going to let me down, just like all the others!" It took dozens upon dozens of hours of me researching, refining, and structuring this strategy. Yahoo!'s draft rater leaves a lot to be desired, but even it has the utmost respect for BBQ: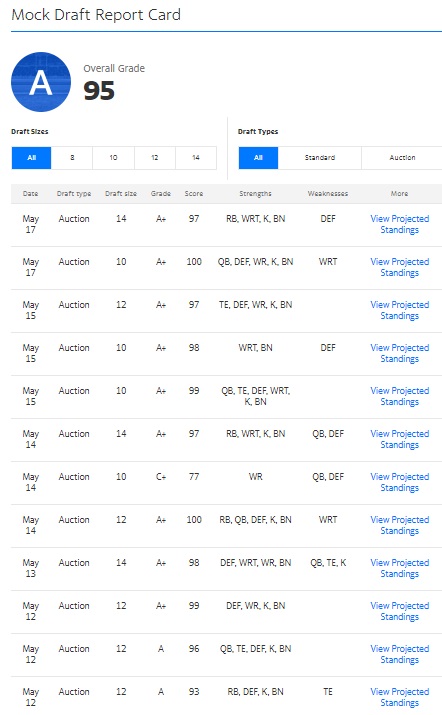 Guess the mocktion where I didn't use the strategy
There's plenty of time before the season is supposed to start, so the markets will change. However, right now, the key point on which the strategy hinges (there will always be a WR2 ranked between 18 and 30 that falls to a ridiculous value) is true. Every single draft I've had the likes of Tyler Boyd, DeVante Parker, Keenan Allen, Calvin Ridley, Tyler Lockett, Robert Woods, Stefon Diggs, D.K. Metcalf, D.J. Chark, Terry McLaurin, or Deebo Samuel fall to me for around half of their listed value.
I'm currently making a flowchart for you to guide yourself through BBQ strategy effortlessly during your auctions.
Takeaway 2: Running Back Is Deeper
Usually, you get to about RB17 or so before you start having to pick from clear RBBC. However, in 2020 I currently count 21 RBs who are the clear candidate for a sizable share of the carries. Plus, six RBs were selected in the first two rounds of the NFL draft, compared to two in 2019. Remember: Those two RBs are now top-24 fantasy picks (Josh Jacobs and Miles Sanders). With so much potential rookie talent, at least one (and usually more) should sell for only a few bucks.
What does this mean? While you will probably never get a steal on a top 24 running back, you can wait around for your second or third RB to come to you at market value. That means mid-$20s for a lot of these players, a solid price for a running back expected to get the lion's share of touches. If your guy flops, rounding out your bench with a few rookie RBs significantly raises the chances of you fielding a full squad of starting backs.
Cam Akers is currently going for an average of $6
and could easily fill the Rams hole at the
position of, "guy who looks for holes"
Takeaway 3: CMC's Price Is Ridiculous
Yes, he won people (including me) a lot of championships and prize money, last year. Yes, he is clearly the #1 overall pick. But, according to Yahoo!,  CMC is averaging over $78 across all leagues. That means many people are bidding eighty dollars for a single player, 40% of their entire $200 budget. For scale, Austin Ekeler and Kenyan Drake, two RBs that many pundits are picking near/in the first round, are going for an average of $80 total!
McCaffrey is going for nearly $11 more than the number two overall guy, Saquon Barkley. I've haven't seen anything like this in 15 years (2006 Ladanian Tomlinson was fetching bids into the $80s and $90s, and did not deliver to such a high valuation). If CMC falls for under $70 in 10, 12, or 14-team leagues then, by all means, snatch him up. But your money could be better spent rounding out your squad with two elite fantasy running backs than bidding almost the same amount on only one.
Want more 2020 Fantasy Football Auction Advice? Check back every week for the latest in human market developments. "Human market" feels like a really dark phrase. Also, tune into our podcast, where Evan weighs in on every new piece of NFL news in terms of fantasy football auction relevance.
[Photo Credit: https://www.thebluediamondgallery.com/wooden-tile/images/auction.jpg under cc-2.0]