Fantasy football rings are the best part of winning my championship. Keep your trophy, keep the money, I just want a ring to show off during next year's draft (and to wear on my walk to work, for self-defense purposes). When I was the back-to-back champion of my league, I had my fantasy football rings turned into dangling earrings and wore them to my league dinner: Every time I shook my head "no," I whacked myself in the eye. Still worth it.
However, the mass-manufacturing of fantasy football rings means there are a bunch of really bad ones. Here are the ones that would forever bring deep shame to my jewelry box:

Yeah, this is what I want: A blobby man in gold studs
with no hands, feet, or neck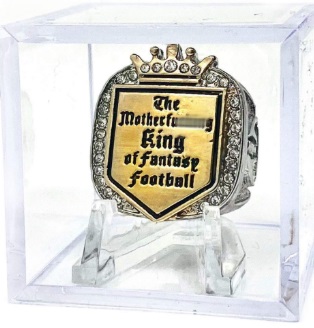 First of all: It's Mother—-ing QUEEN of fantasy football!
Second of all, having a picture of a crown on a ring
breaks my brain with irony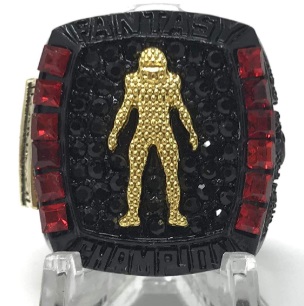 So, you've made everything else uglier
and kept the bad blobby man?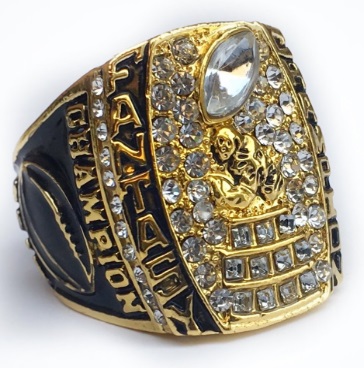 This holiday season, the height of ring fashion
is apparently ugly blobs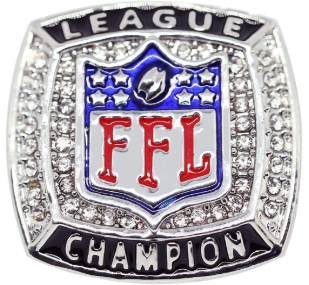 I'm not sure having the abbreviation for "Fantasy Football League"
is worth the trademark infringement
No! Fantasy football rings must be earned!
You don't get one because you clicked a few buttons on the Internet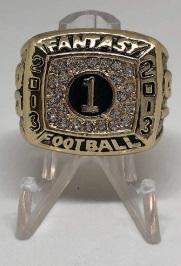 Yes, they are selling a 2013 ring on Amazon.
Feels like the "1" is totally redundant:
I know I'm #1, I'm weird a giant, flashy ring
Finalist? FINALIST?! This is just a huge, hideous
announcement to everyone that you lost
For more La Femme Football, check out all her Football Absurdity articles
For more fantasy football comedy, follow our Twitter or hop into our Discord
[Photo Credits https://www.amazon.com/Legacy-Rings-Football-Championship-Silver-Tone/dp/B07HHHNVYR/ref=sr_1_29?dchild=1&keywords=fantasy+football+ring&qid=1576603085&sr=8-29, https://www.amazon.com/Fantasy-Football-Championship-Motherf-ing-Display/dp/B081ZFSQ5W/ref=sr_1_26?dchild=1&keywords=fantasy+football+ring&qid=1576603085&sr=8-26, https://www.amazon.com/Legacy-Rings-Fantasy-Football-Display/dp/B07VCP9F4R/ref=sr_1_36?dchild=1&keywords=fantasy+football+ring&qid=1576603085&sr=8-36, https://www.amazon.com/Crown-Awards-Fantasy-Football-Rhinestone/dp/B07WJ6H9DV/ref=sr_1_196_sspa?keywords=fantasy+football+ring&qid=1576603915&sr=8-196-spons&psc=1&spLa=ZW5jcnlwdGVkUXVhbGlmaWVyPUEzRUVKUjQ0Q0RaWkNaJmVuY3J5cHRlZElkPUEwMTg1MjE2M0xITTZWUUlRTE9KUSZlbmNyeXB0ZWRBZElkPUEwNjYxODYxMUpYUjRXVjdBTEdKViZ3aWRnZXROYW1lPXNwX2F0Zl9uZXh0JmFjdGlvbj1jbGlja1JlZGlyZWN0JmRvTm90TG9nQ2xpY2s9dHJ1ZQ==, https://www.amazon.com/Commissioner-Fantasy-Football-Championship-Display/dp/B081XT3QLX/ref=sr_1_162?dchild=1&keywords=fantasy+football+ring&qid=1576604016&sr=8-162, https://www.amazon.com/Fantasy-Football-Quality-Championship-SHIPPING/dp/B07CT59MMD/ref=sr_1_192?keywords=fantasy+football+ring&qid=1576604016&sr=8-192, https://www.amazon.com/Legacy-Rings-Fantasy-Football-Championship/dp/B07DVY34G7/ref=sr_1_78?dchild=1&keywords=fantasy+football+ring&qid=1576604183&sr=8-78, https://www.amazon.com/HASTTHOU-Fantasy-Football-Championship-Silver/dp/B07YBRFQG1/ref=sr_1_43?dchild=1&keywords=fantasy+football+ring&qid=1576604232&sr=8-43 under https://creativecommons.org/licenses/by/4.0/deed.en]