Welcome back to The Degenerate's Gambit! Once again, please remember that these articles are for fun, and while I love writing them and gambling on football, if you or someone you know is addicted and needs help, please get help or get help for them. The national helpline number is 1-800-522-4700.
Last week we went 2-2, but for the second time this season, we hit our Sleeper parlay, putting us even more in the green for our YTD totals. Let's get to this week's picks before you make fun of me for betting on a Houston victory last week; by 2 pm on Sunday I felt like Krusty the Clown yelling "I THOUGHT THE GENERALS WERE DUE" at the tv and cringing. I'll defend my picks until the day I die, weeping in press conferences like Terrell Owens. That's my LSPOTW, man! 
I'm going to do my best to avoid any Thanksgiving puns here (outside of my Sleeper parlay) because it's lazy writing, but if I get drawn into temptation please bear with me: I'm doing my best and I am very hungry. 
Sleeper Thanksgiving Special 5 Turkey Leg Parlay
Saquon Barkley O74.5 Rushing
T.J. Hockenson O11.8 Fantasy Points
Devin Singletary O77.5 Combined Rush + Receiving Yards
K.J. Osborn U6.2 Fantasy Points
Rhamondre Stevenson O17.4 Fantasy Points
Baltimore (-4) over Jacksonville
What the heck has happened to Baltimore? I'll tell you what I think it is: the loss of Rashod Bateman. Mark Andrews was clearly the bigger loss, but what made this offense click over the last handful of years is the ability of a given Baltimore WR to stretch the field, opening up targets for Andrews and keeping safeties back while enabling Lamar to break off some runs. Bateman's 19.0 yards per reception was Hollywood Brown-esque, and that is the final piece that makes this offense deadly. 
Also, to help assist me in making these wagers I am now a part owner of ShieldCoin, the first official cryptocurrency of the NFL! They've been trading pretty well over the last few weeks, so I've decided to use their tokens in making these bets. 10 ShieldCoins on Baltimore to cover! (In US dollars that's about $38,947) 
Cincinnati (-1.5) over Tennessee 
Over the last several weeks we have seen a return to Super Saiyan Joe Burrow, where he shreds everyone and looks like one of, if not THE, best QB in the league. The Bengals started 0-2 and are now 6-4 with the third-highest-scoring offense in the NFL. Tennessee may have run over Green Bay last week, but if Cincinnati stays hot through the air, there's no way Tanny and the Titans can keep up. This game has shootout potential, but I think Cincy takes it running away. 
Speaking of shootouts, the crypto market is extra bullish on ShieldCoin right now, so all of the homies in my polycule are betting on Cincinnati to cover by leveraging our shares of Twitter that we got cheaply for pummeling anyone who changed their profile pictures to bald Elon Musk. 50 ShieldCoins on the Bengals (that's roughly $124,500). 
Houston/Miami UNDER 46.5
As a rule, when the line is as big as it is right now (MIA is -13 as of this writing): bet the under on total points, because one of two things will happen: the favorite goes out to a 31-3 lead and then just runs out the clock, or both teams struggle and play poorly and it's a low scoring struggle. This game screams out for the former if you ask me. Houston can't stop anyone right now, and when Miami goes up by four scores at the start of the third quarter, it's going to be Miles Gaskin mop-up time (is Miles Gaskin still on Miami? I guess I'll have to wait and see).
Bad news my friends, it looks like ShieldCoin was really only just photocopies of Rob Lowe wearing an NFL Shield hat and aren't technically worth anything, so all of this is meaningless. Luckily nobody knows it yet, so let's get as much out of this as we can by betting on the under in this game! Then we cash out and head to Qatar, with all those migrant workers who died while building the World Cup stadiums, there's bound to be cheap living that hasn't been taken over by Blackrock (yet)! Wait, what are you doing? Don't slot me lower on the imperial Chinese harem rankings! I swear this bet is a lock!  
LSPOTW: Cleveland ML 
Farewell Jacoby Brissett, we hardly knew ye. In a lot of ways, this season has been an extended job interview as he fills in for a vile piece of human trash, and he's performed admirably. While we're at it, was Amari Cooper the best buy-low WR in fantasy drafts last August? I know I avoided Cleveland's passing game, but Cooper has killed it, Donovan Peoples-Jones is proving to be a legit deep threat, and Brissett has been efficient despite the fact that David Bell is still running his 40-yard dash from March. Tampa Bay, on the other hand, is looking old and beat up. They run what I like to call a "panic attack offense," where nothing is happening but it's happening very fast and there's nothing anyone can do about it except tell Tom Brady to " just calm down." 
Well, ShieldCoin is dead, but it was a good run. The polycule broke up, and our non-extradition plan also fell through. If our bets cash, maybe I can get a lawyer. Pray for me, Roger Goodell won't answer my calls anymore. If you never hear from me again it's because I've been taken to a CIA black site in- 
Totals: 22/48
LSPOTW: 6/11
+2 Sleeper Parlays 
Want more 2022 fantasy football discussion? Check out these links!
Discord!
Podcast!
Patreon!
Twitch!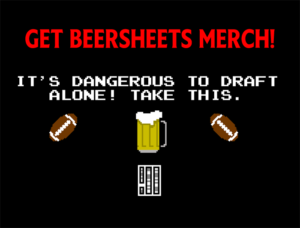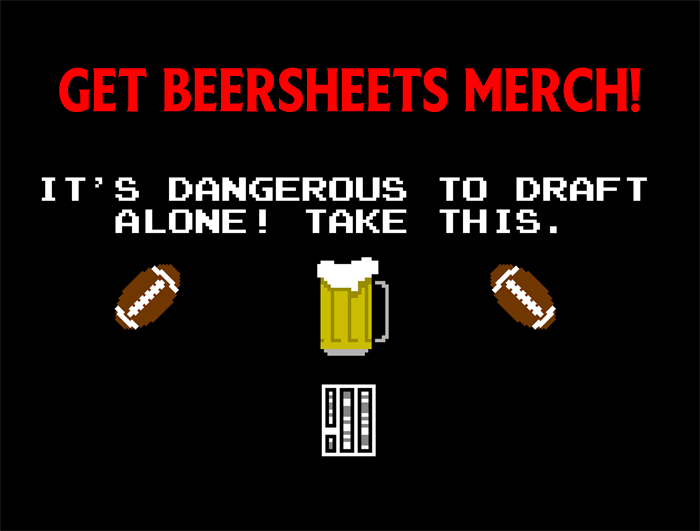 Image Source: https://commons.wikimedia.org/wiki/File:Saquon_Barkley_(44433866420).jpg, cropped under CC BY SA 2.0