Ten weeks of Thursday Night Football action are in the books, and between all the games this year, there have certainly been games played that counted toward the NFL standings. Whether it was the Commanders and Bears vomiting on themselves, the Colts and Broncos vomiting on each other, or the Ramvs vomiting on the league on their title celebration night in week one, all of those games were undoubtedly sanctioned by the NFL. This week, we get the Packers, who haven't lived up to expectations, and the Titans, who ride their clown show division to an inflated record every year (just kidding, Mike Vrabel is a great coach). But, for fantasy football purposes, who should we start, and who should we be sitting for this week eleven tilt? Let's dive into Thursday Night Football.
Smash Starts:
If you bench these guys, then you're overthinking it.
Aaron Jones (RB), Derrick Henry (RB)
Also spoiler alert, I'm going to say to sit every single Tennessee Titan below. The Packers have a stifling defense, and it's going to wreak havoc on every Titan not named Derrick Henry.
Quarterbacks:
Ryan Tannehill (Week 10: 19/36, 255 yards, 2 touchdowns, 2 rushes, 12 yards)
Ryan Tannehill returned to action last week against the Denver Broncos, and pulled off something that no quarterback has done against the Broncos since Geno Smith in week one: he finished with multiple passing touchdowns. He also now holds the season-high for passing yards against Denver. It's not lost on me that this was the Broncos' first game without Bradley Chubb, and that they mustered only one pressure against a hobbled Ryan Tannehill. So, it might be a situation where the Broncos we thought we knew in the past aren't quite the Broncos of the present, at least not from a pass-rush perspective (they are fourth on the balance of the year in pass rush pressure rate, per The Edge).
But, they won't get so lucky with pressure rates this week: the Packers have the highest pressure rate in the NFL, pressuring the QB, on average, 41% of the time. Luckily for Tannehill, he is top-ten in pressured completion percentage. Unfortunately, that #7 ranking comes out to just over 50%. So, he is pretty good at getting the ball out under pressure. Unfortunately, "pretty good" still amounts to "pretty bad" when you remove the curve. Given that the Titans rank in the bottom-quartile in Pass Block Win Rate, that means that the Packers will be in Ryan Tannehill's lap all afternoon. With that in mind, I want to sit Ryan Tannehill this week.
Aaron Rodgers (Week 10: 14/20, 224 yards, 3 touchdowns, 2 rushes, 4 yards)
Two weeks ago, Aaron Rodgers threw three interceptions against the Lions, the best possible matchup in the NFL. Then, he takes on the Dallas Cowboys, who generally allow 203 passing yards with a touchdown (1 per game) and an interception (0.9 per game). But, Rodgers last week marked the third time in four games that a quarterback had multiple passing touchdowns against them with Rodgers, Justin Fields, and Jalen Hurts all getting that honor in the last three weeks. None of them threw a pick, either, leaving Jared Goff and his two interceptions as the only ones the Cowboys have managed in the last five weeks. So, the Cowboys aren't quite the matchup that they once were, as they aren't as good as they have been, and the Titans are better than we remember.
Tennessee took Patrick Mahomes to the mat a couple of weeks ago, forcing him to throw over 60 times, going into overtime, to finish with one passing touchdown and one rushing touchdown. They haven't allowed multiple passing touchdowns since their week six bye, and the overtime game against Mahomes was the only one that the opponent topped 290 passing yards in the same timeframe.
Rodgers' big game last week also came by getting the ball into the (very unsure) hands of Christian Watson, who is essentially just a younger version of Marquez Valdes-Scantling. I wish that I could say that we could trust Aaron Rodgers this week, but he's relying on a guy who has a ton of drops issues against a defense that's been better than advertised lately. I don't think I can trust starting him, but I fully understand throwing him in your starting lineup. For me, however, I am going to sit Aaron Rodgers.
Running Backs:
Dontrell Hilliard (Week 10: 1 carry, 2 yards, 2 targets, 1 reception, 6 yards)
Despite whatever propaganda Walker Kelly might peddle on the Football Absurdity Podcast, Dontrell Hilliard is not all that good. He has 16 yards in his last two weeks combined, and whatever feelgoods we might have about him come from games wherein he had weirdly inflated rushing totals or weirdly inflated touchdown totals. To whit: he was RB7 in week one on two of his three touchdowns this year, and he was RB29 on 95 of his 269 yards so far this year. I can't lean on him against the Packers, who allow an average of four receptions for 32 yards per contest to running backs. Don't get cute, please sit Dontrell Hilliard this week.
A.J. Dillon (Week 10: 13 carries, 65 yards, 0 targets)
The Tennessee Titans' defense has had one consistent good streak all year long: they crush opposing running backs. They rank 31st in the league in fantasy points allowed to the position this year, and 30th in the last five weeks. Granted, you can beat them, but the way you beat them is by being named Saquon Barkley or crushing them through the air. Barkley is the only running back to top 66 yards against the Titans' run defense, and the backs that have had double-digit days against them all had at least five targets, and they averaged 18 opportunities. Dillon, the clear RB2 to Aaron Jones, has four-straight games with fewer than 15 opportunities, and he's at five out of his last six not passing that number. The Packers would have to reverse course for A.J. Dillon to have a good fantasy day, so because of that, I am bout to sit A.J. Dillon unless you need a desperation flex play.
Wide Receivers:
Nick Westbrook-Ikhine (Week 10: 8 targets, 5 receptions, 119 yards, 2 touchdowns)
Robert Woods (Week 10: 7 targets, 2 receptions, 10 yards)
Treylon Burks (Week 10: 6 targets, 3 receptions, 24 yards)
Westbrook-Ikhine finished last week with a monster line, as you can see above. All it took was three of his four plays over 15 yards on the season to get there, against a team that forgot to have a pass rush thanks to trading Bradley Chubb. I don't see him reproducing that this week, as Green Bay allows 4.1 pass plays of over 15 yards per game… which is the second-lowest rate in the league. Westbrook-Ikhine is someone you could potentially start as a desperation flex, but ideally, you are going to sit Nick Westbrook-Ikhine for better options. But, given the landscape of receiver, I certainly understand starting him. It's just a spray-and-pray situation, as the 8 targets last week were more than any other two games in the season combined, as many as he had his rookie year, and tie a career-high from his sophomore campaign.
As for Robert Woods, you're banking on a touchdown if you don't sit Robert Woods. He hasn't topped 37 receiving yards since week 3, which was the only time he topped 40 receiving yards. Woods just isn't the same player that he was on the Rams, and the Titans aren't giving him goal-line opportunities, either. He has just one opportunity inside the ten-yard line, after getting seven in each of the last two seasons in Los Angeles.
Finally, we get to Treylon Burks. Burks could have himself a huge game, as the first-rounder has a tailor-made role in the offense (the former A.J. Brown role) that the Titans desperately hope he can maximize. At this point, however, we aren't entirely sure that he can maximize that role, as we haven't seen it happen. He deserves to be universally rostered, but considering that through five games, he is averaging 2.5 receptions for 30 yards, I am going to sit Treylon Burks for the time being.
Allen Lazard (Week 10: 4 targets, 3 receptions, 45 yards)
Christian Watson (Week 10: 8 targets, 4 receptions, 107 yards, 3 touchdowns)
While the Tennessee Titans have been better than you would think against stopping opposing quarterbacks lately, that hasn't really extended to wide receivers. That's because they are giving up a lot of underneath receptions lately, giving up 6 to Courtland Sutton, and 16 combined to Mecole Hardman and JuJu Smith-Schuster in the last two weeks. Because of this, I feel good if you want to start Allen Lazard as a WR2 on a messy team or a WR3, or flex on a messy team.
I also feel good if you want to start Christian Watson in a desperation flex play, knowing that he could easily goose-egg you. He was the best Packers receiver in week ten, but that doesn't mean a whole helluva lot in week eleven, especially with a mercurial quarterback distributing targets. Watson seemingly earned the benefit of the doubt from Rodgers, but I'm still a little itchy about Watson. Think about him as you would a poor man's Gabriel Davis, and go from there. He could have another massive game, or finish with 8 targets, 2 catches, and 23 yards.
Tight Ends:
Chigoziem Okonkwo (Week 10: 2 targets, 1 catch, 41 yards)
Austin Hooper (Week 10: 7 targets, 5 receptions, 41 yards)
Chig Okonkwo has been the big play threat for the passing game, notching a 48-yard reception and a 41-yard reception in the last two weeks. These were also his only catches in those games, and he is playing about one-third of snaps. The Packers are in the bottom three in fantasy points allowed to tight ends. Unless your great-grandfather comes to you in a dream and tells you Chigoziem Okonkwo is going to score a touchdown, then you should sit Chig Okonkwo.
As for Austin Hooper, he is also someone I'm not too keen on starting. Green Bay has allowed the third-fewest fantasy points to tight ends, so completely separate from sitting Okonkwo. Cooper had seven targets last week, which signals a return to the passing game for the Titans. But, he turned in just 5 catches for 41 yards. If you're in a bind, you could start him as a low-ceiling streamer, and hope for a touchdown. The Packers have given up four tight end touchdowns in the last three games, so you could have a good spot at getting one from Austin Hooper, who has one target inside the ten, the same as Chig Okonkwo. One of them might score a TD, and one might get 40 yards. But good luck guessing which will be which! Go ahead and sit Austin Hooper this week, too.
Robert "'Considerably Sized' Rob" Tonyan (Week 10: 1 target, 1 catch, 8 yards)
The Titans have struggled mightily against tight ends this season, at least on paper. In reality, three guys had more than 8.1 PPR points against them, and two of them came back in week four when they yielded a combined 10 receptions for 147 yards and two touchdowns to Mo Alie-Cox and Kylen Granson. Since then, only someone called "Travis Kelce" did it, and he had 17 targets against the Titans. You're banking on a touchdown, and they haven't let that happen since that week four Colts game. You can go ahead and sit Robert Tonyan this week.
Want more 2022 fantasy football discussion? Check out these links!
Discord!
Podcast!
Patreon!
Twitch!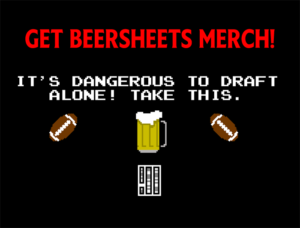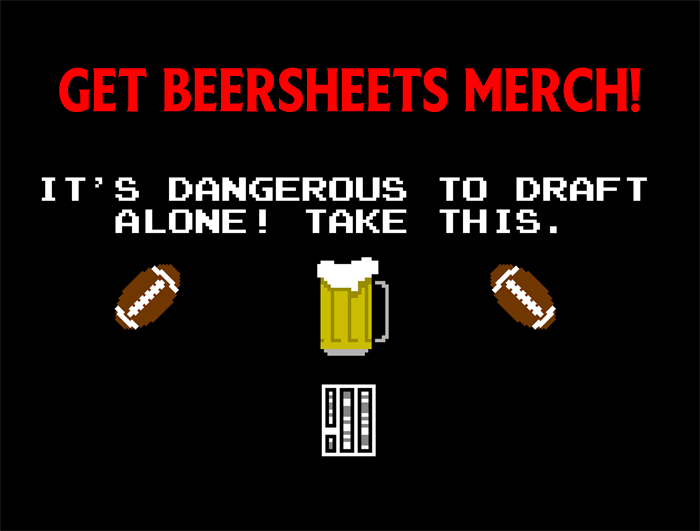 (Image Source: https://upload.wikimedia.org/wikipedia/commons/5/5f/RB_Derrick_Henry_Titans%2C_2016.jpg under CC SA 4.0)