Finally, I have my grubby little paws back on the weekly start-sit articles, with Bryan Sclar, who did them the last few seasons, definitely not tied up in my basement. The joke's on you, I don't even have one! Anyway, this season, I will be writing two weekly start-sit columns, one to help you with your Thursday Night Football decisions, and another to help you with your Sunday and Monday problems. Let's get started with the Thursday Night Football Start-Sit for the league kick-off: Buffalo at the L.A. Rams, in what should have been the last Super Bowl, if it weren't for the dastardly Chiefs. This one is likely to be a high-flying affair with two of the league's best offenses. But, for fantasy football purposes, who should we be starting?
The Smash Starts:
If you drafted these guys, and you aren't sure if you should start them this week, then maybe you're overthinking things and you should just chill out for like 30 seconds?
Josh Allen, Quarterback; Cooper Kupp & Stefon Diggs, Wide Receiver
Quarterbacks:
Matthew Stafford
Stafford is dealing with an elbow issue, which has rankled not only Rams fans, but also fantasy football fans. He came close to being a smash start for me, but given his price (QB13) and his elbow issues, it's likely that you have another option. I would still start Matthew Stafford in this one, elbow be darned to heck (sorry, harsh language). Sean McVay came out and said that he isn't coddling Stafford and that he has "no limitations" in practice or for McVay's game-planning. While the Bills beefed up their defense this offseason, I still have no problems starting Stafford if you're trying to decide between Stafford or Justin Fields (versus San Francisco) or Kirk Cousins (versus Green Bay). But, I prefer Trey Lance (at Chicago) and Derek Carr (at Chargers) over him.
Running Backs:
Devin Singletary & James Cook
The Bills' backfield is one that is full of question marks. We don't know if Devin Singletary is going to get a ton of touches, or if James Cook is going to come in and steal the show from Singletary. Last season, Singletary finished with 7 touchdowns and a smidge shy of 1,100 yards thanks to a torrid stretch to finish the season wherein he had nearly 400 yards in four games. While we can't just port over last season's numbers to 2022, it's worth noting that the Rams were a bottom-ten matchup for running backs last year. Devin Singletary was RB31 off the board by ADP, so if you played your cards right, you have other backs to consider ahead of him, and he is a flex consideration for week one.
I would have no problem starting Devin Singletary over Miles Sanders (who might not play this weekend), Rhamondre Stevenson at Miami, Michael Carter, or Nyheim Hines, all guys who are slotting into his range. I prefer Singletary's guaranteed volume over the wide receivers in his range, like Chase Claypool (at Cincinnati), Chris Olave (at Atlanta), and Marquez Valdes-Scantling (at Arizona). In his range, however, I would start Kadarius Toney (at Tennessee), Jakobi Meyers (at Miami), or Melvin Gordon (at Seattle) over him.
As for James Cook, let's not get lost in the sauce, here. We drafted James Cook to wait & see what happens with him. Unless you punted running back entirely, you should still be in evaluation mode on James Cook. Yes, even if he's your only player in this game. No, it's not worth it to get 7 PPR points "so I have something to root for." Sit James Cook on Thursday Night Football.
Cam Akers & Darrell Henderson
This running back situation is one that gave fantasy football managers ulcers all off-season. Neither really took the lead at any point in camp, then both got hurt, and now are maybe okay and good to go for week one. It's still not clear. It's also not clear because when both have been healthy, it's been an annoyingly split backfield. Now, they start against a bottom-five matchup for running backs in 2021, before they beefed up their defense this offseason. I know you took Akers as a top-20 running back, so you might not want to hear this, but you should sit Cam Akers this weekend until we know more about what is going on in this backfield, and with Akers' Achilles, as well. You should also sit Darrell Henderson until we have a better idea of what's going on with that backfield.
Wide Receivers:
Gabriel Davis & Isaiah McKenzie
So, we've already established that Stefon Diggs is a smash start. But, what about the remaining wide receivers on Buffalo? I would start Gabriel Davis and sit Isaiah McKenzie. Davis is set up to be the #2 wide receiver for the Bills, and given what you paid for him, it's time to ride or die with Gabe Davis in a 3WR league or a league with 2WR and a flex. Though, it's possible you might be deciding to between Davis and the following players: JuJu Smith-Schuster (start JuJu), Adam Thielen (start Thielen), Amari Cooper (start Davis), and Elijah Moore (start Davis).
The Rams gave up the tenth-most fantasy points to outside receivers last season, despite having Jalen Ramsey. That's because the secondary receiver averaged 12 PPR points last season, and played on a 74-reception, 1,017-yard pace in games against the Rams. As for Isaiah McKenzie, starting him in week one is nothing but a longshot glory play, and if you are taking longshot glory plays on the Thursday of week one, then maybe your draft didn't go as planned. If that's true, that's fine. It's just… disappointing.
Allen Robinson
Allen Robinson is stepping into the role vacated by Robert Woods and Odell Beckham, Jr. He will get the targets behind Cooper Kupp, and he should get enough targets for you to feel good about the fact that you should start Allen Robinson this week against the Bills. It should be a high-scoring shootout, and Robinson steps into the role vacated by Robert Woods and Odell Beckham. If you remember, the two never played together as Woods tore his ACL in practice a couple of days after L.A. acquired Beckham. The two combined to average 4 catches for 51 yards per game, while scoring 9 touchdowns. Their receiving came out to 12.5 PPR points per game, which is a top-36 receiver. If last year was a fluke for A-Rob, then top-36 is his absolute floor. If it was a fluke, then you're likely still looking at a top-36 wide receiver.
Tight Ends:
Dawson Knox
If you drafted Dawson Knox, chances are you have to start Dawson Knox, though I would prefer it if you could sit Dawson Knox. That is if he's a part of a tight end platoon. I would prefer Cole Kmet (versus San Francisco), who has a more guaranteed target share over Knox, despite the Niners stymying tight ends in 2021. That's because the Rams were already a bad matchup for tight ends, and they added linebacker Bobby Wagner in the offseason, to bolster their tight end defense. I would also prefer T.J. Hockenson versus Philly, as the Eagles gave up the most fantasy points to tight ends last season. Though, of course, like all tight end start-sits, one touchdown will make me look silly.
But, Knox was just TE11 last year while finishing outside the top-14 in targets, receptions, and yards. His position-leading 9 touchdowns are the only reason he finished inside the top 12. I don't want to bet on that happening again, especially not against the Rams, who allowed just four tight end touchdowns last year (tied for sixth-fewest in the league).
Tyler Higbee
I don't understand the obsession with Tyler Higbee. He had one hot stretch nearly three years ago, and we still give him the benefit of the doubt. It's a terrible matchup for Higbee, who is touchdown-reliant, and who is playing one of the five teams who allowed fewer touchdowns to tight ends last year than the Rams (Buffalo allowed just three touchdowns). Higbee is third in the pecking order, and a pecking order that is exceptionally top-heavy, and on a team that wants to run the ball a ton. It's possible that his target share grows, but he would need a top-eight target share to overcome his talent issues, and he hasn't even had a top-ten target share season yet in his career. This could be the year, but I don't want to bet on it in week one. You should sit Tyler Higbee for basically any tight end that you deemed draftable.
Want more 2022 fantasy football draft discussion? Check out these links!
Discord!
Podcast!
Patreon!
Twitch!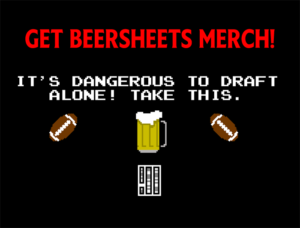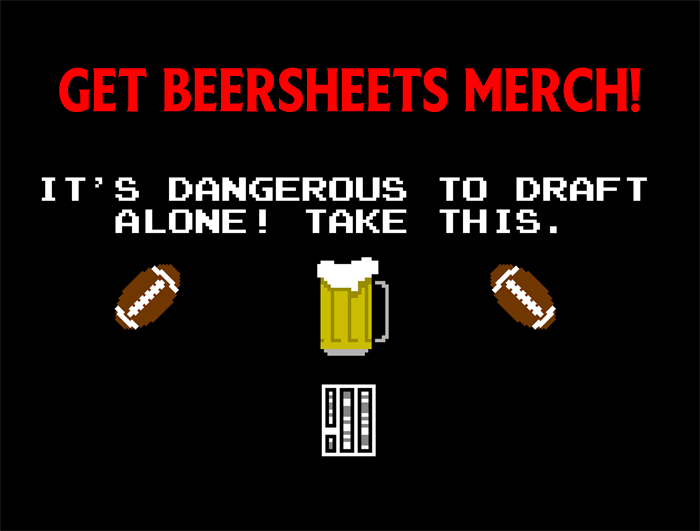 [Image Source: Gabriel Davis on Twitter]