To make a long story extremely short, the tight end middle class is dead. Should you want a longer explanation of what that entails, following the previous link is an option, but here is the big takeaway: unless fantasy managers draft one of the top-3 (Travis Kelce, Darren Waller, or George Kittle) it is best to dumpster dive at tight end. Having done some brief research on the subject over the last five seasons, about 25% of players who finish as top-12 TEs ranked as TE19 or later in preseason average draft position (ADP). A one-in-four chance for a late-round TE hitting is not particularly awe-inspiring by any means, but one player in particular currently drafted as the TE22 per 4for4 ADP possesses a few of the makings of a sleeper-turned-Cinderella. Here is why Seahawks Tight End Gerald Everett should be on your late-round sleeper radar.
Who Is Gerald Everett?
Before we move along any further, here is a quick rundown of Everett with help from Player Profiler:
6'3" 239 lbs.
2017 NFL Draft Round 2 Pick 12 (#44 overall) of the Los Angeles Rams
University of South Alabama
62 40-yard dash time
Entering his age 27 season
Despite the Rams selecting him with a higher draft pick than 2016 draftee TE Tyler Higbee, the two spent many years cannibalizing one another in the box score. To date, the aforementioned Higbee has arguably shown greater promise as evidenced by his miraculous stretch at the end of the 2019 season that saw him finish as the TE1 from Weeks 13-16, but we would be remiss to discount the skill that Everett flashed at times.
Per FantasyData, in 11 games since 2019 in which Everett receives 5+ targets, he averaged 10.55 PPR points per game (116.1 in total), a pace good enough to have been in lockstep with 2020 TE7 Mike Gesecki should we choose to play the ever-so-joyous "extrapolation game". On that note, why don't we move on and make a realistic case for 2021 Gerald Everett beyond the hypothetical, shall we?
Familiarity
After spending the first four seasons of his career with the Los Angeles Rams, Everett signed a one-year, $6M contract to bring his talents to Seattle. While not a sizable deal, he is not the only former Ram moving across the NFC West. New offensive coordinator Shane Waldron's overlapping tenure with Everett in Los Angeles as the team's passing game coordinator in addition to being Everett's tight ends coach as a rookie in 2017 breeds familiarity that potentially bodes well for Everett's fantasy prospects. It is not often that players walk into a situation where they can somewhat seamlessly adapt, but this is perhaps one of those rare times. A one-for-one copy-and-paste job of the Rams' passing attack onto Seattle's playbook is not likely, however, it certainly stands to reason many of the same concepts Everett is already familiar with will carry over. Hell, head coach Pete Carroll literally said so only a couple of months ago. That sounds to me like a good reason to begin buying into the potential breakout. But what else does Everett have going for him?
Opportunity
The Seattle Seahawks' tight end room does not offer much competition. TEs Colby Parkinson and Tyler Mabry have a combined 6 games played and two targets between them per Pro Football Reference. Well, sort of; Mabry actually spent all of 2020 on the team's practice squad after going undrafted out of the University of Maryland. Beyond those two, eight-year veteran and former 5th round pick of the Seahawks Luke Willson retired recently citing a heart condition thus leaving the team with only one remaining familiar name in Will Dissly. Dissly's career is a mixed bag of flashing potential and time lost; a career marred by injury as discussed in this piece from The Seattle Times certainly leaves some room for optimism but equal amounts of pessimism. In essence, there is not much standing in the way of Everett leading the group in targets, a group that has seen at least 100 targets every year but one since 2015 per Footballguys.com.
Red Zone Usage
Per Sharp Football Stats, the Seattle Seahawks send 30% of all red zone targets to tight ends position dating back to 2016 (9th-most in that time). In other words, QB Russell Wilson has somewhat of a penchant for finding the tight end in the part of the field where it counts (ya know, the part where teams try to score touchdowns). Despite having stud wide receivers like D.K. Metcalf and Tyler Lockett ahead of him in the pecking order for overall target share in the Seahawks offense, there is reason to believe in an intriguing touchdown potential for Everett. As discussed in the TE middle-class piece by Jeff Krisko linked in the introduction, once fantasy managers get past the elite top-3 at the position, touchdowns are vitally important to chase, and Everett has a good shot at hauling in TDs.
But don't take my word for it, Russell Wilson and Gerald Everett have even said as much about the connection between themselves recently.
Conclusion
To sum it up, Everett basically already knows his new team's offense, has no one aside from oft-injured Will Dissly behind him to compete for targets in a tight end room that sees plenty of work in the passing game, and a quarterback throwing to him that frequently looks for the tight end in the red zone.
It is well within the realm of possibility that Gerald Everett is a late-round gem for fantasy football managers in 2021 that drafters can acquire essentially for free at the end of drafts. We did not even have to go over his past individual success in Los Angeles when given the opportunity over fellow TE Tyler Higbee, but long-story-short: he averaged 4 catches for 41 yards per game. That might not sound like much, but that is his floor as a receiver in 2021; now give him a #3 option target share and he should go through the roof.
And a little bonus Mt. Everett for you folks who read all this way: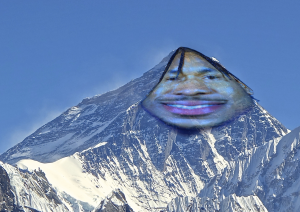 Do you want more 2021 NFL discussion? Then check out our Draft Kit! And then these links!
Discord!
Podcast!
Patreon!
Twitch!