Every summer, we take a deep dive into the fantasy football average draft position (ADP) of players on each real-life NFL team. We do this so that we can determine which guys are undervalued, overvalued, or valued just right. As we Goldilocks this ADP, our draft board forms based on our opinions of players and where they go in fantasy football drafts. Since drafters draft (mostly) by site algorithms, site algorithms drive ADP on that site. So, we use FantasyPros' aggregate average draft position data in order to smooth out those edges. To really smooth out the edges, I will use half-PPR average draft position, which you can find here. We continue our series with the 2021 Washington Football Team.
The Washington Football Team surprisingly "won" the NFC East last year. They earned every bit of derision and side-eye that came from the scare quotes around "won." They finished 7-9, earning a home playoff game simply because the rest of their division was simply a pile of turds. The San Francisco 49ers, who absolutely cratered because everybody died, would have finished second in the division. That gives you an idea of how bad the division was. They moved on from Alex Smith and brought in a bunch of new faces. Ryan Fitzpatrick, Curtis Samuel, and Dyami Brown join Antonio Gibson, Terry McLaurin, J.D. McKissic, and Logan Thomas as the team's core players for 2021. What can we expect from this group for yout 2021 fantasy football leagues?
Sleeper: Dyami Brown, Wide Receiver (WR114, 353 OVR)
Dyami Brown is most effective running deep routes, as he isn't the most fluid runner but he is exceptionally fast. He averaged over 20 yards per catch in each of his last two seasons in college, which tells you a lot about his game. His blocking skills will get him onto the field, but he might need some seasoning. He could end up being a flash in his rookie year, or just need a little bit of aging.
The Washington Football Team wide receiver depth chart behind Terry McLaurin and Curtis Samuel isn't very exciting. The deep shot is his path forward to rookie year relevance with the Washington Football Team: deep. If Washington decides to turn Terry McLaurin into a true alpha playing all over the field, while utilizing Samuel underneath, Dyami could immediately carve out a role for himself his rookie year.
Breakout: Curtis Samuel, Wide Receiver (WR40, 106 OVR)
It's weird to call Curtis Samuel a sleeper for two years running, especially since he broke out last year. So, he gets the breakout label instead. This is solely due to his price. I tabbed Samuel as a breakout last year because he moved back to the slot for the Panthers and didn't have Kyle Allen and Will Grier absolutely airmailing balls sent his way. He responded by fulfilling his air yards and ending up with over 1,000 total yards in just fifteen games. Now, he's reunited with the coach that drafted him in Ron Rivera, and he's likely to build on his 330 rushing yards over the last two seasons combined. This led all wide receivers over the last two years, so it isn't an insignificant figure to point out. These are free fantasy points that people don't account for when giving his overall stat line. That's likely why he is going so late.
Go ahead and snap up Curtis Samuel with the understanding that it's going to be quite crowded around the line of scrimmage in Washington. Antonio Gibson plays the same WR/RB hybrid role, but with an angle toward being a running back instead of a wide receiver, and J.D. McKissic and Logan Thomas each had 110 short area targets last year. It might take a bit for things to shake out, but he's the second-best guy in that group behind Gibson.
Bust: Logan Thomas, Tight End (TE9, 98 OVR)
I had a lot of Logan Thomas last year, and I wrote about his target consistency a lot when I kept touting him as a potential breakthrough. He finally clicked with Alex Smith which… isn't good, here. Alex Smith and his proclivity for targeting tight ends isn't around anymore. Instead, the free-wheeling, deep-slinging Ryan Fitzpatrick is under center. The passing game also looks to take a bit of a rejiggering this year with Dyami Brown and Curtis Samuel joining the squad, and Antonio Gibson earning a bigger role. The situation seems ready for Logan Thomas to drop down to 60 or 70 targets this year. He can provide some fantasy-relevant weeks with that target load, but I take umbrage with the strategy that comes with taking Logan Thomas at ten.
Tight End, after Kyle Pitts, is nothing but question marks. This is what we at Football Absurdity call The Tight End Blob. There are a lot of players with a lot of different profiles in the blob, but all of them have top-ten potential. Logan Thomas represents the "safe, minimal upside" tier inside the blob. Don't take Logan Thomas in the top-100. Why? Because 2020 Logan Thomas was on the waiver wire in about70% of leagues until over halfway through the season. You don't go out and get a safe tight end like Logan Thomas, you use a safe tight end like Logan Thomas as a fallback option. There's no reason to take him at this point in the draft when you could wait for a couple more rounds and get far more production out of upside guys like Adam Trautman, Cole Kmet, or Jonnu Smith. Then you fall back to the 2021 version of Logan Thomas if these guys don't pan out. Don't go get 2021 Logan Thomas because of his 2020.
Don't Sleep on These Links!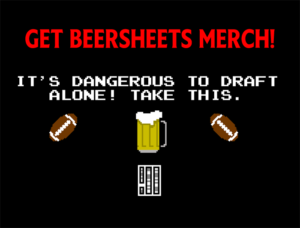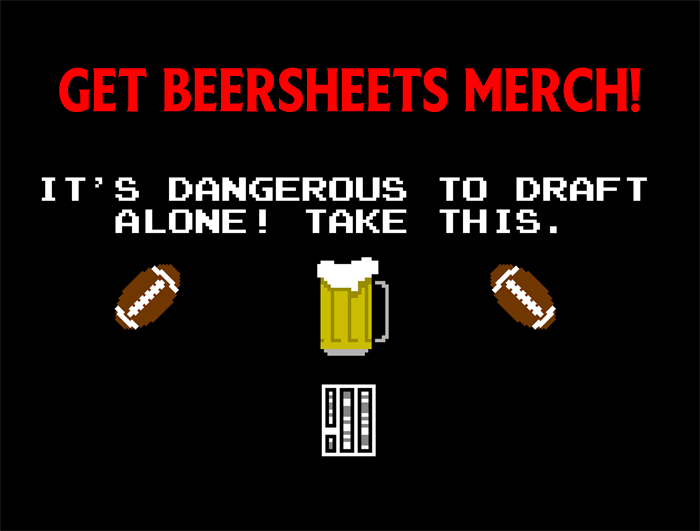 Image Source: https://upload.wikimedia.org/wikipedia/commons/c/ca/WFT_TE_Logan_Thomas.jpg, cropped under CC BY SA 2.0