Every summer, we take a deep dive into the fantasy football average draft position (ADP) of players on each real-life NFL team. We do this so that we can determine which guys are undervalued, overvalued, or valued just right. As we Goldilocks this ADP, our draft board forms based on our opinions of players and where they go in fantasy football drafts. Since drafters draft (mostly) by site algorithms, site algorithms drive ADP on that site. So, we use FantasyPros' aggregate average draft position data in order to smooth out those edges. To really smooth out the edges, I will use half-PPR average draft position, which you can find here. We continue our series with the 2021 Indianapolis Colts.
The Indianapolis Colts have been adrift since Andrew Luck suddenly retired prior to the 2019 season. They went with Jacoby Brissett, a short-term solution, in 2019. Then a nearly-retired Philip Rivers was their short-term solution. Now, they hope that former Eagles quarterback Carson Wentz represents a long-term solution. If he's good, they have him under contract until 2024; if he isn't, he has no dead cap after 2022. The Indianapolis Colts have a great offensive line, a strong stable of running backs, and question marks everywhere else.
Who can rise from this morass as a sleeper, or a breakout? Is there really a difference? Am I 12,000 words into this project and I'm starting to lose it a bit? Yes. But what about busts, who will bust on the 2021 Indianapolis Colts? Let's take a deeper look into all of this!
Sleeper: Michael Pittman, Wide Receiver (WR46, 121 OVR)
The Colts took Michael Pittman with the second pick of the second round in 2020, he failed to click with Philip Rivers, and… everyone sort of forgot about him. Michael Pittman didn't do much his rookie year; he ended with about 3 receptions for 39 yards per contest. Those aren't numbers that inspire confidence. So why do I plant my flag in Pittman? New quarterback, a new situation, and the fact that he's the best wide receiver on their roster right now.
Michael Pittman reminds me a ton of Alshon Jeffery. Pittman has one inch and five pounds on Jeffery, but Alshon was 0.04 seconds faster on the 40-yard dash. They both are get-up and get-it players, and both struggle with injuries. Wentz spent three years in Philadelphia with Alshon Jeffery, and in the games they shared, Alshon averaged 11.8 PPR points (4 receptions, 48.1 yards, and a touchdown every other game) on a 20% target share. I'll take those numbers at WR46 overall.
Breakout: Nyheim Hines, Running Back (RB39, 109 OVR)
It's hard to really call Nyheim Hines a breakout since he has been sort of breaking out since his rookie year in 2018. But, he's still criminally undervalued here. The NFL started tracking targets in 1992, and since that time, Hines is one of ten rookies to ever get 80+ carries and 80+ targets. Four of these running backs are active: Saquon Barkley, Alvin Kamara, Christian McCaffrey and… Nyheim Hines. Of course the fourth was Nyheim Hines, that's who we are talking about.
In 2020, Nyheim Hines turned his targets into 193.2 PPR fantasy points, which ranked him as the RB17 in fantasy football last year. Now, why did I bring up his rookie year? Because people point to Philip Rivers' predilection for passing to running backs as a reason why Hines won't repeat his season last year. Well, Hines had 76 targets last season, as opposed to 81 targets in his rookie year. That's right, he received fewer targets last year with Rivers. He just… got better with those targets, explaining why he jumped his career-high in fantasy points from 160.9 to 193.2. Hines is basically an afterthought right now, so go ahead and soak him up in the tenth round of your fantasy leagues and profit wildly.
Bust: Jonathan Taylor, Running Back (RB6, 6 OVR)
This, like all my first-round busts, is not a hot take, I promise. Instead, it's a humble request to temper expectations from the running back. There are a lot of JTRB1 truthers on fantasy football Twitter, emboldened by Taylor smashing a Jaguars team in week seventeen that had nothing to play for except not losing the #1 overall pick. I think he's here more as an explanation why I have guys like Aaron Jones and Austin Ekeler ahead of him.
Despite smashing the Jaguars to bolster his numbers, he was still good. Really good, in fact! In the four games between his COVID-19 IR stint and his blowup game, he still averaged 117 yards per game. Granted, half of these games came against the worst defense against running backs in the league last year (Houston), but still… He smashed! That's what good backs do.
Unfortunately, I want to throw some cold water on the JTRB1 fire. Will he be an RB1? Almost certainly. Will he be the RB1? Almost certainly not. He's too hemmed in because of the Indianapolis Colts' production distribution. I don't like to talk snap share, since by and large, running backs all share snaps. I like to talk about the things a running back does: run, catch, and score touchdowns. He's hemmed in from a running perspective by Marlon Mack. Taylor did all his damage with Jordan Wilkins as his main carry competition. This year, he contends with Mack for carries. That hems him in on one side. Scroll up and realize he also contends with an annual 75 target running back with Nyheim Hines. That hems him in on another side. The touchdowns are all his, however, which is why I don't fear that he falls out of the RB1 ranks. I just don't believe he has any chance at being the top dog in fantasy football next season.
Also, because the format demands I pick a bust and this was the best I could do with the ADP data.
Don't Sleep on These Links!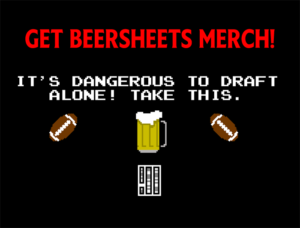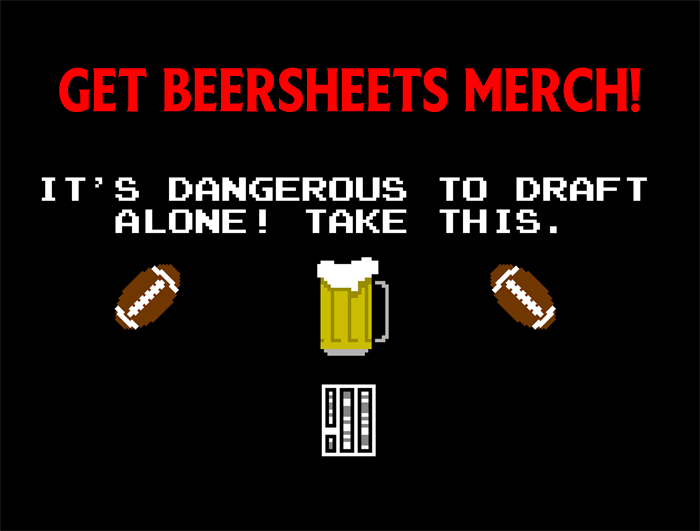 (Header Image Source: https://www.flickr.com/photos/keithallison/29791415287 under CC BY-SA 4.0)