Every summer, we take a deep dive into the fantasy football average draft position (ADP) of players on each real-life NFL team. We do this so that we can determine which guys are undervalued, overvalued, or valued just right. As we Goldilocks this ADP, our draft board forms based on our opinions of players and where they go in fantasy football drafts. Since drafters draft (mostly) by site algorithms, site algorithms drive ADP on that site. So, we use FantasyPros' aggregate average draft position data in order to smooth out those edges. To really smooth out the edges, I will use half-PPR average draft position, which you can find here. We continue our series with the 2021 Detroit Lions.
The 2020 Detroit Lions let everyone go, and by everyone I mean everyone. The Detroit Lions cleaned house in the coaching room, traded Matthew Stafford, let Kenny Golladay and Marvin Jones hit free agency, and allowed  239 running back touches to seek services elsewhere. It's a whole new squad in Detroit, with two big fantasy football exceptions: D'Andre Swift and T.J. Hockenson. Well, with a whole new crop of wide receivers in town, a new play-caller, and a new quarterback, what can we expect from the 2021 Detroit Lions? Well, to be honest, nobody really knows. But, we can read the tea leaves. Let's get to tea leaf reading with the 2021 Detroit Lions fantasy football sleeper, breakout, and bust!
Sleeper: Amon-Ra St. Brown, Wide Receiver (WR72, 234 OVR)
The Detroit Lions have a completely unknown wide receiver room. There's a lot of potential in there, but none of the wide receivers have been anything in the NFL yet. Vets like Breshad Perriman, Tyrell Williams and Kalif Raymond join rookies like Amon-Ra St. Brown and Sage Surratt in a battle royale to win the right to get errant passes from Jared Goff.
Since Tyrell Williams can't stay healthy and Breshad Perriman already failed us, I will place my chips on Amon-Ra St. Brown. The Detroit Lions drafted St. Brown in the fourth round of the 2021 NFL Draft. Granted, guys who go in that range generally don't produce (1%-2% of wide receivers taken on day three produce their rookie year, compared to between 15% and 20% of wide receivers taken in the first three rounds), I feel good about Amon-Ra.
Amon-Ra St. Brown comes from a football family, as you probably have heard of his brother Equanimeous in Green Bay. St. Brown has incredibly sure hands, catching 71% of his 249 catches at USC, for just over 75 yards per contest. The Lions have a good player on their hands here, it's just a question of if they decide to use him. After all, the other players have shown us they're not good already… St. Brown has not.
Breakout: D'Andre Swift, Running Back (RB15, 27 OVR)
D'Andre Swift is the Lions' breakout du jour. Mostly because it's either him or Hockenson, and running backs are more fun to talk about. So, let's talk about one. Swift was my third-favorite running back in the 2020 NFL Draft class. Given how that class shook out, that isn't a ranking to sneeze at. After all, we aren't dealing with the Bishop Sankey draft class here; the 2020 running back class might populate 75% of the RB1s by 2023. They're all monsters.
And on a fantasy points per opportunity basis, Swift is just as good as any of them. Ten rookie running backs had at least ten opportunities (targets + rushes) per game last season. One of them is one-game wonder Antonio Williams, who played in exactly one meaningless game and super smashed everyone in week seventeen. In full PPR, D'Andre Swift ranks first in fantasy points per opportunity. In half-PPR and zero PPR, he ranks second (to J.K. Dobbins in both instances). Swift also ranked third among yards per opportunity in this dataset, behind Dobbins and Jonathan Taylor.
Now, his main competition is a career 30% split-time back, Jamaal Williams, coming over from Green Bay. Anthony Lynn's run his mouth this offseason, hyping up Jamaal Williams at every opportunity, but it's just that… hype. And if it isn't just hype, and if D'Andre Swift has exactly the same role as last season? He was RB18 in fantasy points per game. RB15 feels like you're buying at his absolute floor.
Bust: …nobody?
This feels like a punt but it really isn't. Especially since I am going to impart some advice on you here. The Detroit Lions probably won't have a great offense, and probably won't have a whole lof of value. That doesn't mean that you should run away from any and all Lions. After all, Amon-Ra St. Brown feels like a screaming value at his price… to me. I'm sure Tyrell Williams has his acolytes, and I'm sure that Breshad Perriman has his. And, I'm sure Kalif Raymond is a really nice guy.
In these situations, it's a good move to find a guy you believe in and get him dirt cheap. I wouldn't begrudge a Tyrell Williams or Breshad Perriman drafter, here. Someone has to do something for this team, and projecting the squad is messy. If someone cleans that up, there's an easy 100 targets up for grabs for them here in this wide receiver corps.
So no, there is no bust on this team. Mostly because busts come from expectations, and we have no expectations from this team. Whatever happens here will be gravy when it comes to fantasy football.
So either no bust or T.J. Hockenson, one of the two.
Don't Sleep on These Links!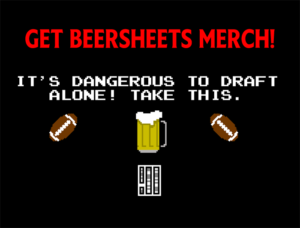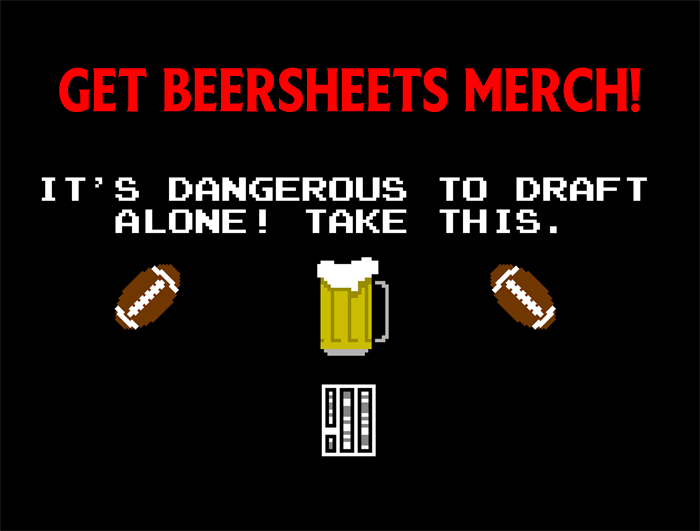 [Header Image Source: https://upload.wikimedia.org/wikipedia/commons/3/3f/Baker_Mayfield_vs_Bengals_2019_%282%29.jpg under CC SA 2.0]