NFC Wild Card Matchup:
#7 Bears (8-8) at #2 Saints (12-4)
Sunday, January 10, 1:40 PM PST (CBS/Amazon Prime/Nickelodeon)
The Bears and the Saints matchup on the Sunday Afternoon nap spot in the lineup of games. I am not particularly interested in this NFC Wild Card matchup, because I think the Saints run away with this one. The Bears backed into the playoffs and the Saints were in the running to not even need to play in the NFC Wild Card round. I think the Saints win this one going away, but it would be weird to not give the Bears a chance. Anyway, here are the ways the Bears and the Saints can win this NFC Wild Card matchup.
How the Chicago Bears Win
Important Player: David Montgomery
David Montgomery went thermonuclear in the last six games of the year, averaging over 137 yards per game on 23.3 touches per contest. The Bears went 3-3 in these contests, but a lot of that had to do with Nick Foles breaking apart. With DMont and Mitchell "Troobs" Trubisky in tow, the Bears ended the year going 3-1, losing to the Green Bay Packers. This is a difficult matchup for DMont, as the Saints allowed the fourth-lowest yards per game to running backs this season, and the second-fewest rushing touchdowns. They need to get a strong, efficient game from Montgomery to win this NFC Wild Card matchup, but he doesn't need to be transcendent. He likely won't be transcendent, but he just needs to be a value add to the Bears offense. If they go one-dimensional, the game is already lost. You can't go one-dimensional with Mitchell Trubisky at the helm.
Important Statistic: Mitchell Trubisky Touchdowns and Interceptions
Here's a scary thought for Chicago Bears fans: they will only go as far as Mitchell Trubisky will take them. Troobs actually hasn't been too bad this season. He hasn't been too good, but he hasn't been a catastrophic nightmare. On the year, he averages about 228 passing yards, 1.8 touchdowns, and 0.9 interceptions per start. In victories, he averages two touchdowns and 0.83 interceptions. In defeats, it's a pick per game and only 1.3 touchdowns. While Mitchell Trubisky will not put the team on his shoulders and drag them across the finish line, he is more than capable of grabbing their ankles as he drowns. The Bears need a great Trubisky to get the victory this week… which is exactly as horrifying a phenomenon as it sounds.
Important Position Group: Pass Rush
I was trying to decide if it would be Khalil Mack, Akiem Hicks, or Robert Quinn. So instead, all of these fellas end up inside the important position group. The pass rush hasn't been what the Bears had hoped for this season. They ranked seventeenth in sacks this year, and did it almost exclusively without blitzing. The Bears blitzed on just 21.4% of pass plays, which was the fourth-fewest in the league. They failed to generate pressure despite these guys along the line; pressuring QBs just about one-in-five plays. This ranked 20th in the league. With brittle statue Drew Brees behind the line for the Saints, the Bears pass rush must get home to hope to secure a victory in this one. That'll be a tough draw, as Drew Brees was pressured on just 14.1% of plays this season, the lowest among players with at least 300 pass attempts.
How the New Orleans Saints Win
Important Player: Wil Lutz
This is going to sound strange, given that just two weeks ago, Alvin Kamara scored six touchdowns on Christmas, but Wil Lutz made the difference in the game these two played earlier this season. The Bears and Saints squared off in week nine. This was a game that the Saints took down 26-23. In this game, Wil Lutz kicked the ball seven times. Six of these bad boys went through the uprights, and they accounted for over half of the Saints points that day. On a team with a bevy of stars, it could come down to Wil Lutz's foot. I say this because the Saints are talented at all levels, and the Bears could scheme away from their strong defensive players and scheme to remove the Saints' stars. But the one undeniable fact is you cannot make a putz out if Wil Lutz.
Important Statistic: Michael Thomas Targets
The Saints shut down Michael Thomas with an ankle issue before their week fifteen contest. It puts him on track to return this week in this tough defensive matchup against the Bears. He hasn't had a great season, but even in that bad season, he paced out for 91 catches for over 1,000 yards. Most wide receivers would kill for that kind of season. But, as strange as it sounds, Drew Brees and Michael Thomas played exactly two full games together, both against the Tampa Bay Buccaneers. In those games, Thomas totalled 11 targets for 8 taches and 68 yards. That was a far cry from their 2019 campaign when Michael Thomas totaled 149 receptions for 1,725 yards. They finally get a chance to spread their wings against someone who isn't Bruce Arians.  They'll need to get on the same page to take down the Bears.
Important Position Group: Defensive Backfield (Specifically, the Cornerbacks)
The Chicago Bears don't boast an overwhelmingly deep wide receiver corps, but they do have a competent one. Allen Robinson leads the way for the Bears, and it's up to Marshon Lattimore to stifle the star wide receiver. The A-Rob/Troobs combo averaged seven catches for 83 yards when they played during the regular season, so we will call that mark a bad day for a corner like Lattimore. The rest of the defensive backfield has to contend with rookie speedster Darnell Mooney, and "we promise he will eventually be good" praise recipient Anthony Miller. Troobs will lean on Robinson, but the whole defensive backfield needs to keep its head on a swivel.
If this has you hankerin' for some fantasy sports, try out Fan Duel! That link lets them know we sent you! It also gets you a 20% deposit match up to $500!
Then, follow Football Absurdity on Twitter!
After that, get free fantasy football advice by joining our Discord!
Finally, if you like what you read here, check out our podcast and our Patreon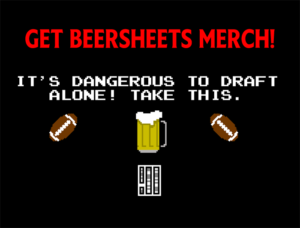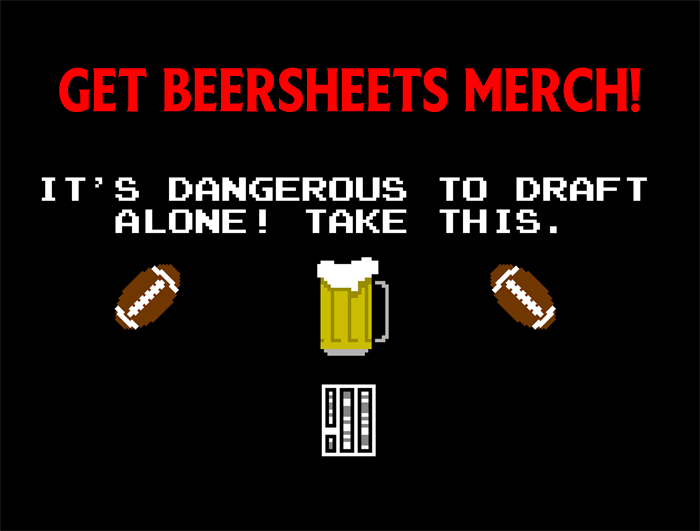 (Header Image Source: https://upload.wikimedia.org/wikipedia/commons/0/03/Trubisky_detroit_camrongood_2017.jpg under CC BY 4.0)