Welcome to my weekly culling of crazy hot takes in NFL articles on The Internet! Fun fact: This series was originally pitched as "Friday Football Freakshow," which is why it always appears on Fridays. The name changed when I realized the SEO wasn't working: Anyone Googling "Football Freakshow" was undoubtedly just looking for CTE brain scans.
The big news (at least in terms of eliciting weirdos to make weirdo comments) was the announcement that the 2021 Super Bowl Halftime Show performer would be Canadian artist, The Weeknd. He had a huge hit with, I Can't Feel My Face When I'm with You, which even he has admitted is about doing cocaine. I think he should write more songs that are barely-veiled drug references, like Trees Look Like Fractals When I'm with You, or maybe I Tie My Belt around My Arm When I'm with You. 
Needless to say, this choice outraged a certain segment of the population… A segment whose profile pic is frequently wearing a baseball cap and sunglasses. People too cowardly to admit the real reasons they feel alarmed by this performer, and so instead cherry-pick ridiculous criticisms like this one: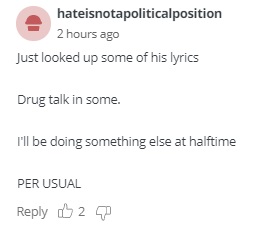 Drugs!? In MY music industry?! What's extra ironic is that these complaints were mixed in with people lamenting there were no good ole rock bands playing in the Super Bowl anymore. You know, like Tom "Last Dance with Mary Jane" Petty, Paul "I spent nine days in a Japanese prison for possession" McCartney, and Keith "I could scrape half a line off of one of my boogers" Richards.
Frankly, those choices would be better than what the next two commenters want in terms of live entertainment:
"For once do the right thing" and give an old white guy a huge media platform is completely tone-deaf, even if they did choose one of the more woke nonagenarians still walking the Earth.

Whoa! This guy wouldn't even watch if THE Barbara "Who the F*** Is Barbara Mandrell" Mandrell was on stage? Thank you for your service, guy.
While we're on the subject of old people's problems, we'd like to pause for a brief Football Absurdity public health awareness message.
Public Health Awareness Message

Yo, Ashwin, going "to the can" should not be taking half an hour. You really should get looked at by a doctor.
Okay, back to the weird comments…

Actually, no, I think I need to go back to health awareness: Sylvia you are clearly having a stroke, okay?
Now, back on track, here's someone who meant to hit the "racism" button but apparently missed and flipped the "homophobia" switch, instead:

Love to jeopardize my career by posting my full name next to a racially charged comment:

Finally, there's this dude:

First of all, you don't get to add "ish" to an extremely specific number. People don't go around saying "the mark of the devil is 666 or somewhere around there, really."
Second, the time period 1970-87 seemed so odd I dug in to do some research. This turned into a lot of research. The only band I could find that was formed in 1970 and broke up after 1987 is Canadian rock band Chilliwack. Is FoxNews commenter "UNeed2think1" really former Chilliwack member Ross Turney, who did not rejoin the band when they reformed in 1997? Really makes UThink.
IThink that I will quit staring into the void of my laptop screen and go get some fresh air. See you next week!
If this has you hankerin' for some fantasy sports, try out Fan Duel! That link lets them know we sent you! It also gets you $5 bonus cash to play with if you make a deposit.
Then, follow Football Absurdity on Twitter!
After that, get free fantasy football advice by joining our Discord!
Finally, if you like what you read here, check out our podcast and our Patreon
[Photo Credit: https://commons.wikimedia.org/wiki/File:The_Weeknd_at_Coachella_2012_frontal_shot.jpg under cc-2.0]