It's week seven, and every single fantasy football team is in shambles. Well, not every team, but a lot of them! It's time to plug in the holes in your rosters with some week seven sleeper running backs! To make the list of sleeper running backs, a player must be unrostered in at least 50% of Yahoo! leagues. For deeper leagues, one of these sleeper running backs is available in at least 90% of Yahoo! leagues.
By the time you read this, Giovani Bernard's roster percentage will likely top 50%. The Bengals ruled out Joe Mixon on Friday. Without Joe Mixon, Giovani Bernard averages 88 yards and a touchdown. Check for Giovani Bernard before any of these guys.
Sleeper Running Backs Option #1:
Justin Jackson (50% rostered)/
Joshua Kelley (45% rostered) versus Jacksonville
I get it; the Chargers' backups tandem didn't play last week, so there was no rush to go get them off the waiver wire after their admirable performances against the Saints in week five. To refresh your memory, Justin Jackson ended with 96 yards on 20 touches, and Kelley ended with 38 yards on 12 touches in that game. Jackson played more like the lead back, out-touching Kelley about 3:1 in the second half of that game, and is the preferred guy. But this week, they get the Jacksonville Jaguars and both are good options. The Jags have given up back-to-back massive performances to Joe Mixon and D'Andre Swift this season, and you can make it at least one good performance in every game this season. The Jags are e defensive sieve, and these two backs should make them pay for their inability to stop running backs.
Sleeper Running Backs Option #2:
J.D. McKissic versus Dallas (22% rostered)
J.D. McKissic has 22 targets in his last three games. For a running back in PPR, that's kind of all I have to tell you. Just those 22 targets would rank top-20 among running backs this season. However, McKissic's season-long target total (31) has him tied for the fourth-most targets among running backs. McKissic has to contend with rookie Antonio Gibson, but is turning into the kind of back we're always chasing (Tarik Cohen, James White, I'm looking at you). The only problem… nobody is chasing him. He's available in over 75% of Yahoo! fantasy football leagues. This week, he gets a neutral matchup in the Dallas Cowboys. However, this play isn't about matchup… it's about volume. There's no reason to not roster J.D. McKissic in PPR. He looks as explosive as Antonio Gibson a lot of time but is on 22% of rosters (and Gibson is on 88%).
Get J.D. McKissic.
Sleeper Running Backs Deep League Option:
JaMycal Hasty at New England (7% rostered)
This is a total dart throw in the wake of Raheem Mostert's high ankle sprain, Tevin Coleman's removal from the face of planet earth, and Jeff Wilson Jr's calf injury. It might become the Jet McKinnon and JaMycal Hasty Show in San Francisco, at least for one week. If that happens, throw Hasty into your lineup and see what happens. Hasty had nine carries against the Rams last week, which he turned into 37 yards. He looked explosive and dynamic and might claw his way into the Raheem Mostert role while Mostert is done. At least stash him, after all the 49ers turned a mostly unknown back into a fantasy stud last year (Raheem Mostert).
If this has you hankerin' for some fantasy sports, try out Fan Duel! That link lets them know we sent you! It also gets you $5 bonus cash to play with if you make a deposit.
Then, follow Football Absurdity on Twitter!
After that, get free fantasy football advice by joining our Discord!
Finally, if you like what you read here, check out our podcast and our Patreon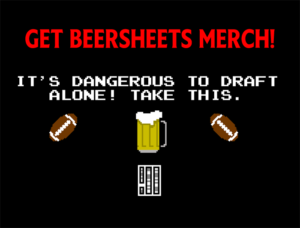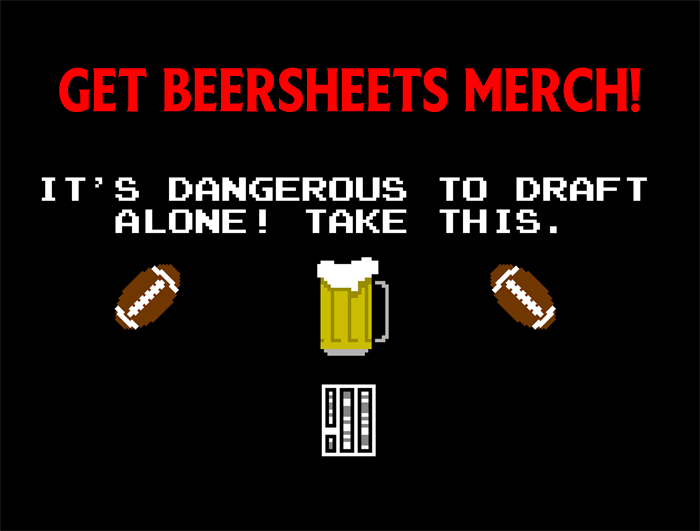 [Header Image Source: https://upload.wikimedia.org/wikipedia/commons/3/3f/Joshua_Kelley.jpg, cropped under CC BY SA 2.0]