Welcome to Hot Takes from Crazy People: Trump Twenny Twenny. This is where I comb through the comments section of articles about the NFL, armed with only my laptop and a bottle of Xanax. I then post the most outrageous rantings right here for you to gawk at.
Let's start in Jacksonville: The Cult of Gardner Minshew is turning into a raging mob…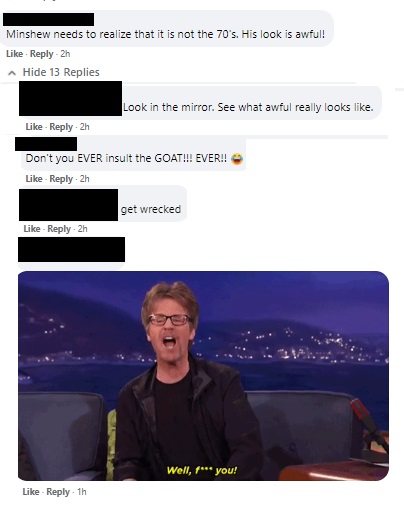 Yikesaroo! Here's a fun video of Jon Gruden dancing with his team after a big win. I'm sure the comments are lighthearted…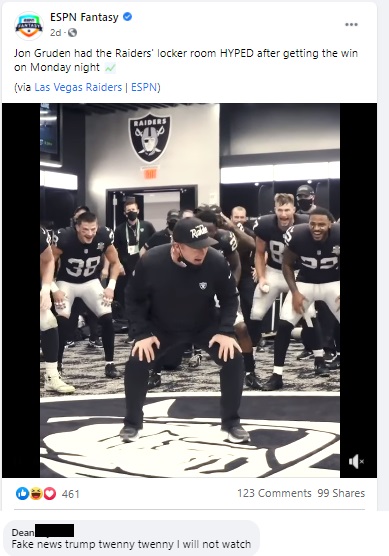 Well stated!
James White experienced a huge tragedy, this week: The unexpected death of his father. Naturally, I'm not here to bum you out, so I'm not going to share the tweets at him from people mad that his sitting out the Patriots game cost their fantasy team (these exist). Instead, I'd like to share a positive post that's full of red flags: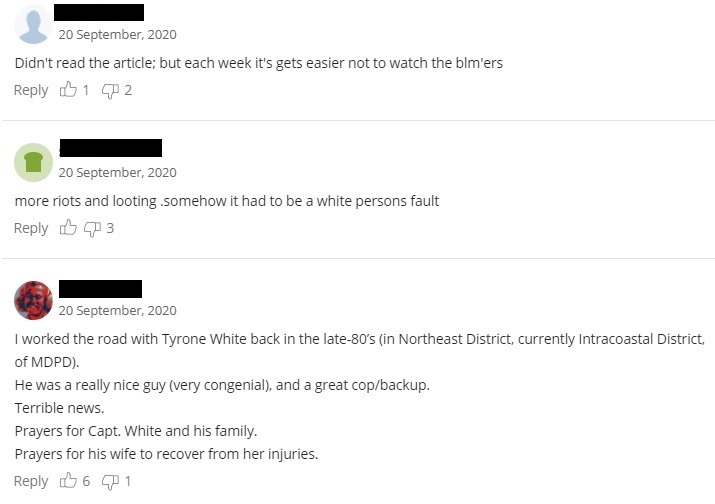 Whoops, did some horribly negative posts accidentally spill into there, sorry! I want to focus on the final comment, about working with Tyrone White. First, this post was made three times. Not consecutively, either, there were several posts in between each one: This person really wants everyone to know they worked with James White's dad. Second, the definition of "congenial" is "pleasant because of a personality, qualities, or interests that are similar to one's own." Normally, that does not convey a hidden meaning. But when you consider this was posted on FoxNews.com, it's not hard to connect the dots.
Third: Why does that post have a thumbs down?!
A post I would like to give a thumbs down to is this:
From a CNN article about the tragic injury to Tyrod Taylor.
Barstool sports made a post about Bill Belichick wearing a torn-up shirt in an interview. This prompted a commenter to stumble in to accuse everyone else of being lazy, for no real reason:
Colby, if your shirt looks like this at the end of a shift, being a zookeeper just isn't your calling, sorry.
Let's conclude this whirlwind tour of madness with a look at a couple of spam comments. Bots love to spam NFL articles on Facebook with horrible ads. The following two ads managed to stand out even against this backdrop of garbage: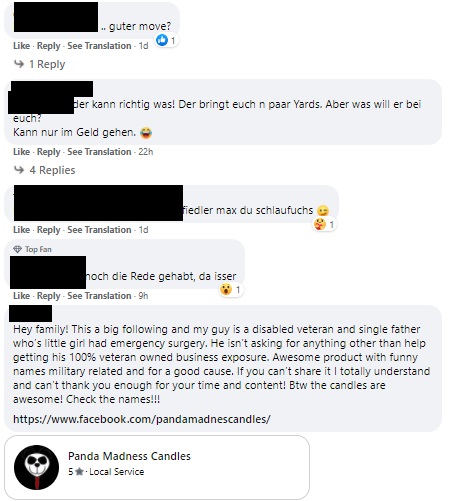 I'm not sure what about an article on Devonta Freeman signing with the Giants attracted a contingent of Dutch posters. But I want to focus on the URL for the "100% veteran-owned" panda candle business. Notice the misspelling: I checked, the actual URL for the business misspells "madness." I also checked: facebook.com/pandamadnesscandles was available (as was facebook.com/pandles, just sayin'). I can't say this lack of attention to detail inspires confidence in my wanting one of their products lit on fire and burning inside my house.
Finally, our weekly reminder that the oft-feared robot uprising is still in the far, far distance:

In order to get a "top fan" status on the NFL's Facebook page, one must be "the most active and engaged on a page." So that's double robot blunders: not only is this confusingly unrelated spam ad the product of broken AI, whatever robot is in charge of awarding TOP FAN went, "hmmm, this prolific and good poster deserves an award!"
I deserve an award after staring at god-awful comments for hours. I'll think I'll take my award with a glass of scotch. Goodbye "Trump twenny twenny" vision!
If this has you hankerin' for some fantasy sports, try out Fan Duel! That link lets them know we sent you! It also gets you $5 bonus cash to play with if you make a deposit.
Then, follow Football Absurdity on Twitter!
After that, get free fantasy football advice by joining our Discord!
Finally, if you like what you read here, check out our podcast and our Patreon