The fantasy football playoffs are almost here, and it's time to start looking ahead to who you can trust in the most important time of the year. Below, Football Absurdity Discord Superstar Karl Leslie (FakePlasticTea) breaks down the playoff matchups and highlights some fantasy football quarterbacks that you can scoop up off your waiver wire right now. Quarterbacks listed are alphabetical by their team.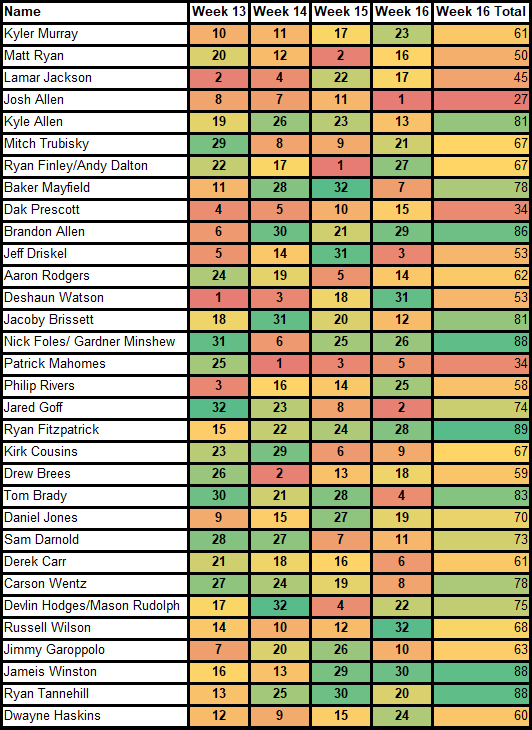 Let's talk quarterback streaming your way to a championship. Below, I'm going to use Yahoo!'s ownership data as the basis for analysis, but I'm sure most other major platforms will be similar. At this point in the season, generally, the goal is to own a very good quarterback or a few QBs that give you mostly green matchups. When I wasn't able to snag a top-end talent, I generally tried to have a good base quarterback that can cover most weeks and a second quarterback to fill in a bad week or two along the way.
Sometimes, you have to hold onto three quarterbacks (one for each week). It all depends on what's available on waivers in your particular league. Remember, each week after week fourteen is less important, as you need to win in week fourteen to play in week fifteen. You need to notch victories in both weeks to even sniff a week sixteen championship round.
Great Base Quarterbacks
I'm going to talk about quarterbacks with ownership below 50% in this piece. If you own a QB that sits above 50% ownership, then odds are this list isn't as useful to you. Always check your matchups to see if someone is on a Thursday game, or away, or they have a terrible matchup. Some quarterbacks are pretty full-proof. For example, I'd trust Lamar Jackson and Russell Wilson in almost any situation.
Tannehill's worst week is week sixteen, so you could grab another quarterback to cover for him or ride him out to the end. He's an overall solid pickup at this point, and riding him to the end gives you an extra roster slot for D/ST pickups, handcuffs, or just stashing quarterbacks to keep away from your opponents.
With Nick, you're only looking for a week fourteen fill-in. Easy targets with good matchups include Jacoby Brissett, Ryan Tannehill, and Sam Darnold. Foles and Tannehill are the top-two recommended pickups. Even if you own a top-talent quarterback, this blocks others from getting them and then can fill weeks you might be more gunshy about.
This man ends the year with wild weeks in fifteen and sixteen. If I owned someone like Jared Goff or Kirk Cousins, I'd be trying to get ahold of Jones. Most importantly, his week fifteen matchup against the Dolphins comes against a bad squad that lost two safeties to IR, making them an even better matchup. You might want another quarterback to cover for week fourteen, as that's an away game for Jones. Like Nick Foles, you're looking at Brissett, Tannehill, and Darnold to fill that role.
Fitz has had a hard start to the season, but his last three weeks are prime matchups, and he should be ready to roll. We all know how much this man loves garbage time, and he should see plenty of it. I don't expect a ton of fantasy points, but in a two-quarterback or a Superflex league, this is a great find. If you need a good matchup to fill in for a more elite fantasy football quarterback, then he could be your guy, as well.
For more football with a dose of absurdity, follow Football Absurdity on Twitter or get free fantasy football advice by joining our Discord.
You can find the rest of our late-season fantasy football advice here