Should I Drop AJ Green?
2019's AJ Green is the fantasy football equivalent of the Oak Island Treasure. Everyone involved has kind of figured out he's probably a frivolous, resource-consuming sinkhole, but you've spent so much time on him it would be a huge ego blow if you gave up and someone else managed to swoop in and profit.
Well, good news: You can confidently drop AJ Green and someone else almost certainly won't benefit. Well, I guess that's not really good news, good news would be that I expect him to start even one game, this year. But I don't. Here are the facts about why the answer to the question, "should I drop AJ Green" is now a resounding YES!
Should I Drop AJ Green Fact #1: He's Injured Again
Maybe it's more of a setback than a new injury. Maybe he's just making it up because he doesn't want to play. But whatever the situation, the truth of the matter is that AJ Green was expected to return to route running this week, yet didn't suit up. Whether really injured or posturing, it's clear Green values his long-term viability over getting in a game this year.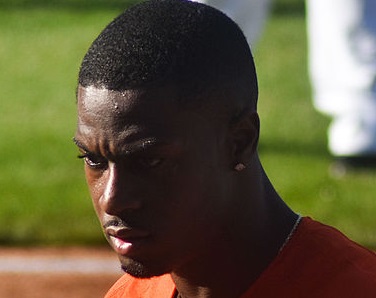 Fact 1b: Despite years of focus, the ability
to shoot lasers from his eyes never materialized
Should I Drop AJ Green Fact #2: The Trade Deadline Passed
The passing of the trade deadline two weeks ago eliminated the possibility that Green would be traded to a good team, then discover his injury had magically healed. Green's contract expires at the end of the season, which means every snap he plays with the Bengals horrible offense is another chance at getting a big injury which costs him tens of millions of dollars at the bottom line.
Should I Drop AJ Green Fact #3: The Bengals Are 0-9
Normally, a player's motivation to stay healthy can be trumped by a team's urgent need to get them in for a playoff push. However, the Bengals aren't going to make the playoffs. So putting him in would just be an element of sadism at this point. While we can't put that past the Bengals villainous management, they really have a lot more pressing concerns than whether to spite-start one of their most celebrated contributors.
Should I Drop AJ Green Fact #4: AJ Green Has Expressed His Displeasure with the Team
Green has gone on record stating that the Bengals slapping a franchise tag on him would be an "insult," and added "give me a long-term contract or just let me go." That, combined with all the other news, really paints a picture that Green will do everything he can to not be cleared and, even if he is forced to play, probably won't try too hard.
Picture this, but on the field during a game, every single play.
We're not even sure he bothers to put the helmet on
Should I Drop AJ Green Fact #5: There's Better Stuff on Waiver Wire, Right Now
At this point, AJ Green owners are considering holding him for a late-season fantasy boost. There's definitely someone available in your league who is way more likely to start and provide those gains. Check out this list of wide receivers, any of whom I'd hold over AJ Green:
Will Fuller (54% owned in Yahoo! leagues): A legit stud whenever healthy, Fuller returned to practice this week.
Dede Westbrook (57% owned): Also returning to practice this week, Westbrook was averaging over 9 targets per game in the three matches before his injury.
DeVante Parker (59% owned): 7 straight games with at least 8.9 points in HPPR.
Cole Beasley (32% owned): Topped 8.3 HPPR points in each of his last four contests.
Darius Slayton (10% owned): Finally rewarded speculation with a huge 10-121-2 day. With Shepard and Engram's return way up in the air, he could provide the upside owners were hoping to get from AJ Green.
Frankly, we'd take any old lottery ticket over holding on to AJ Green at this point. It's just not in the stars for him to have his buy-low monstrous stretch in 2019. Sorry, but the answer to "should I drop AJ Green?" is still "yah."
For more Absurdity Checks, look at these:
Is Tarik Cohen Droppable?
Should I Pick up Josh Gordon?
Or, if Green's setback was the last straw and you're ready to give up on your fantasy season, we are too. Check out these five fun games we invented (that are better than fantasy football).
For free fantasy football advice, @ us on Twitter and join our Discord
[Photo Credits: https://commons.wikimedia.org/wiki/File:A.J._Green_2015.jpg, https://www.flickr.com/photos/navin75/14604536308 and https://www.flickr.com/photos/navin75/7819973440 under https://creativecommons.org/licenses/by/2.0/]